How Much Does A Non-Surgical Hair Replacement System Cost?
July 10, 2020
Hair Replacement for Men
Views: 31985
In the world of hair replacement systems for men, cost plays a major role in decidability - may the replacement be permanent or not. When it comes to the non-surgical replacement system, many people have the wrong idea if they are affordable or not. Some people think it costs bucket loads of money as it looks so refined while others don't have the slightest idea about the cost of toupees, what they are and the cost of maintaining it.
To answer this question we need to completely analyze a few aspects of the Non-surgical Hair Replacement System. Hence, we are breaking it down for you to make it easy and clear any confusion about the cost of Non-Surgical Hair Replacement Systems and Toupees.
We are quite positive that you will be surprised by just how pocket-friendly and cost-effective is to use Hair Replacement System and Toupees as a long term solution. Here it goes! 
Toupee & Hair Replacement System Cost
The first and the most convenient Hair replacement system model we will discuss are Stock Hair Pieces for Men also known as Toupees. The Toupees at Lavivid hair comes with four different base textures and materials. Each base is designed for people with different references and has a different price range for people having different budgets being able to afford them. 
The different base materials are:
1- Lace for lightweight and breathable feel, ranging from $250 to $290.
2- Skin for a transparent and realistic look, ranging from $100 to $299.
3- Monofilament material for easy maintenance and durability, ranging from $190 to $350.
4- Silk base material for vivid scalp look, ranging just above $300.
Hence, we can see that we get a lot of options available at a different price range starting from $100 and going above $400. This is how cheap and affordable our hair toupees are, which are ready to wear from the moment you receive it. The best thing about this Hair Replacement System is that you can own multiple Toupees for yourself and it will still save you money as compared to other hair replacement options.
Custom Hair Toupee
Custom Hair Toupee for men are a bit more expensive than the normal stock hairpieces and requires a longer amount of time to finish. In custom Hair Toupee, you don't need anyone to get your hairpieces Installed. You can eliminate the expense of hair salon by having a custom-designed toupee for yourself. Choose LaVivid toupee for its price and get the Pre-styled service for only $40. You can wear the hair system directly out of the box after receiving it – Saving the cost of paying a professional to install it, which happens to be a fairly good amount as well. To opt for this method all you need to do is pick your desired hairstyle from our website or any other hairstyle you want and send it to us along with your hair system template (which you will find on www.lavividhair.com/prestyle) or the size of the areas you experience hair loss; with pictures of your hair from the all the different angles, especially from the front, sides and back.
The reason why this is loved by many men around the globe is that you need minimal effort to carry it. It fits you perfectly hiding every bald spot you have. Hiding receding or uneven hairline; mixing the hair density of your toupee with your real hair. Lavivid Hair makes sure to keep its services very affordable for its customers to get the best out of it.  
How long does a Toupee last?
Now as we have learned about the custom and stock hair replacement system for men, we need to know how many hair systems you will need per year; along with the cost of maintaining and styling it. So let's take a walk through all the mandatory expenses you will need for a successful Hair Replacement System.
A toupee will last you for about 3 to 4 months so depending on the Toupee you like it will take 3 times of that amount. As the average price of toupees at Lavivid Hair is around $160 - $180, so the yearly cost of Hair Replacement Toupees will be around $540 - $740. Comparatively, it is still very less than the hair transplant surgeries and other permanent options.
Scalp Preparation and application Product Cost is also something we would like to discuss as it is essential for Hair Replacement System as well. You have picked your Toupee and you need to wear it and but before putting it on you need to prepare your scalp so after applying it, your scalp feels comfortable and moisturized while having the hair replacement on. We recommend you to use Scalp protector to prepare your scalp it will hardly cost you under $20. Creating a barrier between the glue, tape, and your scalp, scalp protector helps improve the bonding time. Application cost is also very low for these toupees glues will last you for about half a year so annually the application cost will be under $60.
Best Hair Replacement System For You.
Many men around the globe are struggling with hair loss due to many reasons, may it be aging, genetics, or medical conditions. Lavivid Hair is committed to providing an effortless, painless, and cost-effective solution for your hair loss. By taking the quality of our products up and lowering the cost of Hair Replacement System for men we aspire to make it available and accessible for all.
To Conclude
Some people can rock the bald look, and some feel insecure about their bald spots. People all love beauty, and have the rights to try everything they like. It is solely their preference, Hair Replacement System takes a little getting used to but it is a much better option than any other Hair fall solution. It will roughly cost you under $1000 a year to always have picture-perfect hair. We are quite sure you might know several people using the Hair replacement System without you even realizing it.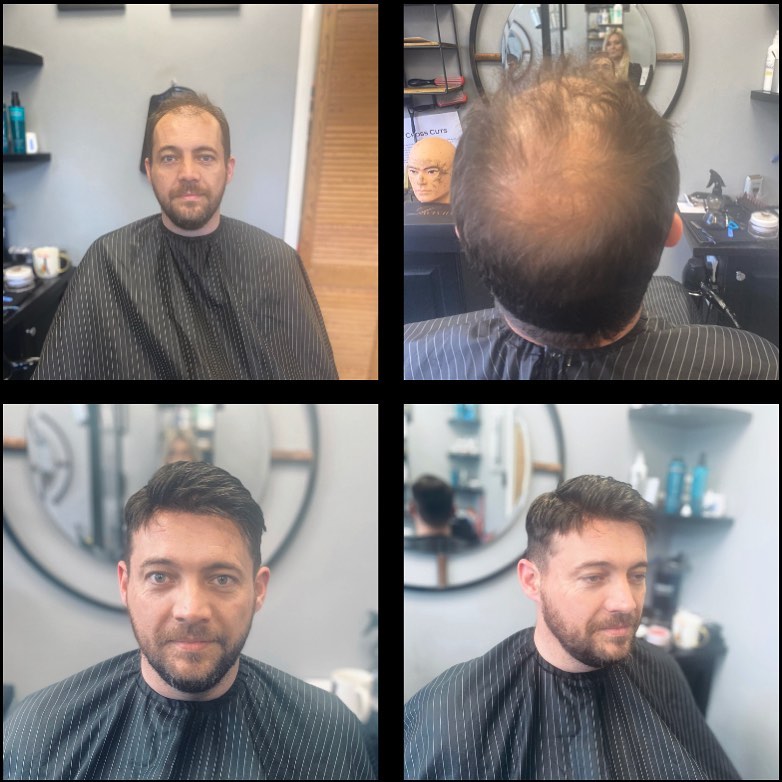 Contact us now: www.lavividhair.com/
---
---
Writers Cooperation:
LaVividHair is seeking for blog contributors who know and love hair. If you know alternative hair or hair related accessories, if you have great understanding of hair trends and fashion, if you are expert in hair care, if you have any experience with salons or celebrities, if you would like to share your experience to help people just like you make the right choice, now contact us at support@lavividhair.com to be a blog contributor. Let's discuss the details then.