What is Thin Skin Toupee? Check Some Trending Styles of It
December 09, 2021
Blog
Views: 1460
Facing empty spots on your head? Need an incredibly realistic thin skin toupee? Instantly get one to make your hairstyle pop out in an amazing way that will turn all the gazing eyes towards you. But wait, what is a thin skin toupee? It is an elastic material that can be easily stretched according to your head size to perfectly fit on it and give a sleek form of your wishful hairstyle that you had always dreamed of. 
It is a section of hair that is used to hide partial baldness or for carrying some unique fashion hairstyles that get the shape of your head by making it nearly impossible to notice the presence of any kind of fake hair. Let's answer some of the most asked questions about thin skin hair replacement systems for Men. 
Lavivid design some super adorable thin skin hair replacement pieces that are extraordinarily durable and fine that makes it unnoticeable, realistic, and give a nice tight feel eliminating the fear of fall off. Let's have some basic understanding before proceeding toward trending styles:
Are they breathable enough?
The answer is NOT MUCH! As compared to other hair replacements pieces, it is not as breathable as other base materials such as Lace and Mono.
How long does a thin skin system last?
If taken good care of, it will last in its good quality for a minimum of 3 months
These thin skin toupee for men have excellent front-line appearances and have knotted ventilation that themes them look super realistic and natural.
Step # 1 - Cut the base down to your size from the frontal hairline to make it look natural enough.
Step # 2 – Wipe or shampoo your scalp to make it clean and free from any residue, mark the measurement to ensure proper fix of the hairpieces.
Step # 3 – Apply a thin layer of glue onto the scalp, let it dry, and a apply second coat.
Step # 4 – Gently position the hairpiece and start sticking it from the frontal hairline, stretch a bit to ensure there are no bubbles.
Step # 5 – Once properly fixed, make any hairstyle that you want.
Few caretaking steps
Have you bought a thin skin toupee? Then you must be prepared to take good care of it. Just like any other thing in the world, a thin skin toupee also requires a proper regular cleaning to last longer and to increase its durability. 
1- Handwash your hairpiece at least once a week to avoid any sweat fungus.
2- Rub with gentle hands. Handle it softly to avoid any hair breakage.
3- Never squeeze
5 Best thin skin toupees by Lavivid
Mirage, a dynamic hairpiece constructed by Lavivid wig designing company is a masterpiece for men who are facing partial hair loss. It perfectly merges in your actual hair and gives a uniquely realistic look of a head full of naturally shiny and smooth strands of hair that can be customized in any of your favorite colors among a vast variety of color options.
Made up of poly paper and micro knots for the rest of the base ensuring a flawlessly secure fit that eliminates the fear of falling off or losing of hairpiece. It has a hairline in CC shape with V -looping ventilation method at the front providing a smooth natural touch – it is ultimately the best solution for men who are facing a lack of self-esteem and confidence due to severe hair loss.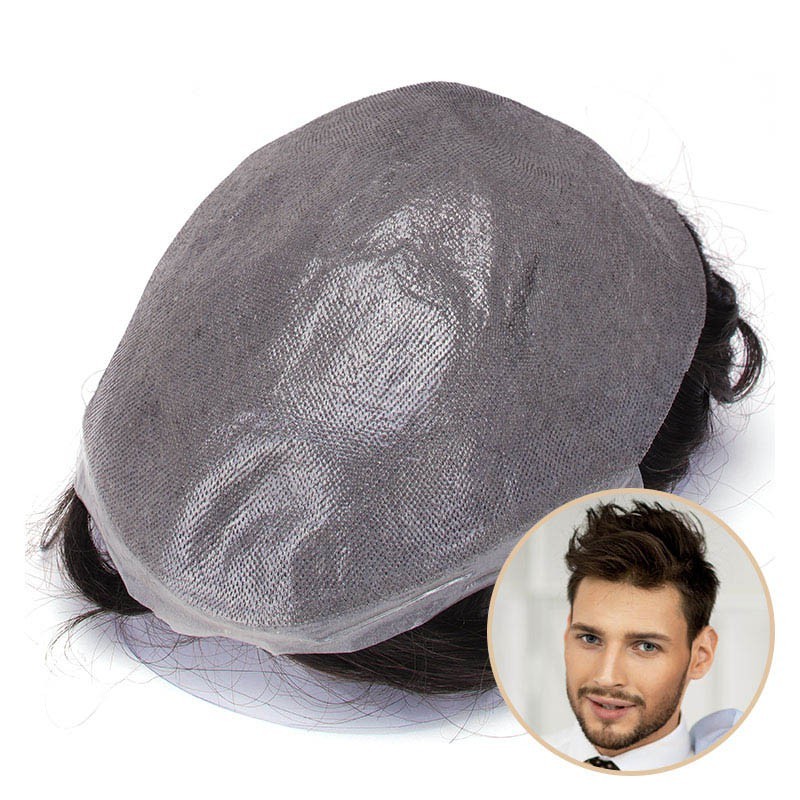 2. Coeus | Full thin skin base Men hair replacement unit
A very fine and delicate piece of hair replacement for men to meet all their nice hairstyling requirements is this Coeus which is not only a great start for your good hair days but also very easy to use and fix to get a nice and fuller look of a head filled with hair in your favorite shade. It is as thin as 0.08mm – 0.10mm that gives you the confidence of a properly secure fit with a feel of a second skin because of its high-quality material and sleek design.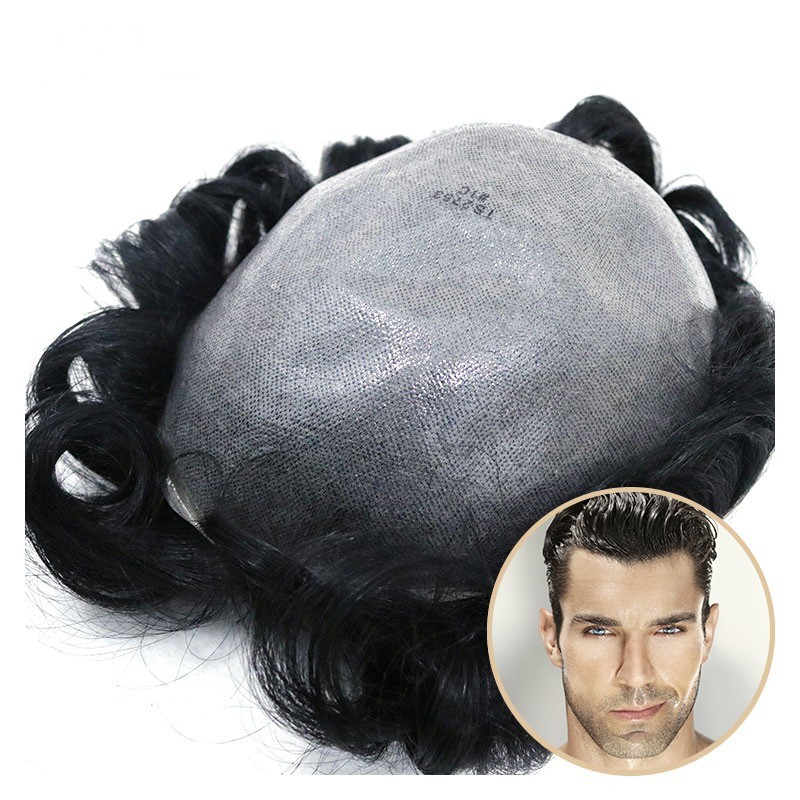 This masterpiece is made up of original Indian Remy human hair of medium-thick poly base that can be fixed with either glue or tape with a hair density of about 115% of slightly wavy hair. Go get your hairpiece in the desired hue to slay the look of your favorite outfit with nice subtle and perfectly styled hair.
3. Cronus | Thin skin base hair replacement
Cronus thin skin hair replacement is a game-changer in Men's toupee market because of its unique quality and the latest technique on which it has been built. A new state-of-the-art injection method is used to design this highly reliable men's toupee, which makes the frontal hairline appear so natural as if it is growing naturally on the scalp. The most amazing type of hair that is unprocessed European hair is used to make this extraordinarily rare piece of mastery, which is super smooth, soft, and sleek in texture thus more expensive than other materials. It is less likely to tangle because all the cuticles are well aligned and tightly intact in their place. So, the real ultimate is undetectability!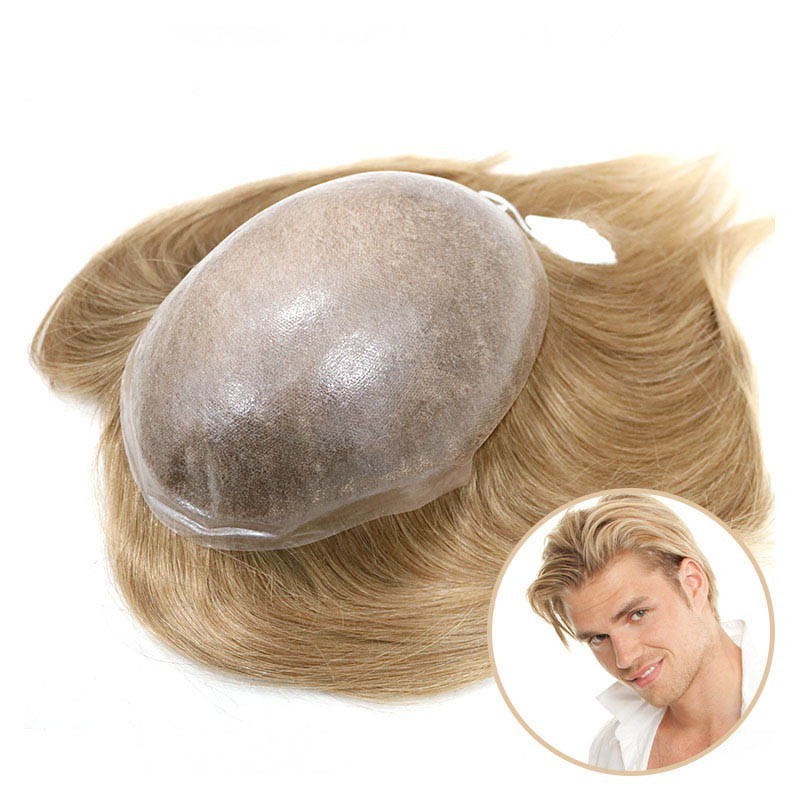 4. Zeus | Thin skin base hair replacement 
Are you facing hair fall from your frontal hairline? Then this thin skin hair replacement is surely designed for you to give a completely natural and fuller frontal hairline look. Lavivid is well-aware of your problem! No hairstyle looks good enough if you have empty patches on the front of the scalp – So, here you go! Buy this ultimately amazing hairpiece that is available in two design varieties that are "Forward hair direction" and "Backward hair direction". Firstly, decide what kind of look you want – either you want a slicked-back look or a front fringed style, then buy this hairpiece and stick to your favorite hairstyle.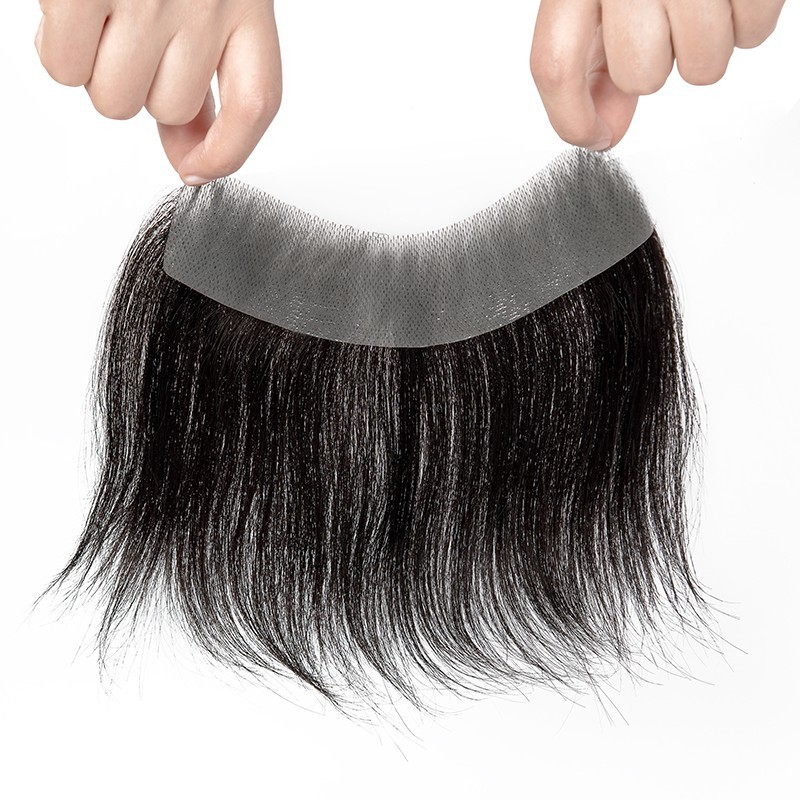 This 105% dense hair piece comes in a size of 1.6" *7" and 6" of hair length. It is entirely a unique and simply elegant hairpiece to enhance your personality gorgeousness.
5. Achilles Men's Hair unit | Men's hairstyle for thin skin
One of the most popular hair systems among salons and celebrities that not only brings an extraordinary, fabulous boost in your personality but also an instant lift of confidence because of the presence of a full head of all shiny smooth, and stylish hair. Achilles has a 0.12mm poly skin base all over with a scalloped front line. Perfect in shape, pure in quality, precise in design, and ideal in price – This classic hairpiece can be cut and styled according to your wish, can be shaped conveniently in any customary hairstyle that you want to carry at a date night.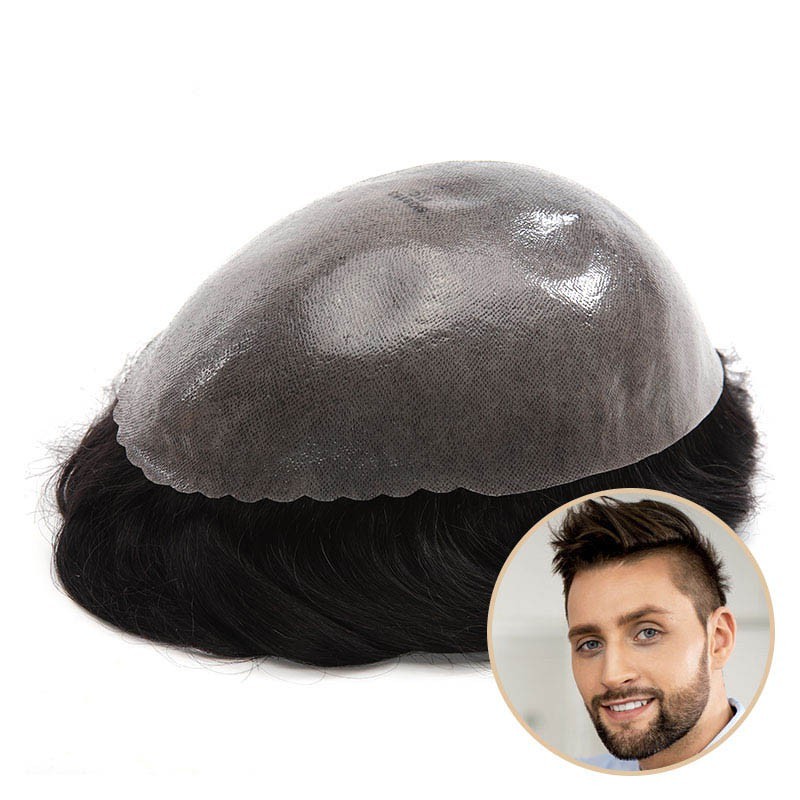 Achilles is 130% dense, 6" in length and available in 18 different shades. So, what are you waiting for? Go order this excellently and delicately designed rare hairpiece that would surely enhance the look of your formal attire whenever and wherever you want.
---
---
Writers Cooperation:
LaVividHair is seeking for blog contributors who know and love hair. If you know alternative hair or hair related accessories, if you have great understanding of hair trends and fashion, if you are expert in hair care, if you have any experience with salons or celebrities, if you would like to share your experience to help people just like you make the right choice, now contact us at support@lavividhair.com to be a blog contributor. Let's discuss the details then.