What Exclusive Offers Are Available on Men's Hair Systems Only for Thanksgiving?
November 08, 2023
LaVivid News
Views: 60
Thanksgiving is approaching, and for those in search of high-quality men's hair systems, LaVivid has unveiled a set of exclusive offers that shouldn't be missed. In this article, we'll delve into these special deals, highlighting their unique features and benefits for discerning customers.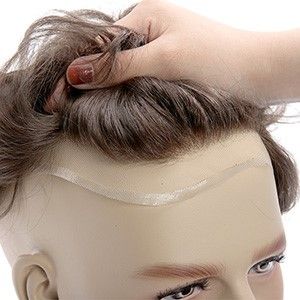 LaVivid's Pre-Thanksgiving Sale: A Strategic Advantage
The Pre-Thanksgiving sale by LaVivid, running from November 6th to November 12th, offers a prime opportunity to secure exceptional discounts before the holiday shopping rush. Ordering during this period not only ensures quicker delivery but also grants access to deals that won't be matched during Black Friday or Cyber Monday.
Unprecedented 20% Off on Accessories
LaVivid is breaking tradition by extending their generosity to accessories. During the Pre-Thanksgiving sale, enjoy a 20% discount on hot-selling tapes, glues, shampoos, conditioners, adhesive removers, and more. This remarkable offer on accessories is rarely seen, making it a unique chance to stock up on essentials at a fraction of the regular cost.
Unbeatable Discounts on Hair Systems
The main attraction of LaVivid's Pre-Thanksgiving sale lies in the hair systems themselves. Customers can revel in a 20% discount on lace and mono hair systems, while skin hair systems are available at an unprecedented 25% off. These substantial discounts apply to a diverse range of systems, ensuring there's an option for every preference.
Why Choose LaVivid?
LaVivid has earned its reputation through a commitment to quality, realism, and customer satisfaction. With premium materials, extensive customization options, realistic scalp appearances, and durable designs, LaVivid stands out in the industry. Their exceptional customer service ensures a smooth experience from selection to maintenance.
How to Seize the Thanksgiving Offers
To make the most of LaVivid's exclusive Thanksgiving offers:
Mark Your Calendar: Ensure you're ready for the Pre-Thanksgiving sale from November 6th to November 12th.
Choose Your System: Explore LaVivid's range to find the perfect hair system and any necessary accessories.
Place Your Order: During the sale, order your chosen items to benefit from the exclusive discounts.
Enjoy Your Savings: Revel in the confidence of a high-quality hair system, and appreciate the extra money in your pocket.
Conclusion:
LaVivid's exclusive Thanksgiving offers provide a rare opportunity to invest in a top-notch hairpiece or accessories. With unmatched discounts and impeccable quality, LaVivid stands out as a brand that prioritizes customer satisfaction and realism. This Thanksgiving, treat yourself to a renewed sense of confidence and style with LaVivid's exceptional offers. Please check LaVivid's official website or contact them directly for the most up-to-date information on their Thanksgiving offers.
---
---
Writers Cooperation:
LaVividHair is seeking for blog contributors who know and love hair. If you know alternative hair or hair related accessories, if you have great understanding of hair trends and fashion, if you are expert in hair care, if you have any experience with salons or celebrities, if you would like to share your experience to help people just like you make the right choice, now contact us at support@lavividhair.com to be a blog contributor. Let's discuss the details then.