How to Use Different Ways to Remove Ghost Bond Glue?
December 01, 2020
Blog
Views: 17175
Hair loss is the most common issue for men nowadays is becoming more common each passing day. People are becoming more aware of their appearance and want to look good every minute of their day. Unfortunately, if you have a hair fall issue, looking good can be a problem, and this is when you start looking for possible solutions that will stop your hair fall once and for all. 
Are you one of the people who went through the internet to find a successful treatment for hair loss and finally decided to go for a hair replacement system? Then you are on the right path! But when using modern hair wigs and toupees, you might be wondering how safe and secure these hairpieces can be.
There are many ways in the market right now that are being used to secure hair systems while ensuring that you are comfortable while wearing your hairpiece. Some people prefer tape, while other people look into clips and bands. But out of all these methods, the most effective and secure solution is to use glues and adhesives to make sure that your hairpiece doesn't budge while you are wearing it. This method will not only ensure comfort but will also make sure that your hairpiece doesn't get damaged in the process of putting it as well as taking it off.
The Best Way to Put on Hair Replacement Systems
If you are suffering from overall baldness or bald patches and want to wear your hairpiece for a long time, using ghost bond glue would be a perfect choice. The reasons why more than 80% of hair replacement users choose adhesives for securing their hairpieces are:
· Glue is very cost-effective and easy to apply, as well.
· It gives you a very realistic look while also focusing on your convenience and ease.
· The process is extremely easy. You only need to put the glue on and roll your hairpiece on it. And voila! You are done!
However, some people might have a sensitive scalp, so it is important to properly consult your hair specialist and discuss your medical history with them. Your specialist will give you proper guidance on how to use adhesive and what kind of glue would suit you best. Make sure that you do a patch test before you put on your hair system.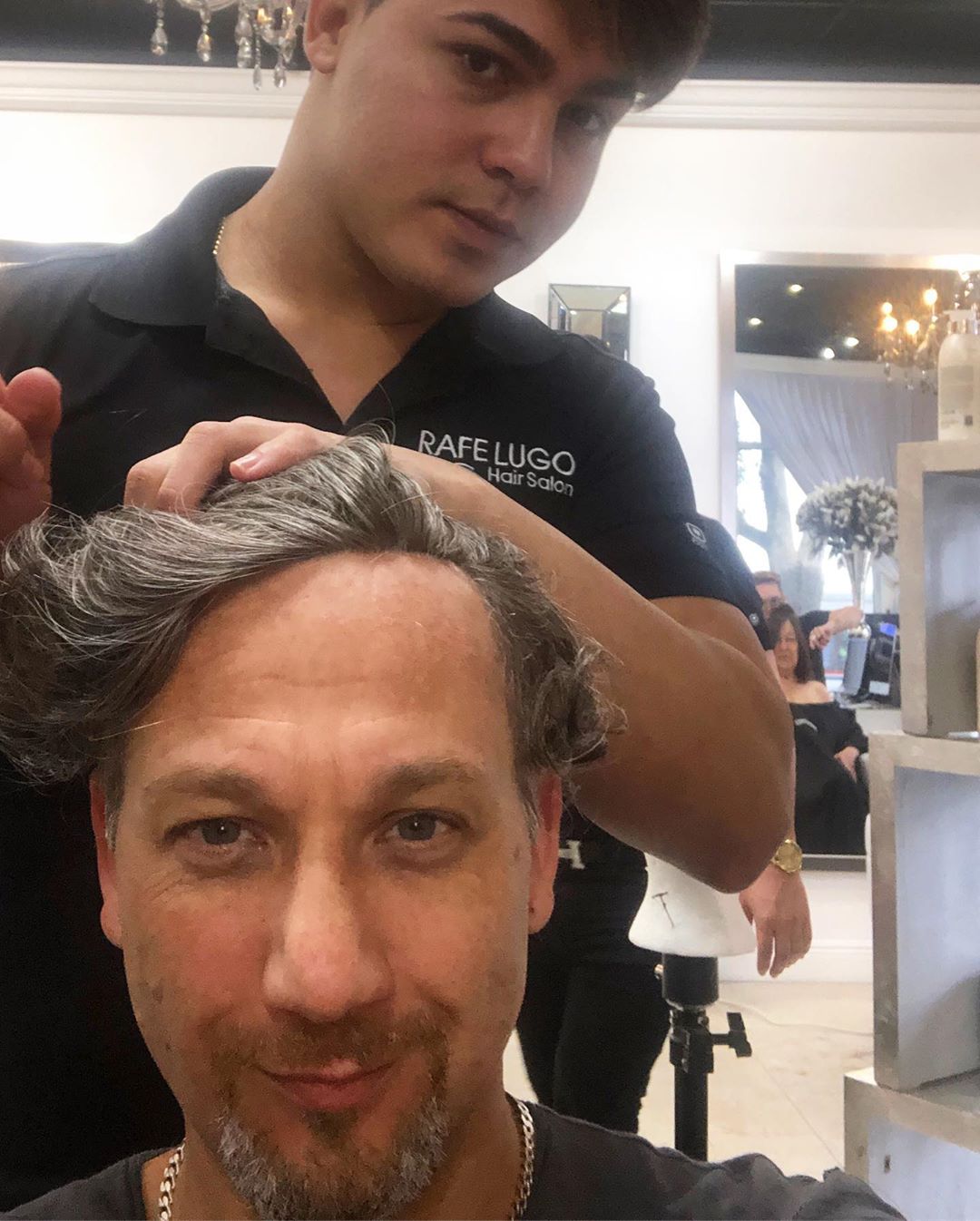 How to Remove Ghost Bond Glue?
Since maintaining your hair system's health or modern wig is one of the most important things you should be concerned about, there will be a time when you start questioning yourself how to remove a ghost bond from your hairpiece and properly wash it.
The fundamental rule that you should always keep in your mind is to be extremely patient when removing glue from your hairpiece. Make sure that you complete the process one step at a time and don't pull on the material of the base.
Remover:
Your first step should be to buy two different kinds of removers. One for your scalp while the other one to remove residue from your hairpiece. Try finding a sensitive skin-friendly remover with biodegradable qualities. This will ensure that your remover is not too harsh and free of damaging chemicals.
Once you are done cleaning your scalp, the second step is to focus on removing the ghost bond from your hairpiece. Most of the adhesives come with their guidelines and tips, and it is important to keep them in mind while working on cleaning and maintaining your wig or toupee. If you are not incredibly careful with your hairpiece, it may cost you a new one.
Following are some tips that you can use to remove glue and adhesives from your hairpiece without causing damage to it.
Use Warm Water Mixture
The first way is to use a mixture of warm water with a little bit of salt or baking soda in it. Salt and baking soda are natural neutralizers and will help you break the bond of the adhesive. You can make this mixture and store it in a spray bottle for later use. Whenever you want to clean your wig, just spray it on the residue and clean your hairpiece with a soft and sanitized cloth. Make sure that you don't pull on it. Even though this method will never cause any damage to your hairpiece, it might take a lot of time.
Use Alcohol or Acetone
The most popular method out there nowadays is to clean the residue with a cotton ball soaked in alcohol. Just dab the cotton ball with alcohol on your hairpiece, and after a few seconds, you will notice the glue coming off. However, you need to make sure not to do this too often since alcohol can damage your hairpiece.
Vaseline:
The most common method that is being used for removing residue is Vaseline. The reason why it is so common is that Vaseline is easily accessible and is very natural as well. You just put a small amount of Vaseline on the residue and rub it gently until it starts coming off.
If you want a durable hair system that is also easy to clean and maintain, Lavivid offers you the best. Just visit the website and browse through the unlimited collection of hair systems, toupees, and wigs and find your perfect choice.
---
---
Writers Cooperation:
LaVividHair is seeking for blog contributors who know and love hair. If you know alternative hair or hair related accessories, if you have great understanding of hair trends and fashion, if you are expert in hair care, if you have any experience with salons or celebrities, if you would like to share your experience to help people just like you make the right choice, now contact us at support@lavividhair.com to be a blog contributor. Let's discuss the details then.