Why Hair Systems for Men are Skyrocketing in Popularity in 2023
September 07, 2023
LaVivid News
Views: 98
Yes, guys. So, I'm going to talk to you about three reasons why hair systems, are getting more and more popular in 2023, and I'm expecting them to get even more popular in 2024.
So, the first reason is, and this is pretty natural, you're going to compare the non-surgical hair replacement to hair transplants. And when you're comparing them to hair transplants, one of the first things you think of is cost. Now, don't get me wrong, hair transplants have come a long, long way in the last 10 years, but they also do incur a big upfront cost. Now, there are some places where you can do it on credit. I haven't come across that too often personally. It's usually a big upfront cost, same with SMP, which is basically the tattooed, um, where they tattoo your scalp. We're talking several, several thousand pounds. Now, most of us, especially in the UK, are experiencing a cost of living crisis, which has been going on for a couple of years. And to be honest, not many of us have five to ten thousand pounds just sitting behind the sofa.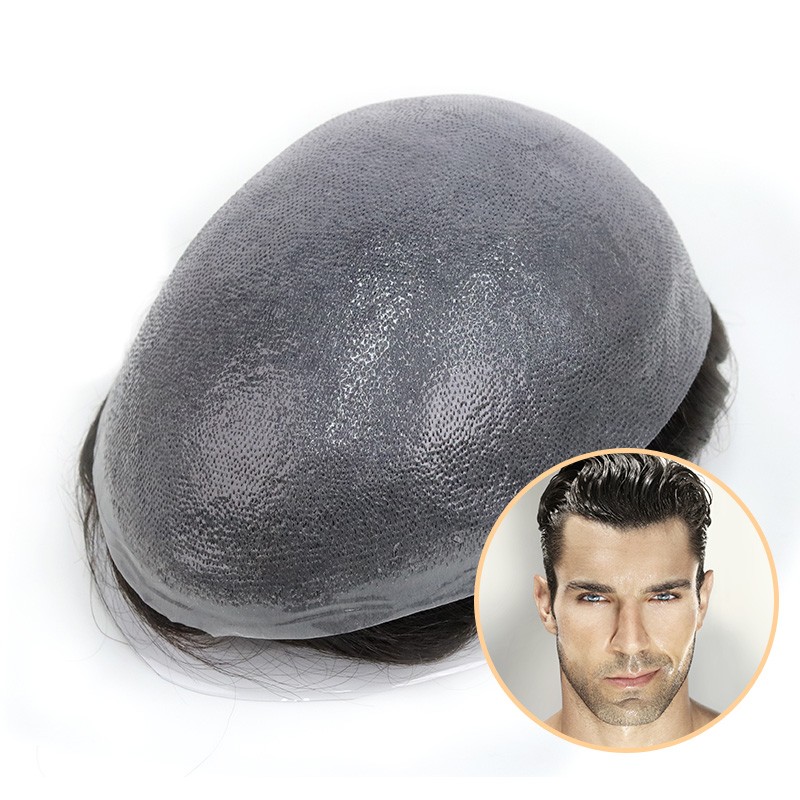 With Hair Systems it's a much more cost-effective way of getting your hair back. There's no massive 5,000 pound upfront cost. You'll get through a system every three to six months on average, and what you pay for that system will pretty much vary from 200 to 300 pounds, so about 250 to 350 dollars. So, it's a much more cost-effective way of getting hair back on your head. It's much more affordable for a majority of us, and we're not going to have to remortgage our house or take out a massive loan to get hair. So logically, a lot of guys are thinking this is a much better way for me to get my confidence back, my self-esteem back, and it's not going to burn a massive hole in my pocket. And I'm not going to be borrowing money that I'm going to need to pay back with crazy interest rates over a number of years.
A second reason that hair systems are becoming more and more popular is that men are more invested in their physical appearance now. There are plenty of reasons for this, but one of the most obvious ones that comes to mind is dating apps. Single guys on dating apps, you're much more likely to get a match with a woman if you have a full head of hair, if you have a well-groomed appearance. They don't have time to read your bio. This is not a slight on women whatsoever; it's just that they encounter so, so many profiles on a daily basis. They do not have time to scroll through your strengths, your weaknesses, your hobbies, all of that kind of stuff. They will literally look at your picture. If they find you attractive in your picture, they will swipe right; you will get a match.
That research study that I shared with you guys a couple of weeks ago, where I was talking about the study that they did, and they had exactly the same person but they doctored one of the images and they gave him a receding hairline on one of them and they left his forehead of hair on the other, and the full head of hair profile picture got an 80 percent higher hit rate. It's quite astonishing, and men are cottoning onto this. They're well aware that appearance counts for a lot on dating apps and dating in real life. It's got to that point now where appearance makes or appearance accounts for a lot. In this sort of modern world that we live in, where women have the ability and men have the ability to meet multiple different people in their dating lives in a very short space of time, they're more likely to gravitate towards the more physically attractive person because they don't have time to get to know all of these people very well. They don't have time to get an idea of what their character is like, what their personality is like. Now obviously, that's nothing negative against someone who's lost their hair; they are still a great guy. But the way that the modern world works, women don't have as much time to weed out exactly who might be the perfect match for them. They are more likely to go for the more attractive, more groomed, more full head of hair gentlemen.
The third reason is a lot of guys don't want to have surgery. Getting a hair transplant, you know, you do have to receive anesthetic; it is a day procedure, it is quite sore, it is uncomfortable, it can be painful, and it can leave scars. And a lot of guys are looking at that and thinking I'd rather a non-surgical solution. I'd rather something that I can do myself; it's actually quite empowering in that respect. And I'm not gonna have to go to a clinic or anything like that. I can just get it done nice and easy, no side effects whatsoever. There's also with hair transplants, you have to take medications ongoingly for the rest of your life. Propecia being one of them, and you guys know my opinion about Propecia, I am not a fan; the side effects can be pretty dreadful. So, absolutely, a lot of guys are thinking about that as well. With a hair system, no medications, all you need is a couple of things to keep it glued to your head and a couple of removers that help take it off when you need to do a clean and a rebond.
Another thing as well in relation to this is that hair systems are getting so, so realistic these days. So, so realistic that a huge majority of people wouldn't even know that you wear a system. I think in my time of wearing systems, which is about five years, over five years now, I've never once had anyone notice or literally say anything to me like, 'Oh, your hairline looks a bit odd. Is that real or anything like?' I've literally never had anything like that, and I don't really anticipate having anything like that in the future because Hair Systems are getting much more realistic. And you can also choose your density. With hair transplants, as I said at the top of the video, they are getting better, but you do not get a guaranteed result. It's a big financial investment for a result which is not guaranteed. If you don't have enough donor hair on the side of your head, it can still look thin on top, and it also might fall out again; the hair transplant might fail, and you don't get a refund for that. If you get a poor-quality system, which is very, very rare, the chances are you'll get a refund, and it'll be fine; you can get your new system. But also, you can choose your density. You can choose your density, so you can have it exactly the way you want. It's like having tailor-made hair, and a lot of guys want that; a lot of guys want a guaranteed result.
And one more bonus reason for you guys who stuck through to the end is that hair systems are much more widely available these days compared to five, ten years ago. Remember, 10 years ago, there was only one hair system clinic in the whole of London, and now you're seeing hair system companies and clinics everywhere. This is a good thing, guys.
This shows that the industry is growing. And I'm super excited about 2024 because Hair Systems are going to become more and more common, and way more people are going to be wearing them. If you have not got a system yet and you're on the fence, why not get my one? This is a French lace; it's called Thor . It's from lavividhair.com, do check it out.
Until next time, guys, I'll speak to you very soon. Take care.
---
---
Writers Cooperation:
LaVividHair is seeking for blog contributors who know and love hair. If you know alternative hair or hair related accessories, if you have great understanding of hair trends and fashion, if you are expert in hair care, if you have any experience with salons or celebrities, if you would like to share your experience to help people just like you make the right choice, now contact us at support@lavividhair.com to be a blog contributor. Let's discuss the details then.