Something You Should Know about Mens Afro Toupee Lace
June 22, 2021
Blog
Views: 1919
Do you know anything about mens afro toupee lace? There are many kinds of toupee lace for men in the world. Crown style toupee, side-part lace, left, right, or just freely centered. Due to different races, there are different kinds of toupee hair in terms of fabric. Afro toupee lace is one of them, and it is gaining great popularity among men. It is usually a hairpiece that many African American people would use. But many people still don't know how to use them. Here we are going to introduce you to the afro toupee lace for men: 
This product is made from 100% human hair, we emphasize this because hair quality is very important when it comes to the toupee. Such material will grant the authenticity of the product. The hair is African American original hair, and it is of premium quality.
No chemical process has it been in, and it is cuticle aligned. Comparing to other products, it sheds and tangles less. Nor will it have lice or nits. The toupee can be flat ironed and restyled per your needs and it can also be dyed and bleached. Here is the way that we measure the hair: first of all, straighten it, and then read the statistics, the curling hair should not be measured unstarched. Normally, the hair length varies from seven to nine inches.
Density is another factor that you need to consider before purchasing any toupee. The hair density mainly refers to the thickness of the hair and the density you should choose is according to your own preference. Most men achieve a natural appearance with light to medium density hair toupee.
If you want to know how to choose the density of hair, we would like to recommend 90% to 130% density to you, as such medium-light density is the most common one and looks very natural on men's heads. If you want more density, there is also a 150% product for you. The life span of the toupee is usually 6-10 months.
The hair color is originally black or brown. But we do provide special costumed coloring hair. If you have any other preference or personal need in terms of color and length, we also offer hair extension or style the toupee according to your requests.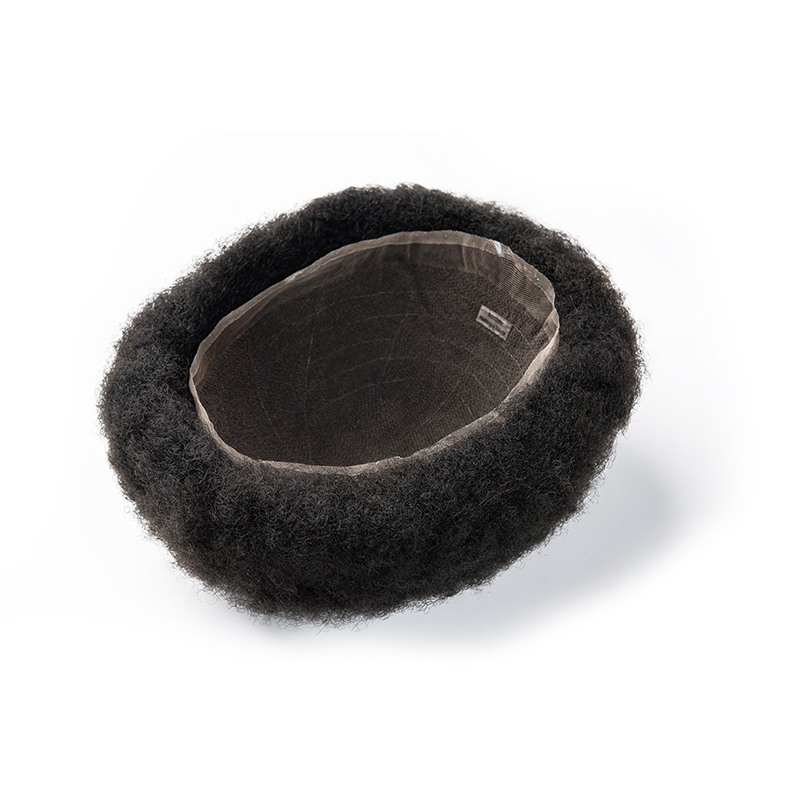 It is usually better to save a longer length in case the hair was cut out wrong. Therefore, it might take a bit longer than the in-stock product. The hair and its wave are very natural and authentic. Even better, it is very easy to wear and attach to the head as it has full lace.
The curly texture of the afro toupee requires special care than other toupees. You should use suitable shampoo to wash it once or twice a week at least and conditioner is also helpful to get the whole style smooth, which can always keep hair knots away. Apply some moisture product before it dries, it will keep the hair volumizing and soft.
We recommend using tape or glue to attach the toupee to your head. As you will get more use to it after 3-5 times of attaching it. And for tending the product and the shampoo or conditioner to use with the toupee, sulfate and alcohol should be excluded in the ingredient.
It is just like our natural hair; the strands are fragile when it is wet. Therefore, we cannot brush the hair when it is wet. Do get an afro comb, its special design for afro hair is always a better solution for combing the toupee hair. Please cover the toupee with protecting silk scarf when not using it to avoid dust and tangling.
You can have more than one mens afro toupee lace as you might need to change from time to time. Different toupee laces can provide you with different moods. Time to get yourself a fresh look! Just grab a different toupee in our sale or try several new ones, maybe you will find a new self in you and take on a better mood. Fresh looks can always bring you luck!
Mens afro toupee lace is very useful and practical when you want to get yourself a new look. There are various kinds of afro toupees, I hope the information above will be of some help to you before purchasing any afro toupees.
---
---
Writers Cooperation:
LaVividHair is seeking for blog contributors who know and love hair. If you know alternative hair or hair related accessories, if you have great understanding of hair trends and fashion, if you are expert in hair care, if you have any experience with salons or celebrities, if you would like to share your experience to help people just like you make the right choice, now contact us at support@lavividhair.com to be a blog contributor. Let's discuss the details then.