How to Distinguish Different Toupee Base Options Available?
March 11, 2021
Blog
Views: 1418
There are a number of toupee base options available for people planning to buy a hairpiece. And if you want to make sure that you'll get a high-quality toupee then you need to be able to distinguish the different kinds of bases. Here in this article, you will learn about the different materials, visibility, cost, and life span of each of the different wig bases available. And after learning this information, you will be ready to make an informed decision as far as toupee type is concerned. You'll know what kind of hairpiece base will suit you the best. 
Lace base 
The first toupee base you'll learn about is the lace base. In this kind of base, nylon multifilament synthetic threads are knitted together to produce a high-quality mesh fabric. If you want to experience the best of two worlds then this is the base that's right for you. With a lace base, you get the benefit of a hairpiece that is breathable. But at the same time, this kind of hair system also looks very natural. So there's no need for you to make a sacrifice. You can enjoy both benefits. 
Since it's breathable, this kind of base is perfect for active individuals. Even if you sweat a lot, you won't experience any itching or discomfort. This kind of hair system is also perfect for hot and humid climates. And because it offers a very natural look, nobody will know that you're wearing a toupee. The best lace hair systems appear like the hair is actually growing out of the scalp. 
Skin base 
Skin hair systems are known for three qualities: they are transparent, they look natural, and they feel skin tight. The reason why it's called skin base is that when you wear it, it really feels like nothing. It really is like a second skin. No one can blame you if you'll soon forget that you are even wearing a toupee. And it looks natural as well. It's probably the most natural-looking hairpiece that you can get. Skin bases are meant to blend seamlessly with the skin of the wearer. The result is a totally undetectable hairpiece. Even experts get fooled by this seemingly invisible hairpiece. 
The skin base is very thin. It's just around 0.03 mm. One would think that such a thin base is not very durable. This is simply not true. Some of the best skin base hair systems last for a long time. You just need to get one from a reputable manufacturer.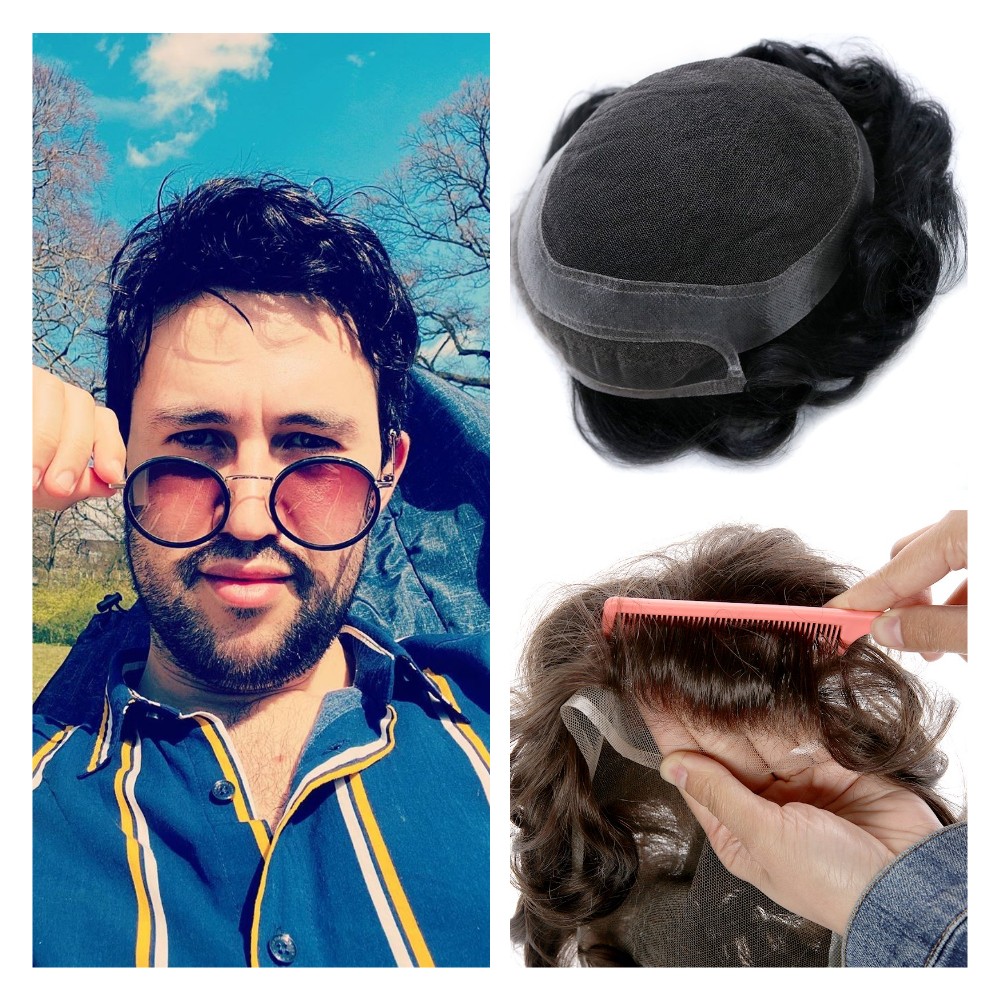 Mono base 
If you're looking for a hairpiece that is durable, then you should get a mono base hairpiece. This kind of base is more durable than lace or a skin base. So your choice will depend on what is more important to you. If it's important to you to get a hair system that will last, then the mono base is definitely the wise choice. To many, a mono base hairpiece strikes the perfect balance between durability and having a natural appearance. 
The mono may not be the most undetectable hairpiece you can wear, but it's good enough if you want a toupee that looks natural. To make the hairpiece look more natural, the skin is usually constructed around the perimeter and on the back and sides of the hairpiece. Another quality of the mono base hair system that you will love is the fact that it's very easy to maintain. It is perfect for busy individuals. 
Silk base 
The last toupee base to be discussed is the silk base. Among all of the wig bases, this is the most technologically-advanced. It is also quite pricey. But the cost is definitely worth it. It provides the most natural look. The hair looks and even feels like it's growing right out from your own scalp. It's almost unbelievable. 
To achieve this feat, the production of the hairpiece has to go through a complicated and time-consuming process. With this kind of base, you will not see or experience hair that is getting tangled or knotted. You'll just have beautiful hair all day. And you will definitely look amazing. The silk base is indeed perfect for those who prioritize appearance over other qualities.
---
---
Writers Cooperation:
LaVividHair is seeking for blog contributors who know and love hair. If you know alternative hair or hair related accessories, if you have great understanding of hair trends and fashion, if you are expert in hair care, if you have any experience with salons or celebrities, if you would like to share your experience to help people just like you make the right choice, now contact us at support@lavividhair.com to be a blog contributor. Let's discuss the details then.