How to Choose The Best Toupee Hair Styles for Older Men?
March 28, 2021
Blog
Views: 3400
Are you looking for toupee hair styles for older men? Then you'll appreciate the list of toupees featured in this article. It's important for older men to choose a toupee style that is appropriate for them. Many toupee styles are designed for middle-aged men and are not really appropriate for those who are more advanced in age. The models featured here from Lavividhair are ideal for the cool grandpas out there. 
Atlas Men's Real Hair Toupee 
This toupee has French lace in the center and a thin PU skin on the sides and back. It's ideal for older men because of its long and thick hairstyle. If you want to bring back your thick hair then this is the toupee for you. But one of the things that you'll appreciate most about this toupee is that it has a natural-looking hairline. And because it's a high volume toupee, you can try different hairstyles with it. It's also very soft and breathable, making it perfect for warm weather. It's strong and durable too. 
Hades Hair Unit for Men Online 
If you're a little advanced in age then you're probably looking for a toupee with a medium-length hair style. This model is perfect for you. It is another lace system but it is made with the strongest materials. This is crafted with German lace, however, which is considered stronger than French lace. It also lasts longer. This toupee also offers a natural-looking hairline because the knots in the front are perfectly bleached. This is a handmade hairpiece made by some very skilled craftsmen. It also offers superior breathability, making it ideal for older men who still like to be active. 
Harry Lace Hair System for Men 
Here is another perfect example of a hairpiece for those looking for toupee hair styles for older men. This one has a contoured-shaped front hairline, which makes it look very realistic. Old men wearing a toupee usually don't want people to find out that they are wreaking a hairpiece. So they need to choose a hair system that is completely undetectable. And Harry is one of the most natural-looking hairpieces that you can get. Even the colors of this hairpiece are very realistic-looking. But that is because it's made from 100% real human hair. And if you like to work out, then this hairpiece is perfect because of its breathability.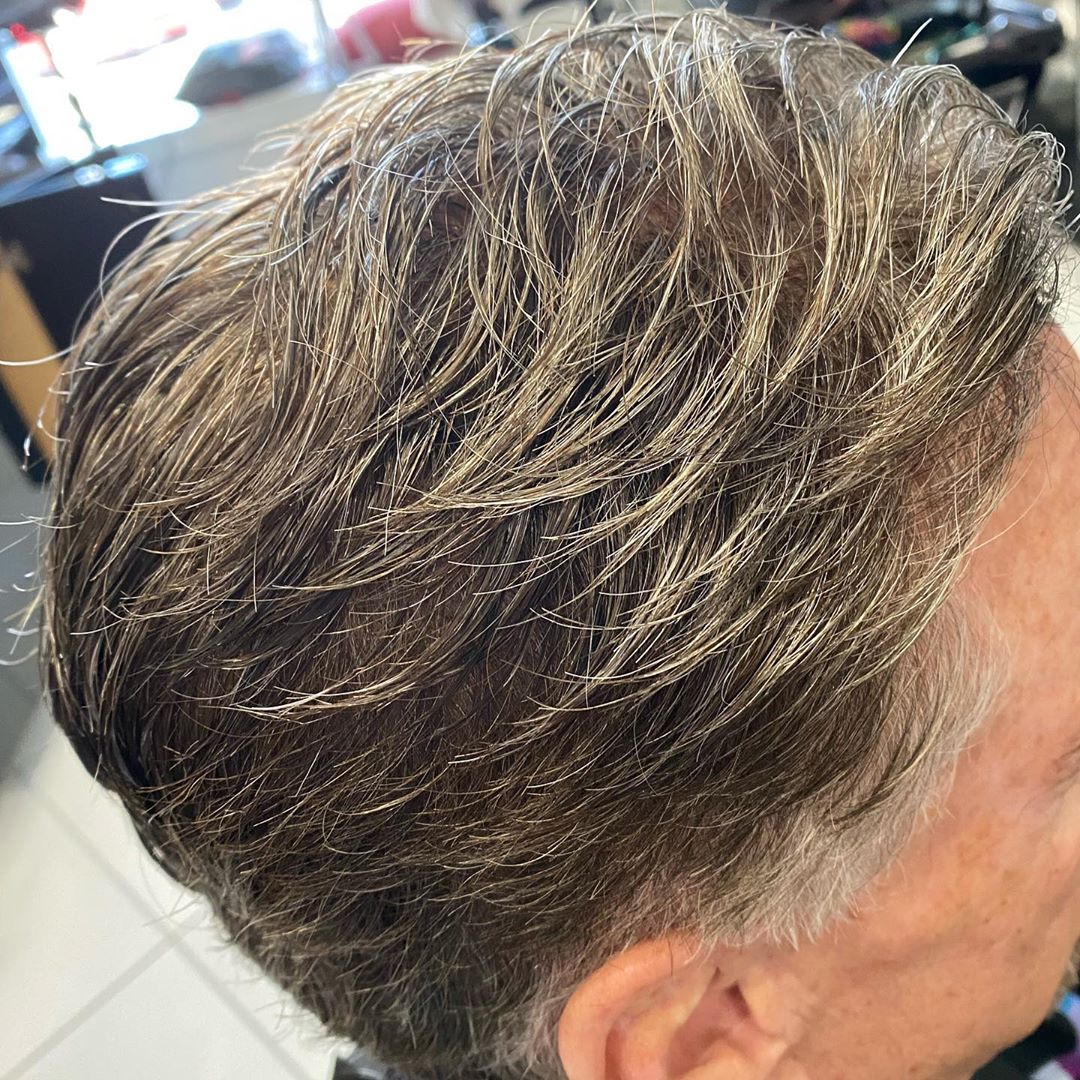 Oceanus Men's Hair System Online 
This hairpiece is a combination of lace and a skin system. It's perfect for older men because of its durable and versatile style. This means you can style and wear it any way you want. Or you can take it to your favorite stylist or salon to make it the perfect hairpiece. You'll love how soft and natural this hairpiece is. And it looks very realistic so there's no need to fear that people will find out you're wearing a hairpiece. This toupee can surely help in bringing back your confidence and self-esteem. 
Noah 14'' Men's Long Hair Toupee in 1B Off Black 
Who says older men can't sport a long hairstyle? Now, you can have long hair again with the Noah 14" toupee. This is a mono system so it means that it's much stronger than other systems. It is also more durable and expected to last for a long time. Mono base toupees are constructed with the skin around the perimeter and on the back and sides. Mono systems also offer a balance of durability and a natural look. Because of its length, this offers great potential for styling. Now you can relive your rock and roll days with the Noah toupee. 
Oscar Black Male Hair Units in 12mm Rod Size Curl of Lace and PU Bases 
If you're a senior African-American then this afro-stye toupee is perfect for you. The Oscar is made from 100% pure Indian Remy hair, which is considered superior. It's available in three bases: full French lace, full poly base, and a combination of lace and poly base. To secure this hairpiece on your scalp, you can use tape or glue. This is a high-quality hairpiece that looks very realistic. It is completely undetectable and it will surely restore your self-confidence and self-esteem. It's one of the best-looking available on the market today. And it's reasonably-priced too. This is why it's one of the best toupee hair styles for older men.
---
---
Writers Cooperation:
LaVividHair is seeking for blog contributors who know and love hair. If you know alternative hair or hair related accessories, if you have great understanding of hair trends and fashion, if you are expert in hair care, if you have any experience with salons or celebrities, if you would like to share your experience to help people just like you make the right choice, now contact us at support@lavividhair.com to be a blog contributor. Let's discuss the details then.