The C-Through Bio-Skin Hair System: Setting The New Natural Trend
November 11, 2022
Blog
Views: 540
Alopecia, often known as baldness, is associated with rapid hair loss from the hairline. It affects around 6.8 million people in the United States and 147 million individuals globally. The most frequent cause of baldness is age-related hereditary hair loss. Some people would rather naturally let their scalp go bald without any treatments or covering it up. Others may disguise it with hats, scarves, makeup, or hairstyles.
Though most instances begin before age 30, alopecia can impact anyone, regardless of age, gender, or ethnicity. There is presently no cure for alopecia; doctors can recommend a few treatments to assist hair in regrowing to some extent. But there is no permanent cure for hair loss, and any medication will not permanently bring your hair back. However, there are a few non-invasive solutions by Lavivid that you can opt for if you want to gain that lost confidence back!
What Can You Do About Hair Loss from Alopecia?
Most of the time, hair thinning occurs in little patches about the size of a coin. Although there may be only a few spots, alopecia can also affect larger sections of the scalp. Since a vast population suffers from this hereditary hair loss, people often experiment with different solutions to bring their shine and glamor back. Hair replacement systems are one of the most popular solutions to baldness! You can get a full head of hair within minutes and look as good as you used to in your golden days.
Imagine a natural-looking synthetic hair patch covering the bald spot on your head. That is a hair replacement system. There is no difference between a hairpiece, wig, unit, or hairpiece. It's designed mostly for men, but with its gaining popularity, women have also started showing a keen interest in these hair systems. The hairpiece should optimally match the user's skin tone, hair color, and density, among other characteristics. These hairpieces are used with different adhesives to keep them in place. These adhesives are highly dependent on the preferred choice of the wearer.
A unit's hairs are embedded into a base polymer. The kind of hair system varies depending on the type of hair and base material. But when it comes to natural and comfortable hair pieces, thin skin stands out among all the base materials available. It is fashioned from solid-surface polyurethane with a minimum thickness of 0.03 mm. The non-porous, flexible, and safe material fits in well with the surface of the head to give the appearance of natural hair.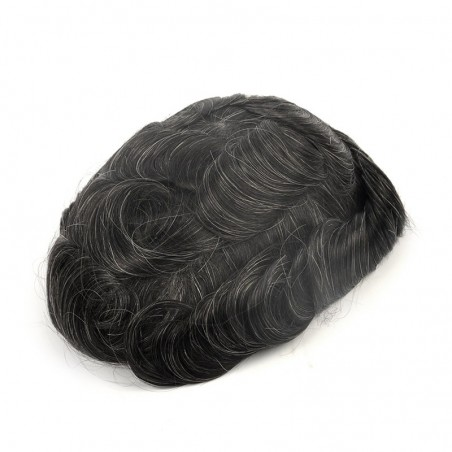 Why Should You Go with A C Through Bio-Skin Hair System?
The main concern for anyone who goes for a hair system is to ensure that the hairpiece goes undetected and looks as natural as possible. Whether you want to try a new look or cover a receding hairline, a hair replacement system gives you unlimited options for style, comfort, and durability.
Thanks to substantial advancements in hair system technology over the past 20 years, there are hundreds of high-quality toupees and a wide variety of wig hairstyles, some of which are more natural than others. The C-through bio skin hair system by Lavivid is the best option if you're going for a flawless and natural look!
Bio skin is an extremely thin, translucent membrane that blends with the scalp when attached using adhesives. To mimic a naturally spaced hairline, the hair can be randomly infused, v-looped, or knotted. Here are some compelling reasons to get a c through bio skin hair system!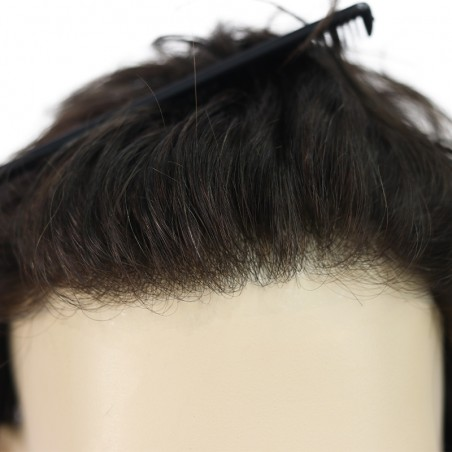 1. Go Natural!
Thin skin systems make perfect sense when natural-looking and undetectable hair is a primary goal. The polyurethane basis, which can be as thin as 0.03 mm, is embedded with hair. The unit is inconspicuous enough due to its thinness to go undetectable under all circumstances, making it impossible for anyone to know that you are wearing a hairpiece. The base material gives the appearance that the hair is sprouting from the scalp as it conforms to the head's shape, which results in the most natural-looking front and top hairlines.
2. Comfortable Fit: 
Since the material for the base is thin, lightweight, and sits on the head perfectly, the headpiece is a snug fit for most people. It might even go unnoticed by the wearer after some time! You can go for a swim, jog, or even a sweaty workout while wearing a thin skin hair toupee. A comfortable fit is the best feature of any hairpiece, and thin skin bases are at the top of the list!
3. Active Lifestyle Compatible: 
Suppose you are a person who actively lives an outgoing lifestyle. In that case, your hairpiece must be compatible with your day-to-day activities. This is where the thin skin hair pieces shine. They are going to stay in their place no matter what! Whether attending a crowded event, hiking a mountain, or diving into the sea, your hairpiece will stay with you the whole time. This is one of the biggest reasons many people go for the thin skin base.
Maintaining A Bio-Skin Hair System
The significance of maintaining a clean hair system should be understood by everyone who owns a hairpiece. A hairpiece's life span highly depends on how frequently it is cleaned. A well-maintained hair system is tidy, free of knots, hydrated, and maintains density and shine over time. Talk to your providers and find out the specifics of cleaning your hair system. Make sure that you don't just clean the hair but also the base since a dirty base is not going to sit properly on the scalp.
Thin skin bases for hair replacement systems continue to be unbeatable among all those that have entered the market. They have many benefits, which keep users comfortable and cause no discomfort. Check out the massive collection of Lavivid c-through bio skin hair systems to find the best match for yourself! 
Related Posts:
WHY LAVIVID C-THROUGH BIO SKIN HAIR REPLACEMENT IS THE BEST - A THREAD
LAVIVID LOUIS C-THROUGH BIO SKIN MEN'S HAIR SYSTEM
LAVIVID UPGRADE EROS C-THROUGH BIO SKIN HAIR SYSTEM FOR MEN
---
---
Writers Cooperation:
LaVividHair is seeking for blog contributors who know and love hair. If you know alternative hair or hair related accessories, if you have great understanding of hair trends and fashion, if you are expert in hair care, if you have any experience with salons or celebrities, if you would like to share your experience to help people just like you make the right choice, now contact us at support@lavividhair.com to be a blog contributor. Let's discuss the details then.