Most People Choose Wigs as a Solution for Dealing with Hairloss
March 10, 2021
Blog
Views: 1208
In Androgenetic Alopecia or Male Pattern Baldness, men lose hair on the scalp. This happens because hormone levels in men change over increasing age and male pattern baldness becomes more visible in later levels of age. The hair loss affects nearly half of the men over fifty years of age and nearly 70 percent of men over the seventy years age mark. This is indeed a natural process, but it can be psychologically worrying for men going through hair loss. If you suffer from patch hair loss, i.e., sudden hair loss, that may be due to some medical condition requiring immediate attention. Age, genetics, and hormones are the causes leading to hair loss in men. These aspects cause the scalp hair follicles to become finer. Hair follicles are the tiny cavities on the head through which hair grows. In male-pattern hair loss, hair becomes finer and finer and does not regrow again. Men whose relatives have male pattern hair loss have a greater chance of losing hair.
The majority of men consider hair loss a sign of aging and do not consider the related treatment an option. However, reports show that male pattern hair loss has psychological impacts and could also take a toll on the self-image and self-esteem of the person suffering from male pattern hair loss. Men associate their hair with their visual well-being. When they start to lose hair, they think that they have started to lose their attractiveness. Among the treatments is the taking of medicine. Moreover, a hair transplantation surgery is also an option but is quite expensive and does not yield a satisfying success ratio. Laser and light treatments for curing hair loss are also popular solutions.
Hairpieces are the best option for hair loss.
The best solution for feeling attractive is indeed wearing wigs or toupees. You could adorn a variety of styles and colors whenever and wherever you want. Hairpieces come in a large variety. Men's undetectable wigs are natural-looking, and this characteristic is the most prominent one and accounts for the massive popularity hair replacement systems have garnered. Hairpieces also add volume and suitable density to your hair. In contrary to transplantation, no scars are resulting from them, and adopting them for day-to-day use is also feasible. They are cost-effective and time-effective too. You just wear them and do whatever you want.
Advantages of hair wigs for men
You could get your hairpieces customized too at low prices, whether color or contour, the hair manufacturers or experts will design it for you. As also discussed before, you could swim, run, sleep, exercise, etc., easily by wearing hairpieces. Also, you could color, style, or groom them in any way you want to.
Wigs are realistic
The undetectability, natural look, and sophistication have increased over time due to new technology and craft. You may fear wearing the wig in public places, but there is nothing to worry about. The customers who have bought and use wigs carry themselves with confidence because they look excellent, and the wigs are completely unnoticeable. If the wig's hair density matches with your hair, the color is up to the mark, and the wig comes on your head properly with the right measurements, then it will seem like your original hair.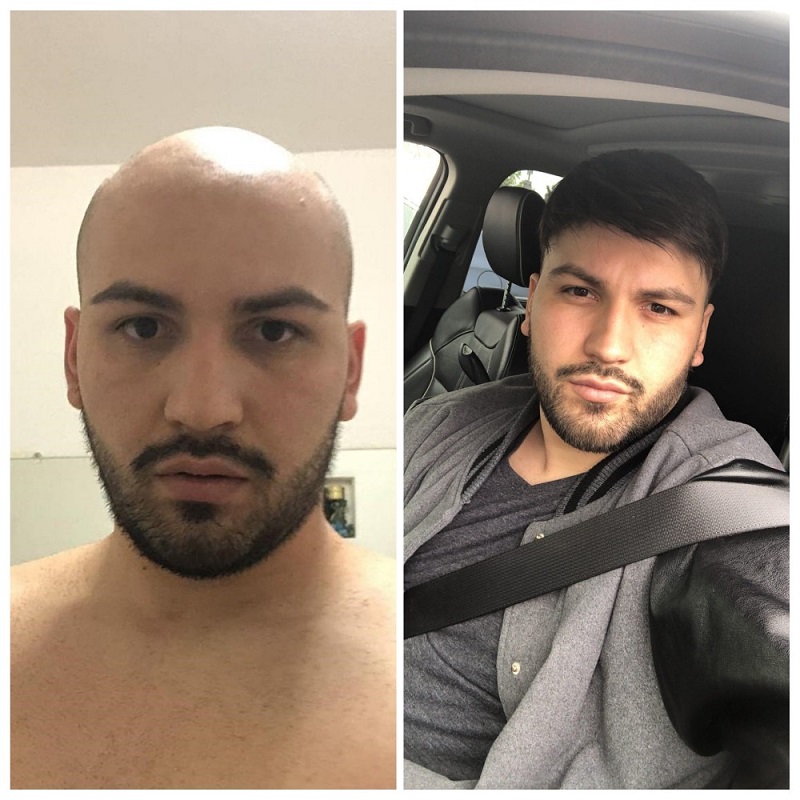 Customizable
Another advantage of wigs that sets wigs apart from all other treatment options is style. Wigs provide you with the opportunity to make a style statement every day when you go public as the wigs are available in a wide variety of lengths, colors, and cuts, so their variety is simply limitless. If you want colored hair but do not want to color your hair due to toxic chemicals, just wear a wig. If you do not want to get your hair cut for a certain style, try wigs. Wigs enable you to mix up styles and wear them without altering your hair. Men's undetectable wigs will make sure that your hair looks incredibly natural.
Heat Styling and Chemical Treatments
Another quality of wigs that makes them undetectable is their heat resistance. You could use heat tools such as straighteners, curlers, flat iron, blow dryer, etc., without worrying about any damage to your wig. It is also good for your natural hair as they are not subject to any destroying heat, which may undermine hair thickness. You can do heat styling of your artificial hair for having a polished look. Some wigs also do not withstand heat styling, so be cautious and read the related information properly before any hair fashion.
Growing Trend
Wigs are becoming a trend in men too. Men use hairpieces for fashion, hair damage recovery, and other purposes. You can wear hairpieces to enhance your personality. There are a variety of designs and options. Out of which, you could easily pick and wear according to your fashion sense and choices. Synthetic hair is mostly used in the manufacture of hairpieces as they are more economical than human hairpieces. Synthetic hair looks just as natural as human hair.
Blends in with the hairline
Hairpieces also give a completely natural hairline. Hairpieces made up of monofilament hair are also considered the best hairpieces. The mono top also gives you the best natural movement you could ever get in a wig. Hairpieces are of various lengths, textures, and colors, so they are the most popular protective hairstyles. Men's undetectable wigs are also used in the media industry by actors as they are very indistinguishable, diverse, and excellent.
To get the best deal on men's hairpieces, you can visit the online lavividhair store.
---
---
Writers Cooperation:
LaVividHair is seeking for blog contributors who know and love hair. If you know alternative hair or hair related accessories, if you have great understanding of hair trends and fashion, if you are expert in hair care, if you have any experience with salons or celebrities, if you would like to share your experience to help people just like you make the right choice, now contact us at support@lavividhair.com to be a blog contributor. Let's discuss the details then.