Do You Know How Does Non Surgical Hair Replacement Work?
July 25, 2021
Blog
Views: 1542
Non surgical hair replacement how does it work? Today, we will give a brief introduction to the product including its pros and cons and tips on how to attach it properly. We hope this article can be helpful to you. 
Information on non surgical hair replacement
People losing their hair on the crown area may not be unfamiliar with the product, non-surgical hair replacement. Compared to the surgical approach, wearing a wig is much safer and effective. The appearance of a hair replacement system looks like a wig. However, they have many differences. 
There is a wider range of wigs you can buy, those with bald color and design. Sometimes, one wearing wigs aims not to cover hair loss but to change the appearance or to play certain characters. A wig can be made of real human hair or synthetic hair, covering your whole head. Different from wigs attaching more importance to appearance, toupees put a focus on wearing experience and performance. 
A hair unit is usually made of real human hair. Asian, European, or Indian hair are the three commonly used original hair. The European hair is the softest, thus the most expensive. Asian hair is much tougher with dark colors. Many hairpieces are made of Indian Remy hair which is easy to process and gives a good performance. 
A hair system mainly has two parts, the hair base, and hairpiece. The former touches our scalp directly. Therefore, the materials of the hair base determine whether the hair system is comfortable to wear or not. They also decide which type a hair unit belongs to. Lace and thin skin hair systems are the most commonly bought products, highly popular among consumers. 
Mono hair units feature longer-lasting time and silk one is extremely comfortable to wear. If you prioritize durability, mono one can be your primary choice. Hair toupees can be bought on many shopping websites and online stores. You can also buy them in professional salons. 
The pros and cons of wearing a toupee
After you have a general understanding of the product, a question may come "non surgical hair replacement how does it work?" Before looking into its application, it is better to know the pros and cons of wearing a toupee.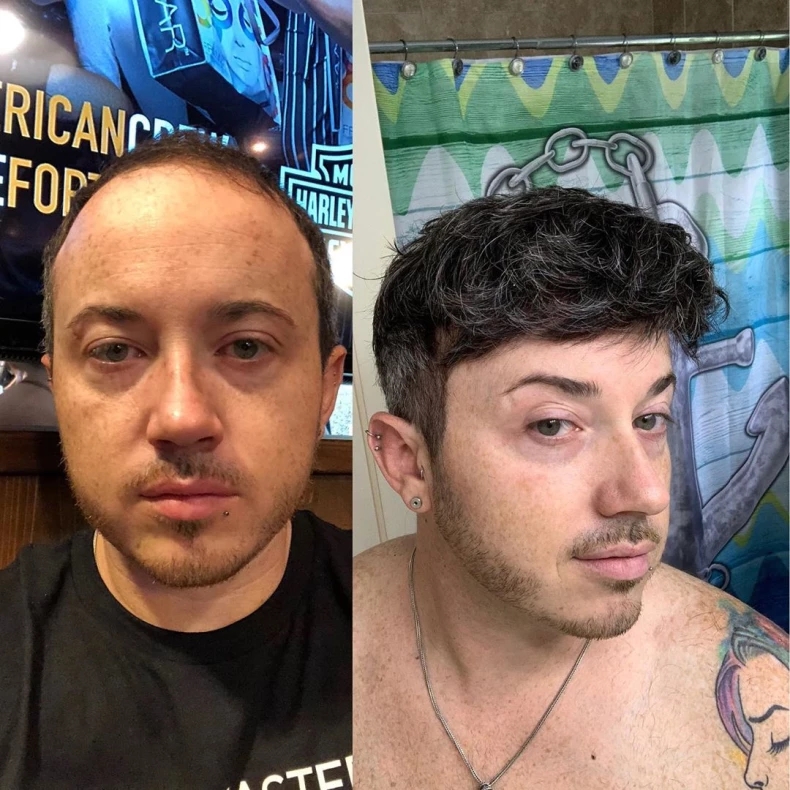 Advantages
·Cover your baldness
You may not believe that many celebrities wear hair replacements. But truth is that they not only wear them on public occasions but in filming. Toupees help them well hide the secrets of baldness. Only by comparing the photos of them wearing a hair system before and after, can we discover that they also suffer from hair loss. 
This is the major benefit a hair system brings to us. If you want, no one can spot your baldness. A high-quality hair unit can give you a natural and undetectable look only if you place it in the right position, so you don't have to worry that wearing a toupee cannot convince others.
·Comfortable to wear
You may think wearing a toupee is uncomfortable. This is not the case. Many hair systems are made to be as light-weighted as possible. You will not even feel the existence of it when you are wearing it. Some are designed to be highly breathable suitable to wear on hot days. 
Disadvantages
·High cost
Of course, non-surgical hair replacement has some shortcomings. One is that the more realistic and natural a hair toupee is, the more expensive it is. The prices of the products range from 100 US dollars to over one thousand dollars. If you want to buy a nice one, you should at least spend 200 dollars. 
Apart from the cost of buying a toupee, you also need to pay for the maintenance. Buying skin protection, toupee glues, and removal also costs some money. Besides, the product is not permanent. It needs to be replaced after a certain period.
Non surgical hair replacement how does it work?
Applying a hair system properly needs some techniques. The most important thing is to put the hair unit in the right place. You can draw several assistant lines with an eyebrow pencil to mark out the right position. 
Attach tapes on the perimeter area of the hair unit and peel the backing off. Apply the system slowly and carefully. Before application, make sure that your scalp is clean and protected by skin protection. 
Summary
Non surgical hair replacement how does it work? We believe you can have an idea now. If you decide to buy the product, Lavivid can offer you plenty of options. You can enjoy a 20% discount on several popular products now.
---
---
Writers Cooperation:
LaVividHair is seeking for blog contributors who know and love hair. If you know alternative hair or hair related accessories, if you have great understanding of hair trends and fashion, if you are expert in hair care, if you have any experience with salons or celebrities, if you would like to share your experience to help people just like you make the right choice, now contact us at support@lavividhair.com to be a blog contributor. Let's discuss the details then.