How to Choose the Men's Toupee for Crown Area for Your Balding Crown?
July 12, 2021
Blog
Views: 1574
Can wear the men's toupee for crown area well cover the balding crown? The answer is yes. Male toupee can be one of the best products invented to cover hair loss secrets. Many celebrities are wearing these products to maintain their glamorous images. Then why men lose hair on crown areas and why purchase toupees? 
Unlike wigs covering the whole head, toupees are used to cover hair loss on the crown area. If the other parts of your head still have healthy hair, a hair toupee will be the perfect option for you. The crown area is easy to lose hair particularly when men reach middle age. The reasons are multiple, let us first look at why you lose hair on the crown area. 
The reasons for losing hair on the crown area
Usually, the hair loss on the head top is accompanied by a receding hairline. Baldness not only influences one's appearance but one's mood. To treat baldness, you need to find out the rooted problem. 
Stress
Stress is one of the common reasons leading to hair loss but it is treatable. The hair fall contributed by stress usually happens to young people. Staying up late, irregular living habits, and diet will cause disorders inside one's body and accompanying physical illness. Fortunately, young people can recover quickly once they live and eat healthily. 
Therefore, if you are in your twenties and start losing hair. You may need to change your lifestyle. If you live healthily but still have the problem of hair fall, you may need to choose the medication method. 
Hormonal imbalance
The balding crown can be the early sign of male pattern baldness which results from the hormone, DHT or dihydrotestosterone. The increase of the hormone in your body is natural, but it weakens hair follicles, thus stopping the growth of new hair. 
Under the condition, your hair will lose slowly accompanied by the receding hairline. To treat this problem, you may need to choose medical approaches if you want to promote hair regrowth. If you want to see the instant result of getting hair back, it is suggested to wear a hair toupee.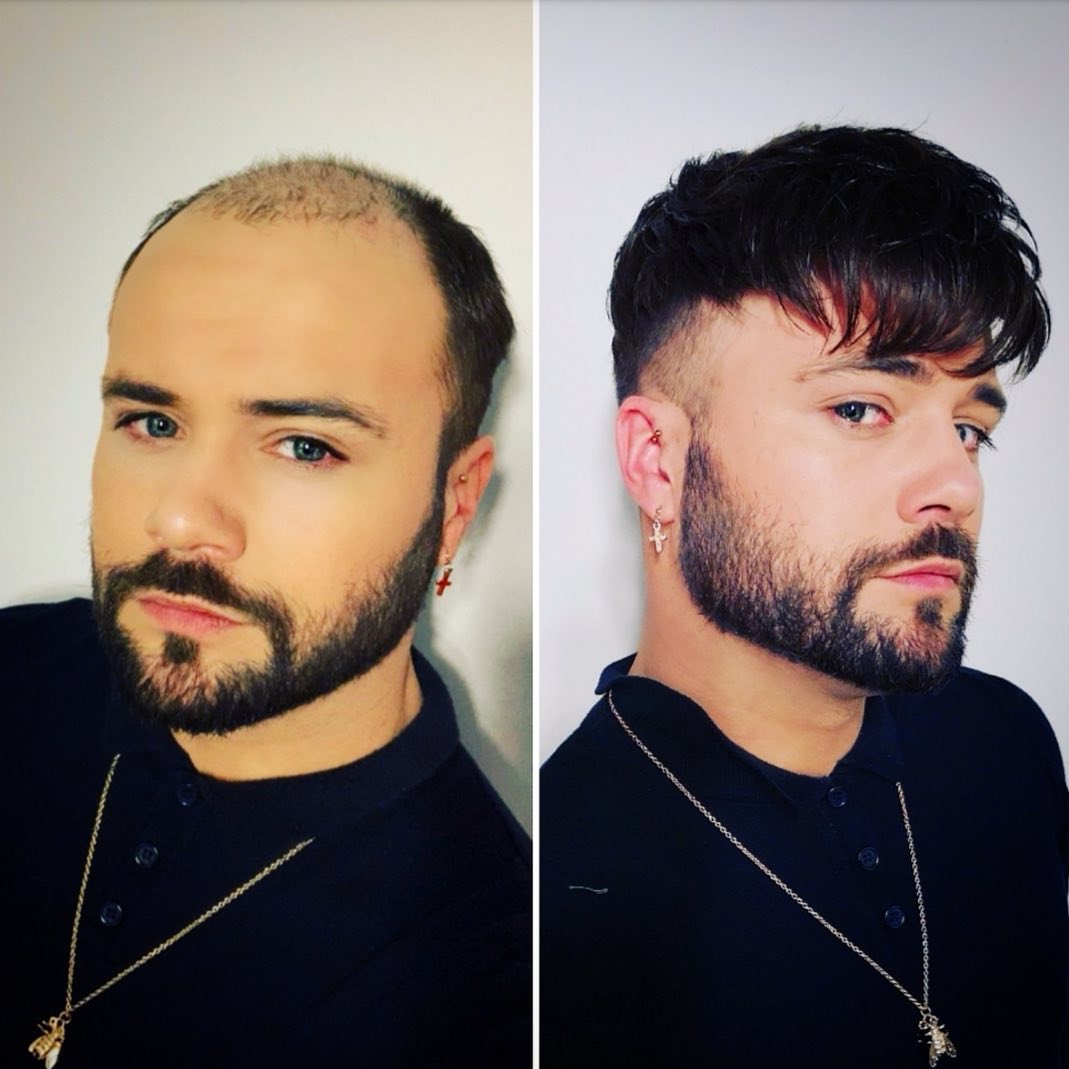 Why wear men's toupee for crown area
If you do not want to take medicines or your hair loss problem is hard to solve, hair replacement systems can be your good partner. A hair unit can be used for several months, the durable one even near a year. Therefore, you do not need to worry that you have to buy new toupees frequently. 
Besides, a hair system can give you beautiful hair just like your original one. Don't worry that it does not look realistic because the hair toupee made of 100% human hair looks shiny and vivid. After you try on the product, you will love it because it helps you regain confidence. 
We all know that appearance is connected with one's confidence. It can also affect our business and daily life. Wearing a quality hair replacement can make you look more professional and attractive. 
Another reason that a toupee worth buying is that it is pleasant to wear. It is lighter than a hat. Once you get accustomed to wearing it, you will feel like it is your original hair. Some hair systems are designed to be more comfortable to wear, but the cost, of course, is higher. 
The poly skin hair base is recommended to people who never wore a hair unit before. The transparent layer is easy to be attached by toupee tapes. The cost, compared to mono and silk hair toupees is more friendly. We provide many kinds of men's toupee for crown area to you. 
Currently, in our store, you can enjoy a 20% discount on particular products. If you are still not sure whether to buy the product, you can consult the hairdressers you know on the pros and cons of wearing the item. We believe they will give you professional suggestions. 
To sum up
Men's toupees for crown area work well in turning you back into the guy with thick hair. If you find your baldness hard to treat or irreversible, buying the product will not let you regret it. Welcome to our store and pick up the product you like.
---
---
Writers Cooperation:
LaVividHair is seeking for blog contributors who know and love hair. If you know alternative hair or hair related accessories, if you have great understanding of hair trends and fashion, if you are expert in hair care, if you have any experience with salons or celebrities, if you would like to share your experience to help people just like you make the right choice, now contact us at support@lavividhair.com to be a blog contributor. Let's discuss the details then.