Why Lace Hair System Are Better for Man?
March 31, 2021
Blog
Views: 1767
Hairloss is no longer a taboo topic. Unlike the earlier centuries when people had to hide their hair conditions and get embarrassed by it, people now embrace their hair loss and seek solutions eagerly. Solutions can only be found if a matter is discussed and taken seriously. More and more people are coming forward with hair loss conditions that are either natural or caused by a medical condition. Modern science has developed an amazing method for hair loss. While the concept of wigs or toupees is centuries old, they were only recently properly adapted and made to look realistic and natural. 
Hair systems can help cover up hair loss in the best way.
There are many methods, medical or otherwise, that claim to help with hair loss. All those methods, however, come with two prominent setbacks. The first is the time frame; every single treatment, whether organic or medical, won't show progressive results; every procedure will take at least six months for you to decide if there are any prominent results. Secondly, all of these solutions will be temporary, so that would essentially be a waste of money. Hair loss is natural and cannot be stopped; it can certainly be controlled and slowed down but never be stopped. While they are also temporary to some extent, an ultra lace hair system can provide you with immediate results while also being a long-time investment. 
What is the best hair system?
It's unquestionable that there is a huge variety of hair systems on the market. Varying from bases to fibres to textures and the length of hair, you can end up with thousands of options and get confused between them. We are here to help you and guide you to the best outcome. The main category which divides the hair systems is the type of base. The two main types of base are polymer and lace. Both materials have their own lists of pros and cons, but according to public surveys and analytics, lace bases are the winner.
Further in the article, we will provide as to why are lace bases are the best options. 
Why are lace-based hair systems your best friend?
There are some things you need to make sure of before wearing a hair system. Your scalp should have some breathing room and air circulation to keep it clean and healthy. The hair systems should not be too heavy or noticeable on your head. The hair system should be able to blend in and appear natural.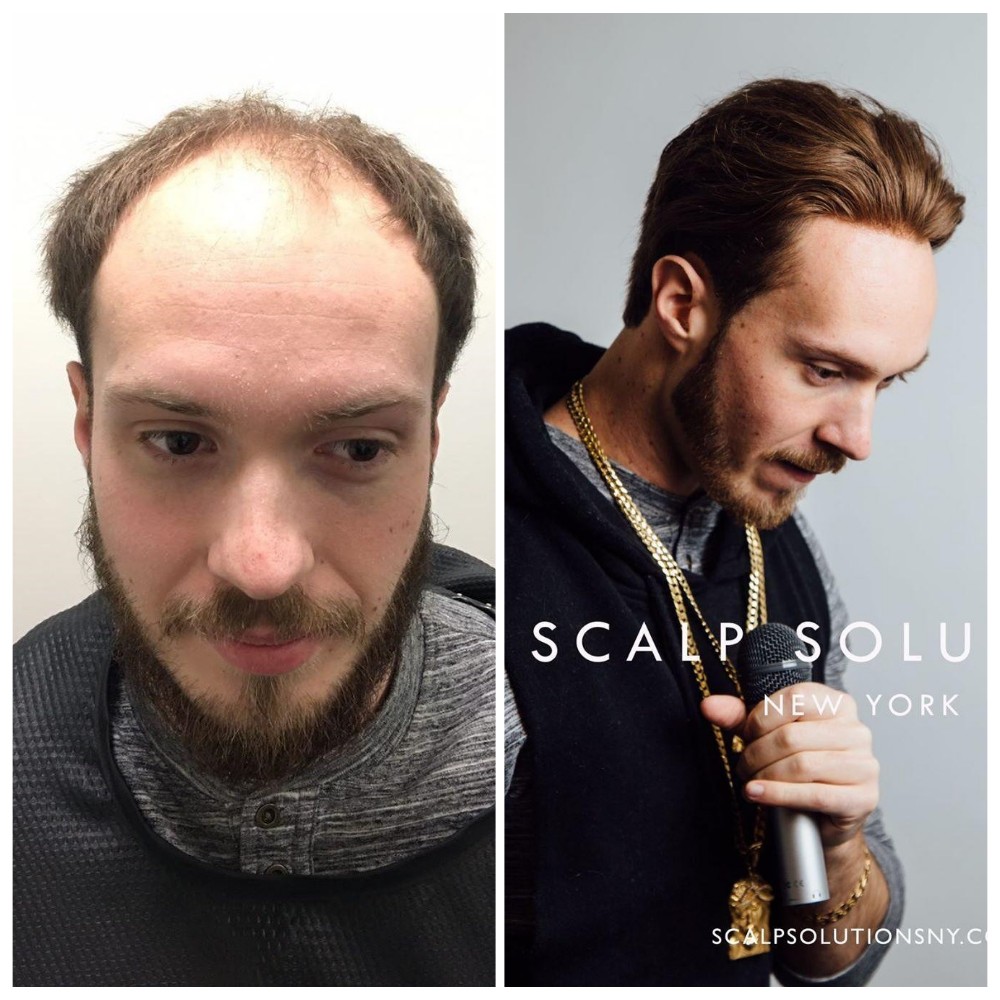 A lace hair system provides just that. The thin and pliable material of the lace molds perfectly on your head despite the shape and the present hair. The lace is thin and not only disappears underneath the skin but also comes in different colors. According to public surveys, most men prefer wearing an ultra lace hair system for the utmost comfort and durability. 
We will mention some of the benefits of a lace-based hair system that will allow you to make the best decision for yourself. These are not only benefits but also the most noticeable and important features of a good hair system. 
Feasibility
The most mentionable aspect of wearing a hair system is how feasible they are. While some experienced is required, they don't exactly need to be done by a saloon specialist. Most people claimed to get it right just after some experimentation. It can be worn easily at home using any of the attachment methods that the person finds feasible. 
Cost
The price point can also be beneficial to some people. While not exactly cheap since they are the best quality, they aren't too expensive. Especially compared to medical treatments. Moreover, their cost is fair since they are the finest quality f hair systems and provide you with the best charming look. 
Natural appearance
The most important feature of a hair system shines in an ultra lace hair system. They can appear so natural that if attached right, no one will be able to tell even if they touch it—the lace blends in seamlessly with the natural hair and the scalp. The good quality of the hair and the lace base are added bonus creates such a natural impression that no one would think that it's a fake hairpiece. 
Comfort
A person's opinion and rating depend entirely on the comfort a product provides. Lace hair systems are extremely pliable; they provide you with the perfect air circulation as well as mold to the shape of your head perfectly. Moreover, the lace base is extremely lightweight, and after the initial attachment, you can barely feel it. The light and airy fabric also give the natural scalp and hair some room to breathe. 
longevity
The comfort doesn't only lie in the lightweight or air circulation. Another important aspect of comfort is how strongly and firmly it stays on your head. If the attachment is done right, the light material and the pliant fabric allow the wig to sit firmly on your head. You can do intense activities without fearing that the hair system is going to come off. 
To order your perfect lace-based system, you can order from our online store. You can find the perfect match that will help you appear handsome and flawless!
---
---
Writers Cooperation:
LaVividHair is seeking for blog contributors who know and love hair. If you know alternative hair or hair related accessories, if you have great understanding of hair trends and fashion, if you are expert in hair care, if you have any experience with salons or celebrities, if you would like to share your experience to help people just like you make the right choice, now contact us at support@lavividhair.com to be a blog contributor. Let's discuss the details then.