Introduction to Hair Replacement System for Men
Hair replacement system for men? What is that? Are you still wearing wigs to cover baldness? Hair systems are a better solution to cover hair loss and to win your confidence back. The article will tell you what is a male hair replacement system? What benefits it can bring to you? Tips on how to apply the product to your head and where to buy a good hair system. 
What is a hair replacement system for men?
Wearing toupees is one of the many ways to give you a new appearance and to set you free from the worry of hair loss. At the same time, it is also the safest, simplest and most efficient, and effective method adopted by many gentlemen. A lot of celebrities also wear toupees which are flexible to various hairstyles. 
Using human hair, synthetic hair, or a mixture of both as hairpieces, a hair toupee type is defined by its base. Most of the time hairpieces are worn into the base by hands. The hair base can be cut into the size that suits your head. There are thin skin base and lace base hair systems, the most common two types. 
Each has different advantages, fabrics, and prices. You choose the one that best satisfies your demand. For example, if you want a hair system that is easy to remove and clean, a poly base hair replacement may be better than the lace one.
What are the advantages of it?
One of the most obvious advantages is that hair replacement systems are non-surgical. To have their beautiful hair back, many customers will choose hair transplantation. Though a hair transplant can give you a natural hair look, it may bring many potential problems.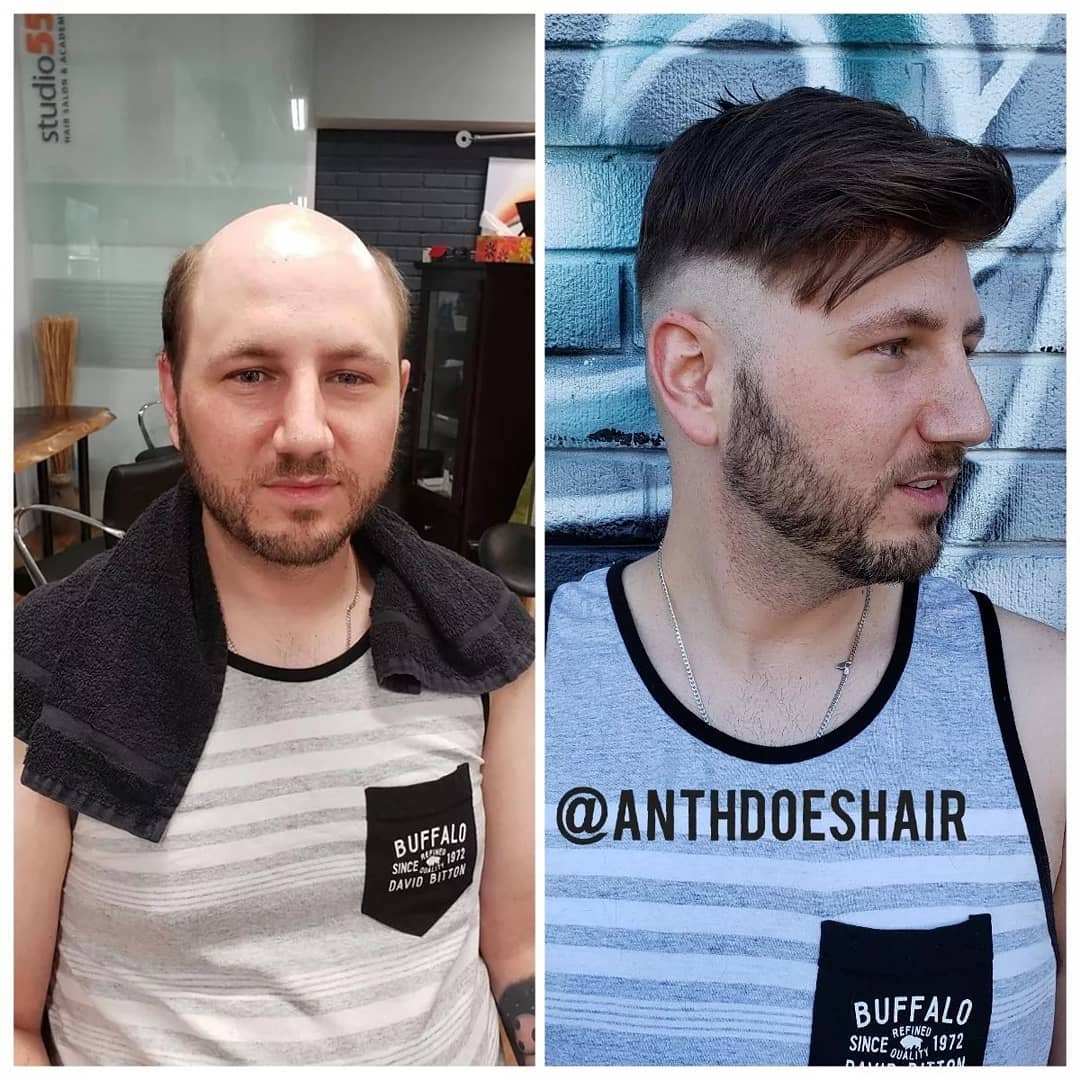 Furthermore, not all people are suitable to do a hair transplant, particularly people with sensitive skin. Improper operation may result in scars on your head and even severe loss of hair. While wearing hair toupees, you do not have to worry about these problems. Toupees sold at professional stores contain no harmful ingredients and have gone through safety tests. Most people, even those with sensitive skins can wear toupees to cover their baldness. 
The hair replacement system for men can give you immediate results. After surgery, you may have to wait for months to see your hair back while choosing a nice toupee, and asking for a specialized hairstylist to apply it to your head takes much less time. You can see the result as soon as the application is done. A hair system can last for months and you don't have to worry that it will slip off from your head. 
Besides, hair replacements can be customized. There are also female and children toupees. Therefore, anyone who suffers from hair loss will find those hair systems are a wonderful solution. 
How to apply hair systems?
The easiest way is to turn to a good hairdresser. If you buy a male hair toupee at a saloon, the hairdressers there will be very willing to help you. The most common tool used to apply male toupees is liquid adhesive and tape. The important thing is that you need to cut the base into the size that suits you best. 
It is suggested to look for videos online. There are many relevant teaching videos on Youtube. You can follow the steps taught by Youtuber. You can also find many blogs sharing tips on applications at the Lavividhair store. 
Where to buy a good hair replacement system?
Here at Lavividhair store, we offer you a wide range of hair replacement systems for men. We have a relatively long history of selling hair toupees and providing related services. We highly value the feedback of customers and are willing to make improvements based on feedback and suggestions. 
We have posted detailed product introductions and clear policies. We try our best to make your shopping convenient and you feel contented with our products. 
Conclusion
The hair replacement systems for men are a blessing for males with little hair. In this article, we give answers to what is hair replacement and what are its advantages. We also share some tips on its applications and where to buy a good product. We hope this information can help you have a nice purchasing trip.