How to Create Electric Blue Highlights in Brown Hair with Royal Blue Hair
May 19, 2023
Blog
Views: 42
Are you prepared to sport a daring and current look? Think of brown hair with electric blue highlights and royal blue hair. This gorgeous combination is a certain way to stand out in fashion. We have options for you, whether you want to use a men's hair system like Lavivid or go to a salon for a polished finish. To help you stay current with hairstyle trends, we'll go through the step-by-step procedure for attaining royal blue hair with electric blue highlights in brown hair in this post.
Choosing the Correct Blue Shade
Choosing the ideal hue is crucial when it comes to blue hair. If you have brown hair with electric blue highlights and royal blue hair, you should look for complementary colors that improve your image as a whole. Electric blue is vivid and arresting, while royal blue has a deep, rich tint. When combined with brown hair, these hues make a stunning and distinctive appearance.
It's advised to speak with a qualified stylist for a balanced combination. They can assist you in choosing the appropriate blue hues that complement your brown hair, complexion tone, and sense of style. Their knowledge will guarantee a perfect and fashionable result.
System of Hair or Salon?
Let's now talk about the two ways to get electric blue highlights and royal blue hair: utilizing a men's hair system like Lavivid or going to a salon. Before choosing, take into account your tastes and requirements as each strategy has unique advantages.
Lavivid Men's Hair System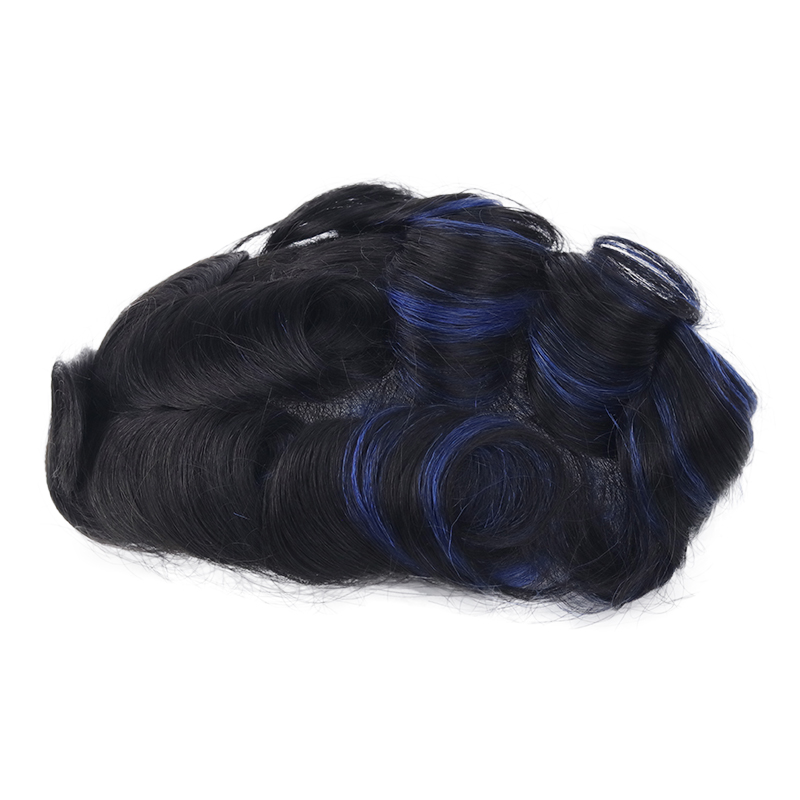 An excellent option if you're seeking for a non-permanent and individualized solution is a men's hair system. Lavivid is a well-known company that sells premium hair solutions made just for males. These systems are simple to attach, remove, and modify to fit your preferred aesthetic.
Lavivid offers a wide variety of choices, including hair systems made entirely of genuine human hair. Since it has a natural appearance and feel, it blends in well with your real hair. You can choose a Lavivid hair system with pre-dyed royal blue hair or use their customisation services to get the color you want.
Professional Salon
Visit a salon if you want someone with experience and a professional touch. A talented stylist will guarantee accuracy while adding electric blue highlights and royal blue hair dye, producing a polished and faultless look. To ensure even distribution and brilliant results, they will carefully apply the color after sectioning your hair first.
A salon professional can also advise you on the best color placement and styling methods to help you get the look you want. They will also provide helpful advice on how to take care of your electric blue highlights and royal blue hair.
How to Keep Your Blue Hair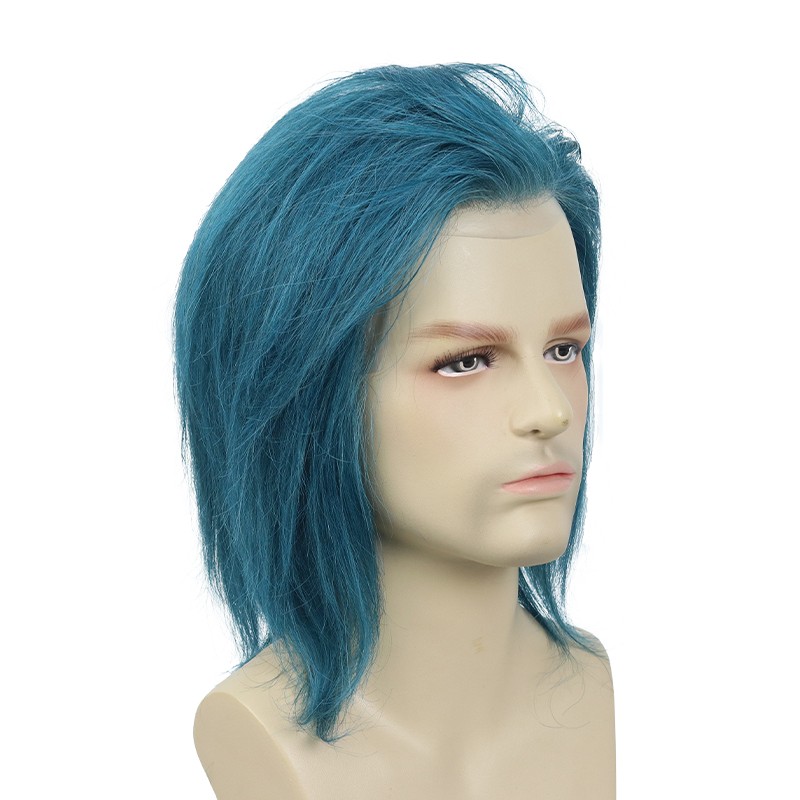 Once you've achieved your gorgeous royal blue hair with electric blue highlights, it's crucial to preserve and take care of your new look. Here are some essential pointers to maintain the vitality and health of your blue locks:
Purchase shampoos and conditioners made especially for color-treated hair. Use color-safe hair products. Your blue hair will last longer and retain its color with the help of these items.
Reduce Heat Styling: Too much heat can harm your hair and fade its color. Use hot tools sparingly, and always spray on heat protectant before style.
Schedule routine touch-up sessions at the salon or update your hair system accordingly to keep the brilliant blue color because blue hair dye tends to fade over time.
Avoid exposure to the sun and chlorine because both can cause color fading. Wear a cap to protect your hair or apply UV-protective hair products. Wear a swim cap or rinse your hair with fresh water before and after swimming if you plan to go swimming.
In conclusion, brown hair with electric blue highlights is a stylish and modern choice for hair color. You can get beautiful results whether you use a men's hair system like Lavivid or go to a salon for expert advice. To keep your blue hair looking beautiful, bear in mind to select the appropriate blue hues, seek professional advice from a stylist, and adhere to regular maintenance procedures. Make a statement, embrace the trend, and sport those royal blue locks with aplomb!
---
---
Writers Cooperation:
LaVividHair is seeking for blog contributors who know and love hair. If you know alternative hair or hair related accessories, if you have great understanding of hair trends and fashion, if you are expert in hair care, if you have any experience with salons or celebrities, if you would like to share your experience to help people just like you make the right choice, now contact us at support@lavividhair.com to be a blog contributor. Let's discuss the details then.