How To Clean Skin Base Of A Wig
December 06, 2021
Hair System Adhesives
Views: 1295
Wigs are most often used by people who suffer from illness or disease that causes their hair to fall out and those who simply want to change their look without damaging their natural tresses or spending hours coloring or styling each day.
Having a wig can give you a fresh look without committing to a new style for long. They can add volume, color, and richness to your hair and make you feel like a whole new person. But keeping your wig looking good takes some work. One important part of wig maintenance is cleaning the skin base of the wig. 
In this blog post, we'll show you how to do it properly. 
Stay tuned!
Ways To Clean Skin Base 
If you've ever worn a wig, you know it's important to keep the skin base clean. A clean base prevents an infection. Fortunately, cleaning the skin base is easy - here's how to do it. 
#01. Skin Base Cleaner Method  
REMEMBER: If you don't see or feel adhesive residue on the base, it is still there. To fully clean your hair system and ensure a strong bond with future attachments, be sure not only do all residual adhesives get cleaned off but also make sure any excess glue from previous applications has been absorbed into each strand before applying another layer for maximum hold. 
Step 01: Drench The Hair System 
The base of this hair system is designed to be submerged in the solution and allow for a good amount of time. So it's best if you let that happen! 
Take a clean container, pour the Clean Skin Base cleaner until it's halfway full or reaches 1/2 to 1 inch in depth. 
Place the underside down into your cleaner, making sure that it is completely submerged. Leave the hair system in the base cleaner for a minimum of 8 hours and a maximum of 24 hours. 
Step 02: Peel Off the Glue From The Base System  
After 8-24 hours:
Remove the hair system from the cleaning solution carefully.
Thoroughly rinse the underside of the base system with cold water.
Find a loose edge on top and peel off any adhesive that bonds it to its counterpart around this gap, then gently remove them both with care, not breakage! 
Note: If some gluey residues are left on the base system, gently remove them using a scalp cleansing brush and rinse thoroughly. 
Step 03: Use The Shampoo
After you've removed the adhesive, shampoo your hair and base twice with a deep cleansing shampoo to remove any residue from cleaners, rinse thoroughly in cold water for best results!
Then follow up with a hydrating shampoo to ensure that your hair stays shiny and frizz-free. Apply it through the length of each strand, massaging in deeply before rinsing thoroughly away for maximum results.
Step 04: Dry The Base System 
To dry, lay your hair system on a towel and fold the towel to cover it. Gently press any excess water into an absorbent mat!
Once the base system is dried, place it on the styrofoam head and style the hair system as you want. 
Let the system dry completely! 
Tip: After the system is completely dried, reapply the glue to the base to reuse. 
#02: Citrus Oil Method 
There are many different ways to remove adhesive from the skin, but citrus oil is arguably one of the best.
Step 01: Spray the citrus oil on the base skin hair system and let it sit for 1 to 5 minutes. 
Step 02: Wipe away any excess with a cloth or tissue paper
Step 03: Apply shampoo on the underside base system to peel off the glue residues and then rinse thoroughly. 
Note: Repeat the steps a few more times to completely remove the gluey residues and to maintain the bonding. 
Try Lavivid's C22 Spray Citrus Based Wig Glue Remover 
Looking to remove pesky wig glue? Look no further than Lavivid's Spray Citrus Based Wig Glue Remover! This product is rapidly becoming a fan favorite for its gentle on-skin formula and quick results. Plus, it's citrus-based, so you can feel good about using it!
Our C22 is the perfect adhesive remover for toupees, wigs, and other hairpieces. It quickly removes any residue left behind from tape or liquid adhesives, so you can rest assured your hair will look its best. Plus, our formula is gentle on the skin and won't cause any irritation making you feel confident and look sharp all day long.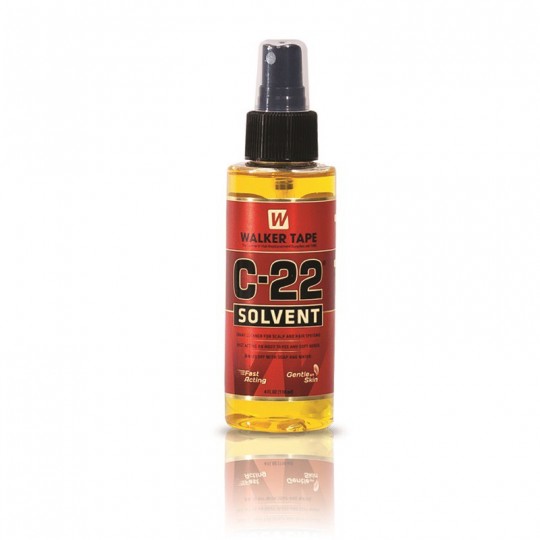 To check out more products with the latest trends, visit the Lavivid website! 
---
---
Writers Cooperation:
LaVividHair is seeking for blog contributors who know and love hair. If you know alternative hair or hair related accessories, if you have great understanding of hair trends and fashion, if you are expert in hair care, if you have any experience with salons or celebrities, if you would like to share your experience to help people just like you make the right choice, now contact us at support@lavividhair.com to be a blog contributor. Let's discuss the details then.