The Guide to Choose the Inspiring Mens Hair Dye Ideas
November 17, 2020
Blog
Views: 1308
There are a myriad of crazy men's hair dye ideas that you should try at least once in your lifetime. It takes courage and an eye for style to come with an unconventional hair color for yourself that would define your vibe and would make a statement about your personality. Here are some hair dye ideas that you have to consider when being out for an eccentric look. 
1. Neon green
This lively hue suits greatly men with olive and dark skin. It seems like an explosion of energy on top of your hair that provides a radiant vibe and calls to action. To get the most of this amazing color, you have to dye only the top, while leaving the sides dark. This will help create a vibrant contrast.
2. Pale rose
Another "just the top" color style that suits all skin tones and is a perfect touch-up for a lot of haircuts, especially slick back, and pompadour. It's time to forget about a rose being a woman's color, cause newly, it's a manly hue that proves your courage and determination for a change while making girls skip a heartbeat when seeing your fetching look.
3. Sun-streaked
From a dramatic rose to something more conventional. This style is just a slight modification to your dark hair, that looks so effective and statement-making though. It involves some blonde highlights added to your brownish hair that make it brighter and full of movement.
4. Retro orange
This one should stand at the border between conventional and out-of-the-box. It's so eccentric-looking, but at the same time reminds of the natural ginger hair that some guys are lucky to have from birth. So if you are not one of those Irish guys with radiant orange hair, you can become one in a couple of minutes by asking your hairstyler to add the dramatic ginger hue to your boring hair. 
5. Ginger revolt
Ginger is such a huge trend nowadays. This explains why we have two hues of this amazing color in this list. Comparing to the above-mentioned retro orange, ginger revolt is more shocking and blasting, shooting with bullets of sex appeal and style. It rather belongs to an out-of-the-box thinking, making a statement about your individualist spirit.
6. Teal blue
This one features a striking combination between blue and green, creating a shining and revolting blue that promotes change and courage. It complements a dark beard nicely, leading to an appealing contrast.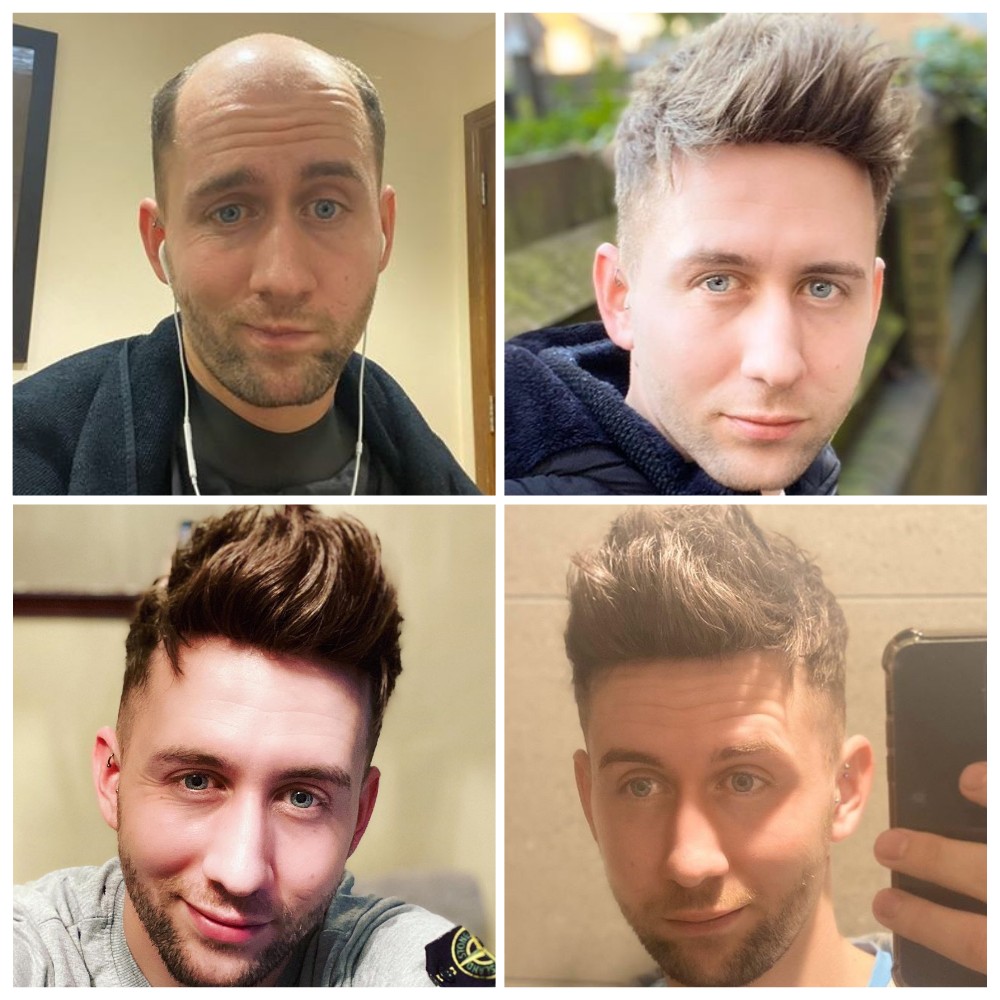 7. Orchid
Orchid is one of the mildest hues from the purple spectrum. It's bold, yet preserves the limits of conventional, being more or less tempered and calm. If you are afraid to take it to sharp and dramatic purples, you can start with a warm and mild orchid that pleases the eye and can be greatly combined with dark hair, prompting a positive and relaxing vibe.
8. Silver fox
If you associate gray with aging, it's time to rethink your vision. Gray, or its modernized name - silver, is the new definition of sex appeal. It turns guys into a magnet for girls while helping to make a statement about their sharp eye for style and masculinity. May be namely association with aging makes silver so popular with women, as it might make them think of the silver-haired man as being wise and experienced.
9. Metallic blue
If you have blue eyes, you should give a chance to this amazing color. For a more striking look, you can ask your hairstyler to play on shades and lights, throwing a bunch of blue hues on your hair at once, adding texture and movement, while calling the world's attention to your eccentricity and a different outlook on life, one that tends to defy conformity and adherence to conventional.
10. Whatever you want
Have a dye idea, but aren't sure if such a look exists? Don't worry. You can go for it and create it yourself. Just grab the dye brush and combine whatever and how many colors you want, giving birth to a new never-seen-before style. Keep it just on top or go all out, add highlights or throw some shades, it's only up to you how your next hairstyle will look.
To conclude, if you are looking for some unusual men's hair dye ideas, there are plenty of hues you can try, from a bold neon green to a temperate sun-streaked brown, from a statement-making ginger revolt to a DIY whatever-you-want style where you are the one who decides which colors to combine. 
---
---
Writers Cooperation:
LaVividHair is seeking for blog contributors who know and love hair. If you know alternative hair or hair related accessories, if you have great understanding of hair trends and fashion, if you are expert in hair care, if you have any experience with salons or celebrities, if you would like to share your experience to help people just like you make the right choice, now contact us at support@lavividhair.com to be a blog contributor. Let's discuss the details then.