How To Choose Human Hair Wigs for A Small Head That Snug Fits?
December 22, 2021
Hair Replacement for Men
Views: 2865
When you purchase a wig that does not fit your head, it creates a total disappointment. It happens because we only pay attention to the looks of a wig, not on its details. Therefore, measuring your head before ordering a wig is crucial, same as when buying the shoes; you ensure it fits your foot. 
Wig not fitting on the head is the critical problem of people with a small head. However, if it is addressed correctly, it is not a complicated matter. 
Having a small head is not a bad feature. It is the same as if some of us are tall and others are short. Few are lean, and a few have healthier bodies. But in most cases, people don't know that they have a smaller head than the average head size. 
So, when they find their favorite style wig is on sale, they select it in medium-size and order it. And if someone knows they have a small head size, they pick a small size in already given sizes without considering its measurements. 
But there is nothing to worry about; To help you choose the human hair wig for small heads, in this blog, we will inform you:
1. How To Measure Your Head?
2. Which Head Size Considered Small?
3. How To Order a Wig If Your Head Size Is Not Listed?
4. How To Choose the Best Human Hair Wigs for Small Heads?
5. 4 Key Points to Choose Human Hair Wigs for The Small Head
How To Measure Your Head?
A fitted wig adds confidence to our personality. For ensuring that a full cap lace wig will perfectly fit on your head, there are three steps to consider when measuring your head. 
Step 1: 
For measuring the head for a wig, first, you need to measure the area from ear to ear over the top of the head. Here's how to do it.
Use a fabric measuring tape, put the metal piece of measuring tape on the just above one ear, move it above the top of your head, then reach right above the second ear.
When you reach right above the second ear, place your finger in a pointing manner on the tape. Then, please remove it from your head while keeping the finger in its place, so you can note down or see the number correctly. 
Step 2:
After measuring the area from ear to ear, you need to measure the circumference of the head. 
For this, put the measuring tape's metal piece at the middle of the front hairline. Next, start following the circumference of the hairline and reach the nape of the neck. After arriving at the nape, continue measuring the head by following the circumference of the hairline at the other side of the head and reach the middle front of the hairline where you have placed the measuring tape's metal piece.
Step 3: 
After measuring from ear to ear and the circumference, there's the last step in which you will measure your head from front to back. It is a straightforward step among all steps. 
Put the measuring tape's metal in the middle of the front hairline. Then, move the measuring tape from over the center and top of the head in a straight line. Finally, reach the hairline at the nape of the head. Note the number on the measuring tape. 
Which Head Size is Considered Small?
Here we will tell you the head sizes from different angles in inches, considering the size of a small head. Match the sizes given below to the sizes you had noted down while measuring your head.
If your
1. Ear-to-ear over the top of the head size is 13 inches
2. The circumference of the head is 21 inches 
3. The front to back head size is 13.25 inches
You need a 'wig for a small head,' called a 'petite wig.'
How To Order a Wig If Your Head Size Is Not Listed?
Traditionally, there are three sizes listed on a wig store, small, medium, and large, to order a wig, and you stay afraid of how you can trust them for having a perfectly fitted wig. 
Know us; we are Lavivid Hair, a company that manufactures their own range of designer wigs, hair toupees and fully supports the customer finding the perfect snug petite wig. 
With us, when you place an order for a full cap lace wig, we contact you so that you can send us your head template. Having a mold of your head will help us to copy the size and curvature of your head. It will result in a wig that fits your head even when you have not applied glue or tape to bond it. 
Here's how to create a full cap template: Click to watch
How To Choose the Best Human Hair Wigs for Small Heads?
Here are some features that make a human hair wig for a small head best, and we will link a wig having exact features to give you the optimal idea. 
Cap Size: A wig must have a snug wig cap that fits on small heads. Visit this link.
Base Material: Make sure a thin translucent polyurethane (PU) base material must be used to make a human skin-like appearance. Moreover, lace wigs with PU combination wigs have a longer lifespan than just human hair wigs with lace wigs. 
Hair Density: The hair density in a wig must be average, just like our natural hair, which is 100% to 120%. Authentically, a wig having a PU base design has a natural density of hair. 
Hair Length, Hair Waviness, and Hair type: Sensible hair growth on a man's head must be from 5 to 6 inches if he wants complete versatility of hairstyling. 
Furthermore, our wigs are handmade, which means you are not bound t to one specific hairstyle. Also, our wigs are made of Indian human hair. It means we have free hairstyle human hair; you can experiment with any hairstyle. 
Naturally, rarely do humans have pin-straight hair. So, having some natural touch to the hair can make you look smart wherever you go without looking over-fashioned or boring. That's why we have added a slight wave pattern of 30 mm rod size to our hair. 
4 Key Points to Choose Human Hair Wigs for The Small Head:
Consider what kind of hair texture, hair length, and hairstyle you want. 
1. Always choose a wig with the cap of your head size or give an order to them who can get in touch with you to construct a petite wig. 
2. Look that your desired wig is present in the hair type you are looking for. For example, if you want versatility in styling, look and feel more natural, go for a human hair wig. Plus, it can last a year with proper care. 
3. Cap features are also essential to consider. There are various things like 100% hand-tied, monofilament, lace front, basic cap. 100% Hand-tied cap is best for having full control of styling.
4. Last is the color. Among a wide variety of shades with slight differences, don't pick one at the shopping moment. Instead, decide it in advance because hair color plays a crucial role in your appearance. 
Look at one of the best human hair wigs from the small head that fulfills all customer's demands: Bradley Men's wig for baldness | Full Cap Lace Wig | 100% Hand Made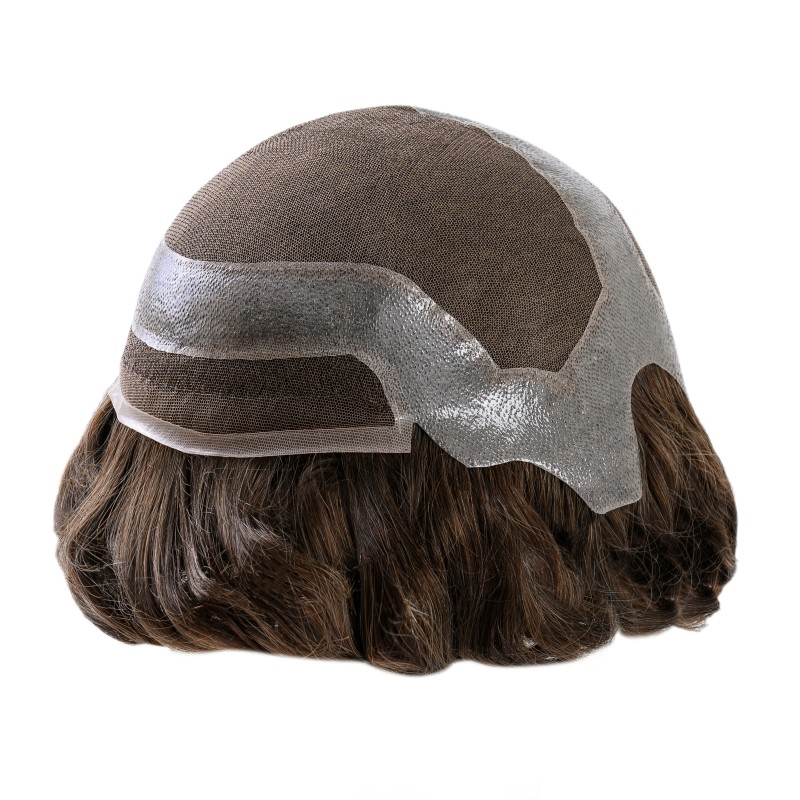 ---
---
Writers Cooperation:
LaVividHair is seeking for blog contributors who know and love hair. If you know alternative hair or hair related accessories, if you have great understanding of hair trends and fashion, if you are expert in hair care, if you have any experience with salons or celebrities, if you would like to share your experience to help people just like you make the right choice, now contact us at support@lavividhair.com to be a blog contributor. Let's discuss the details then.