What Do You Think of Bald Spot on Head Male?
December 30, 2020
Blog
Views: 2481
Bald spot on head male gives information that the person is losing hair severely. An individual who sees some bald spots on his head has to work on it without delay. It might be a severe or slow process because it gets changed from one individual to another individual. You have to analyze the reason for hair loss and accordingly, you have to restore the normal status. Bald spots may occur due to the condition known as alopecia. Due to this disorder hair starts shedding on the head of a male in a limited number of massively. However, the hair fall progress does not cease at all. 
Bald spot on head male
Usually, males undergo a serious turn after a certain age in the form of hair loss. After thirty years of age, the hair on the scalp starts losing slowly. We could not say that this hair loss is meant for all males. However, there are males who have strong hair density until old age. However, a majority of males are suffering from hair loss which is mainly due to male pattern baldness. Also, other reasons such as stress, food habit, lifestyle but majorly genetics play a vital role among males and females. The hair loss starts first at the frontal part of the males and it slowly touches the crown. For some males, hair loss starts directly from the crown areas and finish off all hair on the head. 
What would a male does on his bald spots?
Bald spot on head male is never going to leave the person freely with his mind. He might lose his temper and would start searching for an alternative solution. This is a widely practiced rule and expectation of the balding customer across the globe. Either he has to choose some medicines that give him a solution to his hair loss or he has to forget the medicine and has to proceed with hair units finally. Mostly, males like to have original hair on their bald spots and hence try different medicines for natural regrowth of hair.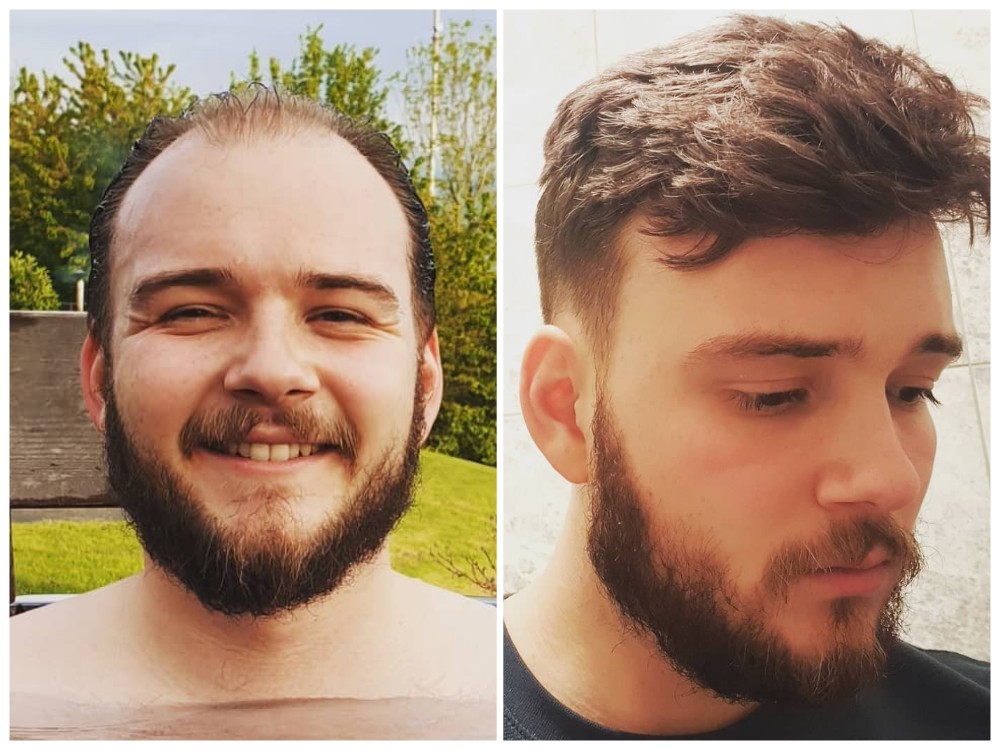 Is it possible -natural hair regrowth? 
Natural hair regrowth for males is an old technique being followed by many males. What about success? When we speak about the success of the natural hair formation on the bald head it is very clear that only surgery methods have proved good to an extent. The medicines that are meant for bald heads do not produce good results for most of the males who have lost hair. Many topical medicines are found for the balding issue but a majority of them did not produce the desired results. Many males have lost money and time on it. The best solution offered to bald customers for getting natural hair is by hair transplantation technique. 
How do you cover the bald spots on the head?
It is a major aim for males to cover the bald spots on the head by means of an artificial hair unit. What is the hair unit? Hair unit is an artificial hair strand worn by bald people on their bald people to cover their bald spots without getting noticed from other points of view. Many bald customers who have lost hair usually try hair surgery techniques or hair replacement systems. Still, some more customers try to apply drugs like Rogaine and finasteride. These drugs have been giving some results to the hair losers. Wig or toupees are other perfect tools for bald customers to cover the bald spots. 
Celebrities bald spots
Many celebrities from different fieldwork hard to restore lost hair on the head. They are most affected than normal men because their status gets lost due to hair loss issues and hence they spend a huge amount of money for covering the bald spots. Usually, the bald spot on the head of male celebrities tries various combinations for hair loss issues. A lot of bald celebrities use toupee or wigs partially to cover the bald head. 
Conclusion
When we discuss baldness among males the first thing that comes to our mind is wigs or toupees. These hair systems are playing a vital role in the life of males majorly by protecting their self-pride. Exclusively, a lot of bald males are very serious about hair loss in their life.
---
---
Writers Cooperation:
LaVividHair is seeking for blog contributors who know and love hair. If you know alternative hair or hair related accessories, if you have great understanding of hair trends and fashion, if you are expert in hair care, if you have any experience with salons or celebrities, if you would like to share your experience to help people just like you make the right choice, now contact us at support@lavividhair.com to be a blog contributor. Let's discuss the details then.