3 Alternatives for You to Choose Hair Replacement Systems
May 09, 2021
Blog
Views: 1410
How do hair replacement systems work? Hair loss is pretty scary as it will crash your confidence and let you live in panic mode. To beat or hide baldness issues, hair replacement systems are quite recommended by people who are suffering from this. There are some ways to help you rebuild confidence, let's check it out. 
Non-surgical hair replacement systems
Those who just realize they need to cover their bald spot may be confused to hear the phrase "Non-surgical hair replacement systems". What exactly are we talking about? Simply says, non-surgical ways for hiding baldness means to use toupees, wigs, or even hats to cover the bold spot. These are the most common and quickest tools that help you rebuild your looks. 
How do hair replacement systems work? The toupee system is very mature now after decades of development. Made by real hair or the mixture of synthetic and human hair, nowadays toupees are comfortable wearing, natural-looking, and can be worn on any occasion. Even you can customize the toupee to make it more you. The toupee base, hairstyles, hair colors, and even the hair texture are selectable, you can always find your love in the market.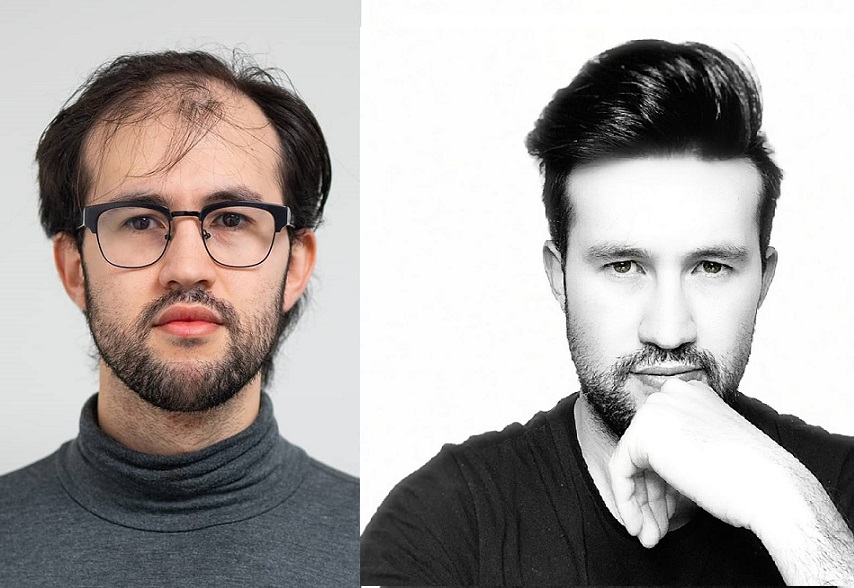 Toupee system can be best in many different ways, best wearing experience, best appearance, and best texture, so on and on. Most wearers want a toupee system that will provide the most natural, undetectable appearance as much as possible. To them, a full lace toupee can be a perfect choice. Some other wearers who prefer durable kinds may choose poly toupees as the base is stronger, but the wearing may not be very comfortable. 
If you do not know what base to choose, we recommend you buy a combination of polyurethane and lace toupees. This type of toupee system is comfortable to wear, and will not harm your scalp by itching or dermatitis. The prices for non-surgical hair replacement systems may go from $89 to even thousands of dollars. In short, the more you spend, the more natural the hair system looks. 
The price and the maintenances of a toupee system decide its lifetime. Even you buy a very expensive toupee, but you treat it badly, it will not deliver its best value. So if you prefer the non-surgical ways of hiding baldness, do remember to care for your toupee systems, they can do their job in the way you want! 
How do hair replacement systems work regarding hair transplant?
Some people may be interested in surgical treatment like hair transplant, this is a permanent way to get rid of baldness. Ideally, this is a very great way to have your natural hair back. But it also has some downsides like the itching risks, slow-growing path, and high cost. Before you do this, it is very important to fully understand the surgery and conduct it with a relevant qualified doctor. 
The reason people choose hair restoration is that it renders permanent hair. As we mentioned above, the procedure of hair restoration takes patience and time. So you may need to consider a full plan and also prepare the toupee in case you will attend some important occasions. 
Other hair replacement systems Alternatives
To slow hair loss, there are some oral medications available in the market that can promote hair growth and prevent further hair loss. If you're considering using medical treatment, a healthcare professional or doctor can help you weigh the risks and benefits. The medical treatment may take a longer time than surgery. And somehow is also hard to notice the hair growth pattern in a short time. 
Different brands or different types of medicine or lotions may have a different effect and using duration. It can help stimulate hair growth by daily use. You will need to apply the medicine or lotion every day to ensure it works. So some people will find this process slow and easily forget to take medicine after a full day's activities. 
How do hair replacement systems work? Believe now you may already see there are different alternatives including non-surgical and surgical ways. Toupees are not the conflict of the other hair replacement methods, they are good partners that help you get your smile back most quickly and peacefully!
---
---
Writers Cooperation:
LaVividHair is seeking for blog contributors who know and love hair. If you know alternative hair or hair related accessories, if you have great understanding of hair trends and fashion, if you are expert in hair care, if you have any experience with salons or celebrities, if you would like to share your experience to help people just like you make the right choice, now contact us at support@lavividhair.com to be a blog contributor. Let's discuss the details then.