How to Make Hair Replacement Systems Training for Better Application?
June 14, 2021
Blog
Views: 1391
Hair replacement systems training, be it application training or maintenance training is key to a good-looking hairstyle. Without help from hairdressers, you can also apply or maintain a hair system. The followings introduce how to apply toupees step by step and share some key points on maintenance. 
When I tried to wear a hair replacement system for the first time, it was a mess. The fact tells me that do not try to do anything without full preparation, so do apply a hair toupee to your head. The simplest method to attach a toupee is to ask professional hairstylists for help. If you want to master the techniques yourself, you can consult them. They will be very willing to dispel the doubts of their customers. 
If you are a new hairdresser just starting to learn to make hairstyles, hair replacement systems training may be one of the courses you must take. Several tips can help you to apply a hair toupee quickly and easily. And you can change a new hair system at home without extra help. 
Before applying the product to your head, you need to prepare some items. They are toupee adhesives or tapes, scalp protectors, an application sponge, hair clips, an alcohol-based cleanser, eyebrow pencils, and an adhesive remover. 
Step 1
Clean your scalp. A good condition of your scalp is essential to make sure an effective and secure bond. Make sure that all the dirt and oil on your head are cleaned up. If you are wearing a hair unit, you need to remove it first. Use the adhesive remover to clean all residues up and a towel to absorb water. The scalp should be dried. 
It is better to wash your scalp twice with a moderate amount of hair conditioner and shampoo. You need to pay careful attention to the bonding area which is the key to the success of the application. 
Step 2
Mark out the application with a light-color eyebrow pencil. After cleaning up your head, you can draw several lines on the scalp to locate the bonding area so that you can apply the hair system precisely. The right position is a key to final good effects. You can use a big mirror put above your head or ask someone to draw the lines for you.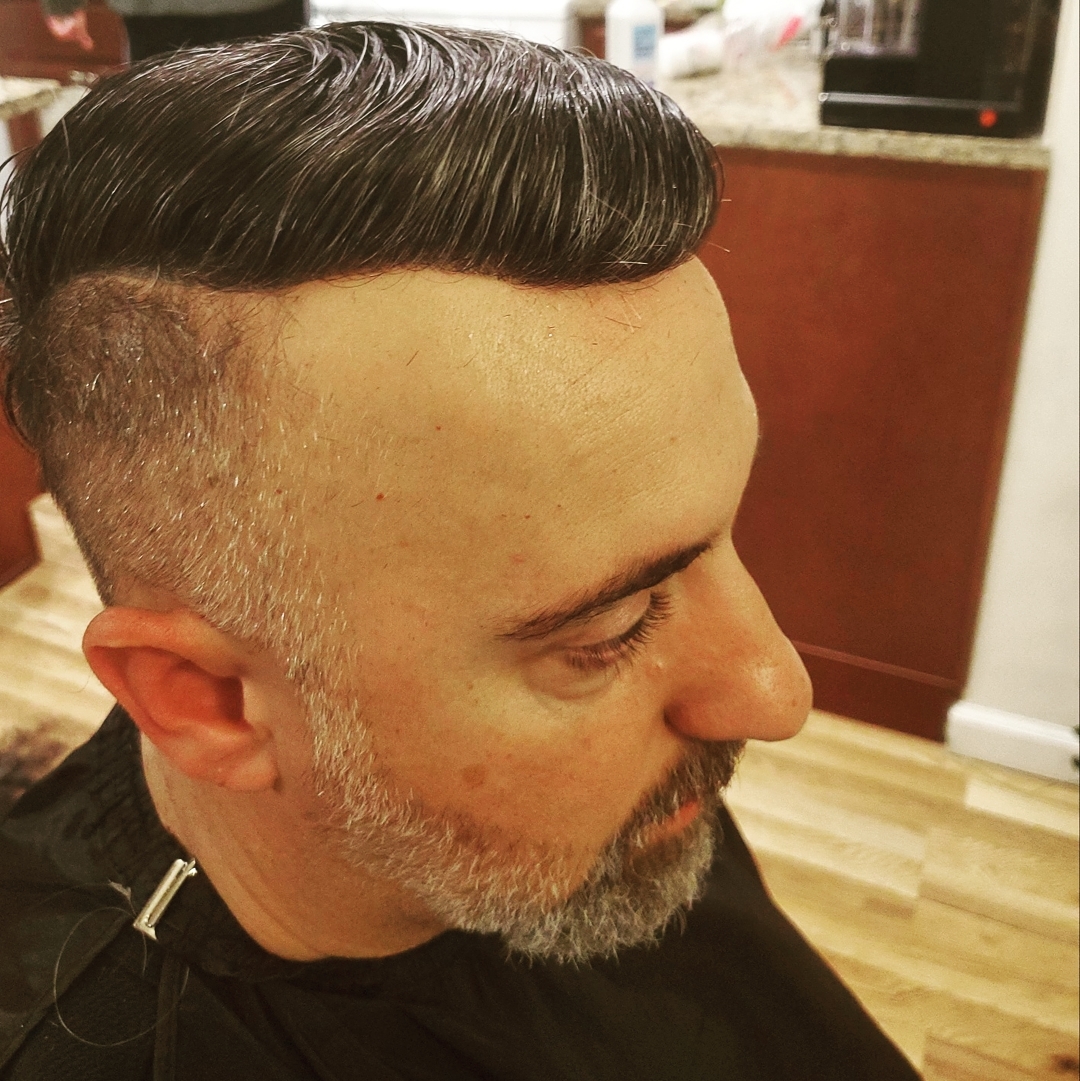 Step 3
To protect your skin, before application, you can apply a layer of water-resistant sealant and leave it to be completely dried. 
Step 4
Pour a moderate amount of liquid adhesive to the places you just mark out by pencil. You can use a brush to spread it evenly on the whole surface. After each layer of glue is dried, you can add the second and third ones. The liquid adhesives sold at the Lavivid store are clear and durable. 
For instance, the Great White Toupee Glue can be used on all sorts of toupee hair bases. It can last for 3-5 weeks. The transparent color makes it undetectable perfectly blending with skin color. The drying times of different hair glues are different. Air temperature, the quality of glues be it more oily or dry, humidity levels, and the thickness of layers all affect the speed of drying. 
Step 5
Until the glue base is completely dried, you can place the hair replacement system over it. Press it gently and use a comb to press all the edges so that the hairpieces can be attached to your head seamlessly. 
After finishing the above steps, you can successfully wear the hair replacement units. Apart from the application, hair maintenance is also something you should learn to keep the hair system in a good condition and prolong its longevity. 
Several things you need to notice when conducting maintenance
1. Use a wide comb to smooth out those tangles with gentle strength. With too much strength, you may pull hair down.
2. Comb first and then wash the hair.
3. Apply some hair protection products to keep the hairpieces moisture.
4. Carry a maintenance treatment weekly.
5. Do not wash the hair unit a day frequently. 
Conclusion
You can do the hair replacement systems training at home with these tools. Proper application combined with good maintenance can produce the best results. All the tools mentioned above can be found at Lavivid.
---
---
Writers Cooperation:
LaVividHair is seeking for blog contributors who know and love hair. If you know alternative hair or hair related accessories, if you have great understanding of hair trends and fashion, if you are expert in hair care, if you have any experience with salons or celebrities, if you would like to share your experience to help people just like you make the right choice, now contact us at support@lavividhair.com to be a blog contributor. Let's discuss the details then.