Exploring LaVivid's Innovative Hair System with Luciano
August 31, 2023
Hair System Ebook
Views: 70
Hello, guys! My name is Luciano, and today I'm here, invited by LaVivid, to make this unboxing of the new hair system from Lavivid. The name is Louis, a see-through bio hair system. This hair system is incredibly thin, measuring from 0.04 to 0.06 millimeters, so it's really thin. They have created this hair system with the idea of reducing the shine that's typically associated with plastic. Usually, when we have PU hair systems, they tend to have a shiny look. So, I have the hair system here to check with you guys, let's open it.
First of all, I want to say thank you to LaVivid for all your support. I think for people who wear the hair system in the front, it's really important to have as natural a look as possible. So, as they upgrade their products, everyone wins – the customers and the company. LaVivid is working hard to make the best-looking hair systems possible. So, thank you so much, LaVivid, for all the support.
I've never seen this product before, so I'm excited to see it as well. Let's open it.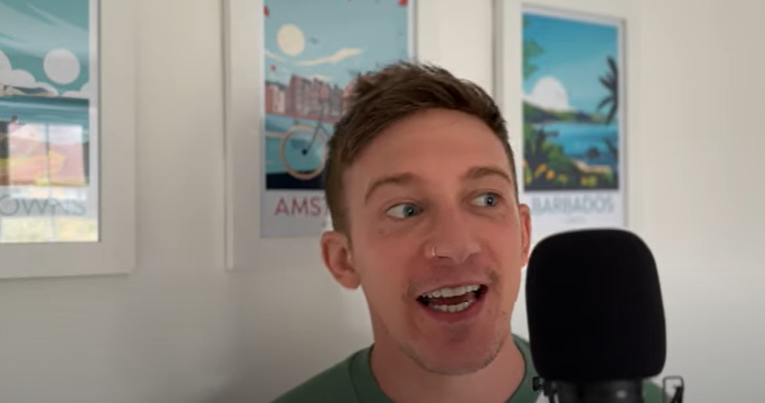 Oh, that's nice! Usually, they... Oh, they've changed the boxes as well. Let me show you. I have an old one here. So, this is the regular LaVivid box. You see, when you open it, it's like a shoebox. That's how it usually comes. And this is the new one. You see, the material is harder, and you open it like a gift box. I love it. So, let's see the hair system.
Okay, as always, they send it like this, with the little card. Okay, and here you have some tips and the hair system. You see here.
So, one thing that I asked them was to cut the base, not the hair, because I usually do my own hairstyle, and I'm planning to have this hair cut by a professional. So, I just asked them to put the base.
Here it is. They always cover everything and just open here.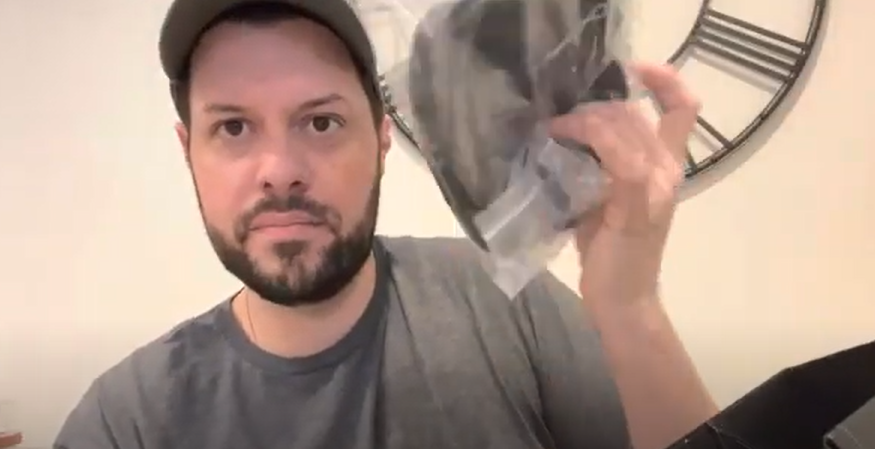 Um, okay, here it is. So, look at this. This is the new hair system. Okay, look at the quality. I always say, look at the quality of the hair. It looks incredible. It's so incredible. I'm going to place the density and all the information for this hair system in the description as well. I want to share with you guys. Here, let's see.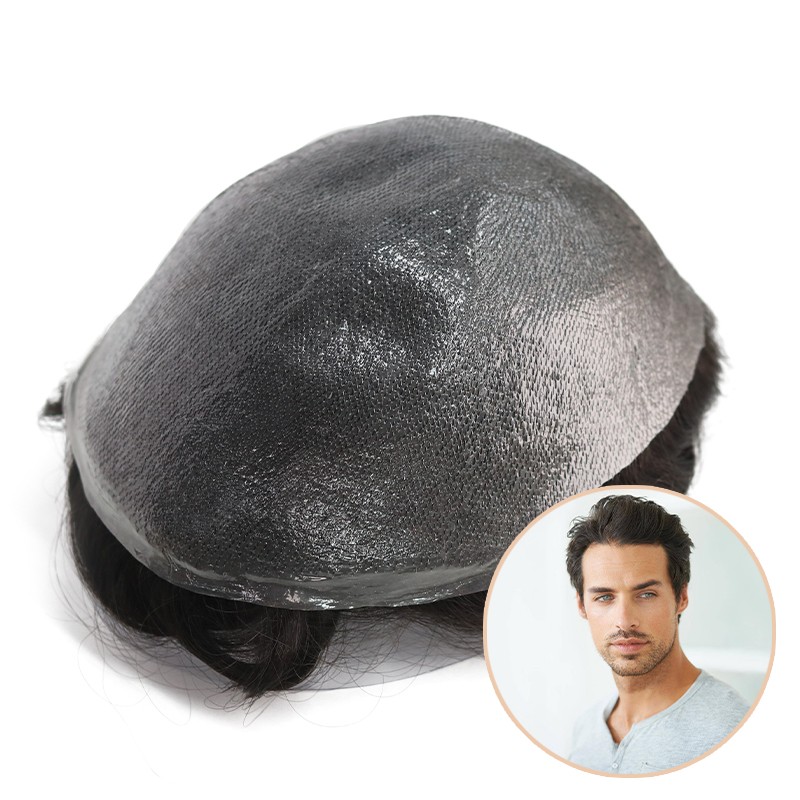 Wow, this is really nice. So, the first thing I noticed about this new hair system – and I have to be honest with you guys – when you first look at it, it's really shiny. Let me compare it with you guys. This is one of the old ones that we have, and this is the new one. Maybe because this is brand new, but it's really, really shinier than the other one. But when you look outside, what matters is that it's really, really natural, no shine at all. And I want to compare it for you guys. I'm going to place it on my finger here and compare it so you guys can see the difference.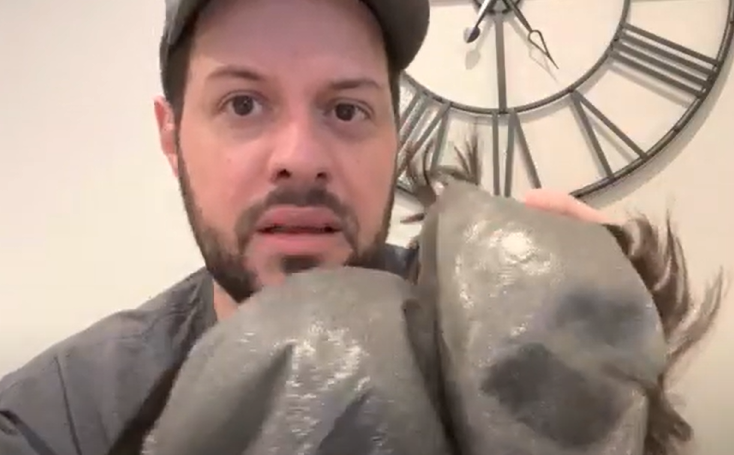 I'm having a really hard time trying to show you guys how this plastic disappears on the finger because the camera is not even focused. So, you see, here, right? The plastic is here, but when you place it on your finger, it kind of blends with everything. So, like... It's really nice. I used to say that the hair system was really thin. When you get a thin hair system, it's really hard to tell that you have a hair system at all. But this one... Look, even in my eyes, the camera probably sees it in a different way, but when you hear and look at my finger, when you place it, it kind of disappears. You see, like, where is the hair system? I don't even know it's here.
You see, look at the plastic there. You see the plastic on top here, and then... Like, when you touch your skin, it disappears. I'm here for like 15 minutes already, trying... It's really nice. I don't know how they did that. I really don't know because when you look at this side, this side is really shiny. But when you turn it and you place it on your skin, it disappears. It's really nice.
So, yeah, that's what I wanted to show you guys. I really tried hard to show the difference. As I said before, for me, the difference in this one when you just look, it's really shiny because it's new. But outside, it's really, really hard to show you guys. It's really... It's hard. I'm still trying here. I'm still looking here and trying to find a way to show you guys. But I love the quality of the hair, definitely. Because the quality is... There's no comment about that because this is always amazing from LaVivid.
I love the density of this. It's not so dense. I need to check how much the density is because I don't remember, but it's going to be in the description. But it's probably around 110. Oh, and something that I noticed just now... It's more firm. It's thinner. Like, I mean, it's thin, like the other ones, you know? Like this one. Look, this is more elastic, so I was always afraid about this one when I was taking it out to not damage it because it's really elastic. It looks like a plastic bag, you know, really elastic. And this one is more firm. It's really more firm than that, like really more. I like that. I like...
Perfect. So, I think this is going to last longer than the other ones. So, yeah, that's what I want to show you guys today. Having something new is always really nice when you wear a hair system because I think everybody wants to be as natural as possible. So, they're doing upgrades, they're doing research, they're learning, and they're doing and they're sharing. And I want to share with you guys as well. So, thank you so much for watching. I hope you guys have enjoyed this video. Let me know in the comments any information you want to know about the hair system. Thank you again, LaVivid, for all the support. And see you guys again. Have a good one!
---
---
Writers Cooperation:
LaVividHair is seeking for blog contributors who know and love hair. If you know alternative hair or hair related accessories, if you have great understanding of hair trends and fashion, if you are expert in hair care, if you have any experience with salons or celebrities, if you would like to share your experience to help people just like you make the right choice, now contact us at support@lavividhair.com to be a blog contributor. Let's discuss the details then.