Does Jim Parsons Wear a Hairpiece?
February 06, 2022
LaVivid News
Views: 6418
Fashion trends are getting more unisex and less gender-specific. Hairpieces, which have long been connected with women, particularly black women, are now being hailed as the game-changer for balding men by numerous hairstylists and barbers across the country.
Man hairpieces, also known as cranial prosthesis, hair replacement units, or hair systems, are nonsurgical methods that restore hair to men who have lost it due to balding or thinning, alopecia, or cancer therapies. Man, hairpieces are designed for most hair kinds and have been increasingly popular in recent years.
Hairpieces have played a vital role in the past, not just for medical reasons but also for aesthetic reasons. Man, hairpieces are usually made entirely of human hair, while some are mixed with synthetic hair. Think of them as alternative hair, not fake hair.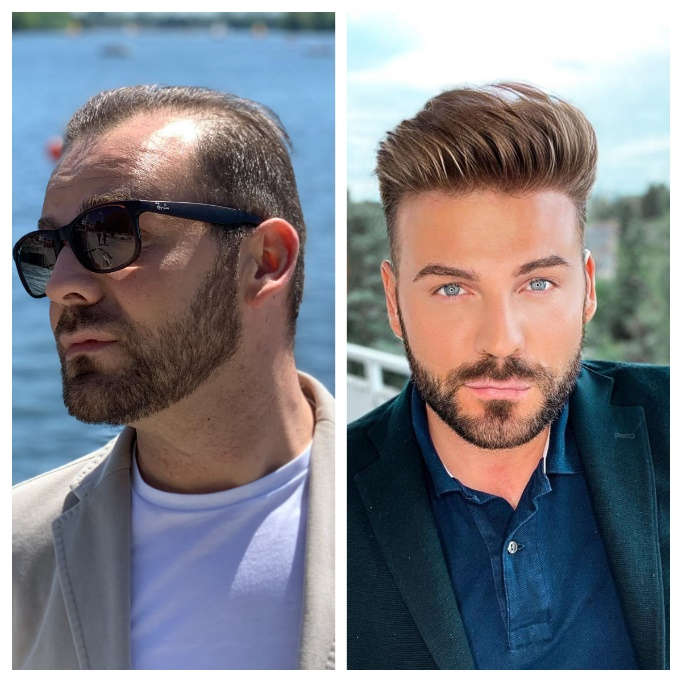 Celebrities are wearing hairpieces!
Have you ever wondered how celebrities manage to change their appearances so frequently? The cat is now out of the bag. Hair extensions are the key to a dynamic 'do! Hairpieces have been worn by practically every celebrity you can think of to help them produce a variety of looks for red carpet events and photoshoots. It's hard to believe, isn't it? Ask celebrity hairstylists who have worked with the likes of Charlie Sheen, Jim Parsons, and Nicolas Cage.
Hairpieces are a fun way to experiment with different looks. They let you have a short, blunt cut one day and long, thick hair the next, much like the celebrities.
Celebrities use hairpieces for a variety of reasons. Most of them simply enjoy changing up their hairstyles frequently, while others enjoy adding length and volume to their natural locks. On the other hand, wigs are a technique for a few celebrities to protect their crowning treasure.
Jim Parsons hair transformation!
James Joseph Parsons is an actor and producer from the United States. The Big Bang Theory is one of the most successful comedies of all time, and Jim Parsons plays one of the main characters, Sheldon Cooper, from 2007 to 2019. It's definitely one of the best sitcoms since Friends, and the actors had to keep their characters' characteristic looks for nearly a decade because the program ran for 12 seasons. That may seem not easy, yet some adults have had the same hairdo for longer than some teenagers have lived. Everyone on the show had a signature look that they wore for the show's duration.
Jim Parsons has largely maintained Sheldon's style since the show finished in 2019, with the exception of spectacles and slightly longer hair. We always thought he was handsome, and his long hair gave him a more relaxed and playful appearance than Sheldon.
The actor Jim Parsons has a receding hairline that is highlighted. Of course, this was before he had his hair transplanted, but that's a different story. For one of his plays, he wore a hairpiece to transform.
After leaving The Big Bang Theory's Sheldon Cooper to play ruthless Hollywood agent Henry Willson, comedy favorite Parsons goes from geek to fashionable. Needless to say, he sparked a lot of discussions. Many noted he looked completely different from the new 'do in the comments. One admirer admitted that he had no idea who this was at first! Is that you, Sheldon? Said another.
Jim himself said that It turned out to be a crucial step in his progress. In a fantastic sense, he felt like he wasn't quite himself. He claimed it was quite valuable, especially with some of the more unpleasant tasks he had to complete. He enjoyed the feeling of being free of obligation. He was certain it wasn't him.
Does Jim Parsons wear a hairpiece?
Their admirers should run any drastic alterations to a celebrity's appearance first. Such a jolt to our systems might be life-changing. Jim Parsons is one such example!
Jim Parsons, well known for his role as Sheldon Cooper on the smash TV show The Big Bang Theory, portrayed an entirely different character. Jim Parsons portrays Henry Willson, a talent agent in the Netflix limited series Hollywood. He chronicled his transformation into the part for the series on his Instagram feed. From his trailer, Jim Parson shared a video of the makeup procedure. He sits in the chair while his makeup artists work their magic to make him appear older. They flatten his hair and even put on a prosthetic head to make him look bald.
Wigs have played a key role in several memorable TV and film outfits. Jim Parsons also changed his appearance for the role, donning a hairpiece with thinning hair, brown contacts, and artificial teeth. Jim shared a photo of the clips he uses to keep his hairpiece in place at the back of his neck.
Celebrities like Jim use hairpieces to show off new and disposable looks rather than hide bald spots or damaged hair.
Conclusion
We look to our favorite celebrities for glitz and glam tips. They not only have a natural flair for fashion, but they also have some of the world's most skilled stylists, fashion designers, and beauticians working for them. When it comes to your latest looks, you simply can't go wrong by following in the footsteps of your favorite celebs. And we're accustomed to admiring and awing over the natural beauty of our favorite celebrities.
That's why it can be a bit of a shock when we hear that our favorite movie stars have a lot of help keeping their beautiful looks. But readers also learn that actors and celebrities don't just use hairpieces or wigs to hide their hair loss issues; they do so to ensure that the audience sees a character with a different style than before.
We've seen our favorite celebs transform into a variety of characters in all of the entertaining and exciting roles we've come to adore. It's easy to forget that wigs are frequently used to generate such a wide range of looks. It's even easier to forget that they, too, can be smitten by the looks they create in their films.
Jim Parsons, a determined actor, drastically modified his style and hair to fit the needs of his character. The audience well-received his appearance.
---
---
Writers Cooperation:
LaVividHair is seeking for blog contributors who know and love hair. If you know alternative hair or hair related accessories, if you have great understanding of hair trends and fashion, if you are expert in hair care, if you have any experience with salons or celebrities, if you would like to share your experience to help people just like you make the right choice, now contact us at support@lavividhair.com to be a blog contributor. Let's discuss the details then.