Something You Should Know about Men's Professional Wigs
March 25, 2021
Blog
Views: 1611
Men's professional wigs (alias: knitting, reissue, additional hair. )are hand-knitted by workers on a technical lace. It is a kind of high-end wig and its design is used to keep out men's white hair, sparse hair, and baldness, to avoid baldness visually and improving one out-looking. It takes almost 30 days to hook up a wig, so that why wigs have a high price.
Why so authentic?
The raw material is real hair and can be perfectly connected between the hair, and make it more natural and realistic. Manual crocheting knit by knitting can shape the hair's growth along with its natural direction which the machine cannot do. If you choose the bottom of the simulated scalp net, your head can be seen as more natural and authentic. Men's professional wigs stylists can shape the hair so that the whole shape can be perfect.
How to fix a wig on your head?
Generally speaking, two ways are going to be discussed. One is a clip and the other is glue. If you have enough hair on your temples, the length is over 2 centimeters, you should use the clip to fix the wig on your head. You can use 4 clips sew on the edge of the net and fix with sticks. You should use glue to fix the wig if you do not have so much hair on the temples. The hair amount on the temple decides which one you choose to fix the wig.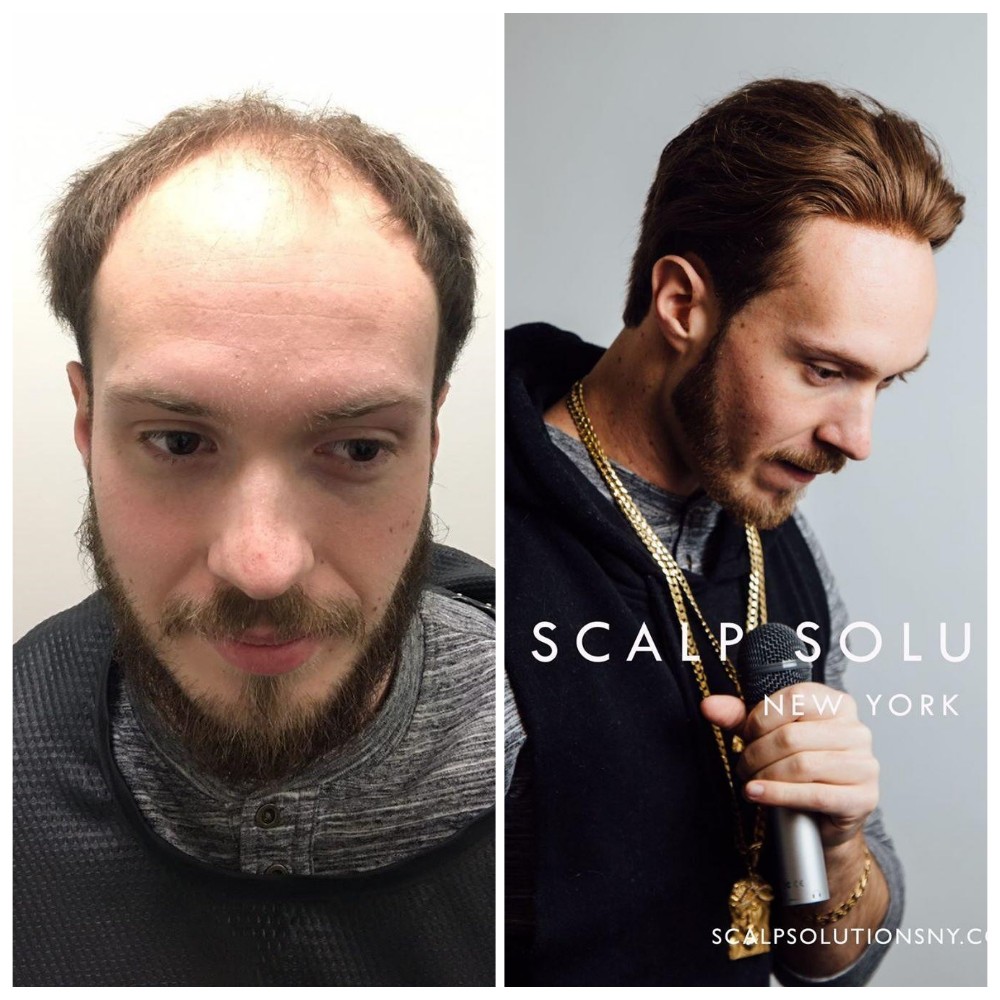 How do you feel with a professional wig? Something uncomfortable?
I have worn a wig for trial for a while to answer this question! I feel I just have a little slight patch on my head. It weighs maybe less than 100 grams. After the test, I only feel the wig on my head in the first 20 minutes. After 30 minutes the feeling has gone. I only feel I am wearing a wig when I shake my head strongly.
Can you wear it on your head when swim or play ball?
It is difficult for the men's professional wigs to fall off unless it has been dragged strongly. Fixedness and authenticity are the two most important characters of wig products. If the basic requirements can not be fulfilled, customers should abandon them right now.
Although the wig can be fixed on the head stably, we still can not wear it when swim or play ball games. There are some chemical additives in the swimming pool that can be harmful to wigs. It is difficult to forecast how big the external force will be. It is so embarrassed your wig fell off when you are swimming or playing ball games.
How to put the wig on and take it off? Can I wear it when I sleep?
Except for some wigs in special hairstyles which for stage performance using, almost all wigs can be put and taken off easily by ourselves. Besides, it is not recommended to sleep on the head even if it is the most common men's professional wig. Because sleeping will mess up the hairstyle and restore the hairstyle is particularly troublesome. It will damage the wig after squeezing all night.
About wig laundry
It is better to wash your wig once a week. The water temperature should be set within the range of 35 degrees. When washing, pour from the hair root to the end. You can wash it with a wooden wide teeth comb. The shampoo should better be Rejoice. It must be washed again with conditioner after shampoo washing. When the wig is half wet, it should be sprayed with a special care solution and let the wig dried naturally. Usually, we suggest users purchase two professional wigs for exchange use.
How is the men's professional wigs service life?
Five factors affect the service life: 1. Daily wearing time; 2. Extreme outdoor environment; 3. Regular washing and maintenance; 4. proper placement; 5. sweat and oil stains.
It is undoubtedly longer to wear occasionally than to wear it every day. It is much longer in office buildings than outdoors.
We can choose the wig from five aspects, they are product, effect, price, after-sales, and creditability. Also, you can review the comments on the official site. Different customers can make different comments, and all kinds of comments can be summed up to form credit abilities.
---
---
Writers Cooperation:
LaVividHair is seeking for blog contributors who know and love hair. If you know alternative hair or hair related accessories, if you have great understanding of hair trends and fashion, if you are expert in hair care, if you have any experience with salons or celebrities, if you would like to share your experience to help people just like you make the right choice, now contact us at support@lavividhair.com to be a blog contributor. Let's discuss the details then.