How to Choose An Affordable Hair Growing Transformation?
August 18, 2021
Blog
Views: 1113
If you want to look good and stand from the crowd, you need to use one of the hair growing transformations. Maintaining your hair to look good is one thing, trying to avoid hair loss is another thing altogether. It is a common phenomenon to lose hair across all genders. But doing hair growing change, you can bring back your initial look.
Some of the common causes of hair loss include: 
· Some hair care routines
· Stress
· Medical conditions related to your body immune system or inherited
· Skin Health
· Cancer treatment
· Hormone levels 
In most cases, treatments are present to assist you to regrow your hair or even help you in increasing your hair number where thinning has pronounced itself. 
However, in doing all this, it is important to trust on successful hair growing alteration method and keep on notice treatments and products that promise heaven with little to no scientific data to back them up. 
For that reason, we decided to put together this post to help you out with simple ways to transform your bald in hours. 
Before we can get deeper, if you have slow growing hair, then you may want to try the hair system comb that not only helps you to comb your hair but also helps you to massage the scalp and boost blood flow which in turn fastens hair growth. 
Also, you must try as natural as possible ways to treat your scalp like a vigorous massage on your scalp. This way will help to stretch your hair follicle cells that boost thicker hair development.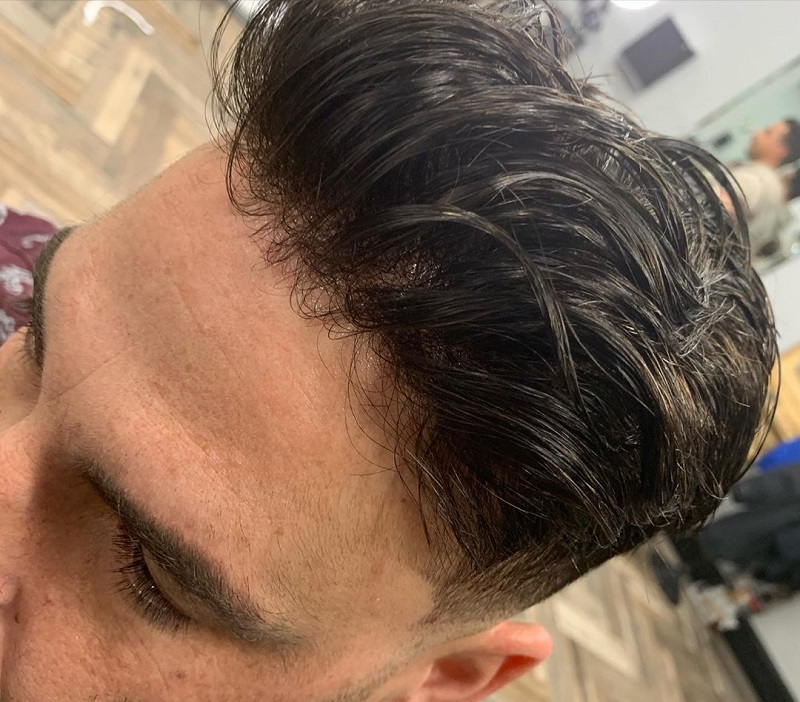 So, what are these hair growing transformation methods you want to try?
1. Simois Hair System for Men
As a man, you want to have a distinct look yet without breaking the bank, and with this choice, you have nothing to worry about. Indeed, this hair system comes with all a man needs to look handsome. It is easy to wear and will remain classic and unique on your head. 
2. Apollo Men's Toupee Online
When it comes to durability and style, Apollo has you covered. It stays on your head in a very secure and lovely way. Whether you've lost half or all your hair, you come back to your younger look. Being youthful should always remain the only option. 
3. Helios Hair System
This is one of the lightest and thinnest models to grab in the market. Aside from being affordable, it meets all your needs. Moreover, it is soft and you can expect to get the one-of-a-kind natural look. This unit has a breathable base and you can seamlessly use it during exercise. 
4. Felix Men's Toupee Hair Piece
Are you looking for a mono hair unit? Look no further because Felix Men's Toupee has your need covered. Aside from being affordable, this piece will stand the test of time. Be assured to look exquisite on this hairpiece. 
Factors to Consider before choosing Hair Growing Transformation
There are more and more options you can grab to deal with baldness and thinner hair, but it is paramount to have a look at some factors you need to consider before making your hair growing transformation. 
The first thing you want to consider is your budget. While looking for hair unit to transform your appearance, consider your budget. Don't spend what you don't have. Have a plan before seeking hair growing transformation. 
The next important factor you want to consider is the quality and look. Because you want to avoid embarrassment and frustration, you need to settle with hair system that will make you feel better and confident. It is therefore paramount to go for the one that has all your needs covered. 
Conclusion
It is possible and easy to regrow and have your look back than you thought. You may have to try more than one size, but you'll have a glamorous and fabulous look to show off in the long run. You don't have to stand the embarrassment and frustration. Be confident to choose the kit that will fit you without bringing any difficulty in their use. Affordance and quality should be your key while transforming your hair. It's not too like to look younger and complete with one of the above hair systems. We'll love to hear from you regarding any piece you may want more information regarding. Hope you've found the style you have yearned to get.
---
---
Writers Cooperation:
LaVividHair is seeking for blog contributors who know and love hair. If you know alternative hair or hair related accessories, if you have great understanding of hair trends and fashion, if you are expert in hair care, if you have any experience with salons or celebrities, if you would like to share your experience to help people just like you make the right choice, now contact us at support@lavividhair.com to be a blog contributor. Let's discuss the details then.