Reasons for Polymer Base is the Most Comfortable And Convenient
April 28, 2021
Blog
Views: 998
Modern problems require modern solutions. While hair loss has been an issue for centuries, modern science is constantly coming up with bigger and better solutions. The most popular way of covering up hair loss is using a hair replacement system. Yes, you can try and use different medications or herbal remedies, but at the end of the day, all it will do is either slow it down or regrow lost hair. The hair loss itself never stops since it is a natural process. So, according to surveys, the best way to deal with it is to cover it up. 
In a society where physical appearance is a must and often gets you an advantage, people aren't keen on going around with unhealthy and frizzy hair. Most people who deal with hair conditions now prefer to wear hair systems or toupees. Hair systems are amazing at covering up any hair loss while appearing so realistic and natural that no one can tell the difference, even up close. 
What Kind of Hair Systems Are Out There?
The hair is fixed to the base of the hair system. As a result, for people who have permanent hair system attachments, the system's base must look as natural as possible, as it is worn every day. In addition to looking normal, the machine foundation should be comfortable and long-lasting. Lace and Skin are the most common hair system bases. The lace base hair system is mostly made from mesh and other material mixed with it to know the basic difference. A skin hair system is a men's poly hair system. Hair system bases are too diverse to comprehend at first glance, but settling on one is necessary to order the right hair system for your specific needs. 
To ensure that the hair system is as comfortable as possible, these are the factors that you need to look thoroughly and make sure that they're up to your standards; 
Longlasting
Depending on how extendable your budget is and how often you're going to replace your hair system, you need to calculate and ensure that your hair system is going to last you the appropriate time. A good hair system can last you for months with proper care and treatments. 
Durable
Another thing that affects your comfort level is how durable your hair system is. You need to be fully comfortable in the attachment and the strength of your hair system if you're constantly worried about something going wrong that's not good for your mental health.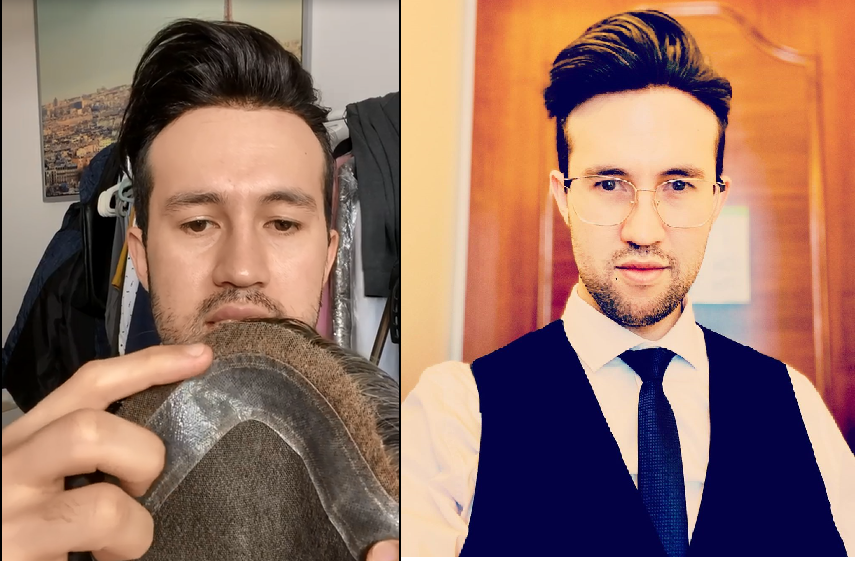 Seamless
The thing that most people look for in every hair system is seamlessly it fits. Ensure that the frontal base matches your skin color and can sit seamlessly on your forehead. You also need to properly measure your head and its shape to make sure that the base contours to your head properly and doesn't cause any weird disfiguration. Men's poly hair system is much more natural and has a skin-like texture; therefore, they blend in a lot easier than mesh-based hair systems. 
Realistic
Since this is the most noticeable feature of your hair system, double and triple check the quality of your hair system as well as the color, highlights, and roots, etc. make sure that not only the color but also the density and the texture matches your natural hair and/or your personality and age. Taking proper care of your hair system will make it appear more healthy and realistic over time. 
Breathable
From a medical standpoint, your hair system must leave feasible air for the breathability of the Skin. A certain amount of hair needs to circulate the hair system. That is also the reason that the adhesive is only applied to the contours of the head rather than the whole base. 
Comfort
Another important characteristic is the comfort of the hair systems. That depends more on your preference and less on the hair system. While wearing a hair system, it is important for the hairpiece to be easy and flexible, and mentally comfortable. To ensure that you're comfortable and confident in your choice of hair system, read through all the property of the base material and then choose the one that best suits your preferences. 
Which Hairbase is the best to use
The many qualities of different mixtures of material bases can often confuse users. Knowing some details about the different qualities of both of the main base materials will help you decide what base is the most comfortable. 
Polymer Base
Polymer bases are made from an extremely durable and is usually mixed with other material. The poly base systems look incredibly close to the Skin and are therefore also known as skin bases. Men's poly hair system is preferred by users due to its durability and ease of use. They are easy to install and remove. However, they are less breathable than mesh but tend to last a lot longer. 
Mesh Base
Mesh fabrics, which are usually made of nylon or polyester, are used to make fine lace materials. There are hair system bases made entirely of mesh fabric, although this fabric (lace) is more widely used in the more exposed areas because it gives a more natural appearance. It could have a shorter lifetime depending on the weight/thickness of the material. Mesh fabric bases are usually very delicate and harder to install. 
To order the best poly base hair systems, visit our online store www.lavividhair.com.
---
---
Writers Cooperation:
LaVividHair is seeking for blog contributors who know and love hair. If you know alternative hair or hair related accessories, if you have great understanding of hair trends and fashion, if you are expert in hair care, if you have any experience with salons or celebrities, if you would like to share your experience to help people just like you make the right choice, now contact us at support@lavividhair.com to be a blog contributor. Let's discuss the details then.