Why Do Men Need a Thin Skin Men's Hairpiece System?
May 31, 2022
LaVivid News
Views: 1293
Most men have hair thinning and baldness issues when their age reaches the 40s and are also caused by hereditary health conditions like cancer treatment and other continual medication usage. According to the reasesach, At the age of 60s, 66% of men have noticeable hair loss and balding problems. In that case, they have only two solutions, one is surgical, and the other is non-surgical for getting hair back on the head.
Usually, men avoid surgical hair replacement systems because it's expensive, takes longer for hair to grow back, and lots of medication also increases the chances of the liver, kidney failure, and upset stomach and other health diseases. A non-surgical hair replacement system is the best affordable option for everyone and ensures accurate results quickly. It's an instant to disappear their baldness solution. 
Nowadays, many brands offer huge varieties of non-surgical skin hair systems in the market. You can consult the doctor and hairstylist, which is better for you according to your hair color, texture, and different hair system base materials, and decide which area should be covered. 
What is a Thin Skin Men's Hairpiece? 
The term skin is used in skin hair systems made of solid base polyurethane material. The skin hair system is the latest word in the Industry of hair replacement systems mostly used for cap and wig products. In other words, a skin hair system is basically a hairpiece made of synthetic or real human hair that is used to cover a balding space or whole head. 
In short, a wig, hairpieces, toupee, and strand-by-strand insertion system are all the same with different names used in the market for the same product, which is a hair system.
Furthermore, Thin skin hairpieces are designed to provide an invisible appearance. These are specially made for men and made with the lightest, ultra-thin, and most soft poly used for a hair system. Each hair is magnificent into ultra-thin 0.02mm transparent poly skin via angled V-loop. Therefore, this is completely invisible when applied to the entire scalp, and it also ensures no appearance of knots. So, finally, these thin skin men's hairpieces give real hair looks and are flawless, as real as it gets.
The ultra-thin skin hair system is constructed with polyurethane. Therefore, it is also called the 'poly skin hair system.
Furthermore, A thin skin hair system comes with a different thickness, making the scalp invisible as you want. Unfortunately, thin skin is kept as thick as a contact lens at its lightest. Because the purpose of using an ultra-thin base is only to satisfy clients by providing a complete invisible appearance when the full head is covered, and that looks natural, and the thickness of the base is thick enough that it will be easily detectable by others.
Why do men prefer thin skin hair pieces instead of other hair systems? 
Below we enlisted some main features of thin skin hairpieces and the reason for selecting thin skin base materials rather than others.
●It is made of Polyurethane material and is non-porous and solid. 

●It does not feel harder on the scalp. Instead, it is ultra-soft and causes no discomfort. 

●Prevents dirt or pollution inside the base.

●It does not feel sweat coming out and getting into the hairpieces. 

●The ultra-thin 0.03 to 0.1mm base offers an Extremely Natural appearance and is extra lightweight and comfortable to wear.

●Thin hair systems are super easy to clean and don't require regular maintenance.

●The other benefits of the poly skin hair system are ease of use and no irritation. 

●It's economical as compared to the surgical hair replacement system.
What Are The Types Of Thin Skin Hair Systems? 
A thin skin hair system is not best suitable for all wearers, whether he's the expert wearer or not. It's very easy to install and maintain. So, sometimes clients ask for other varieties in thin skin systems. So, it's better to suggest according to the needs of clients.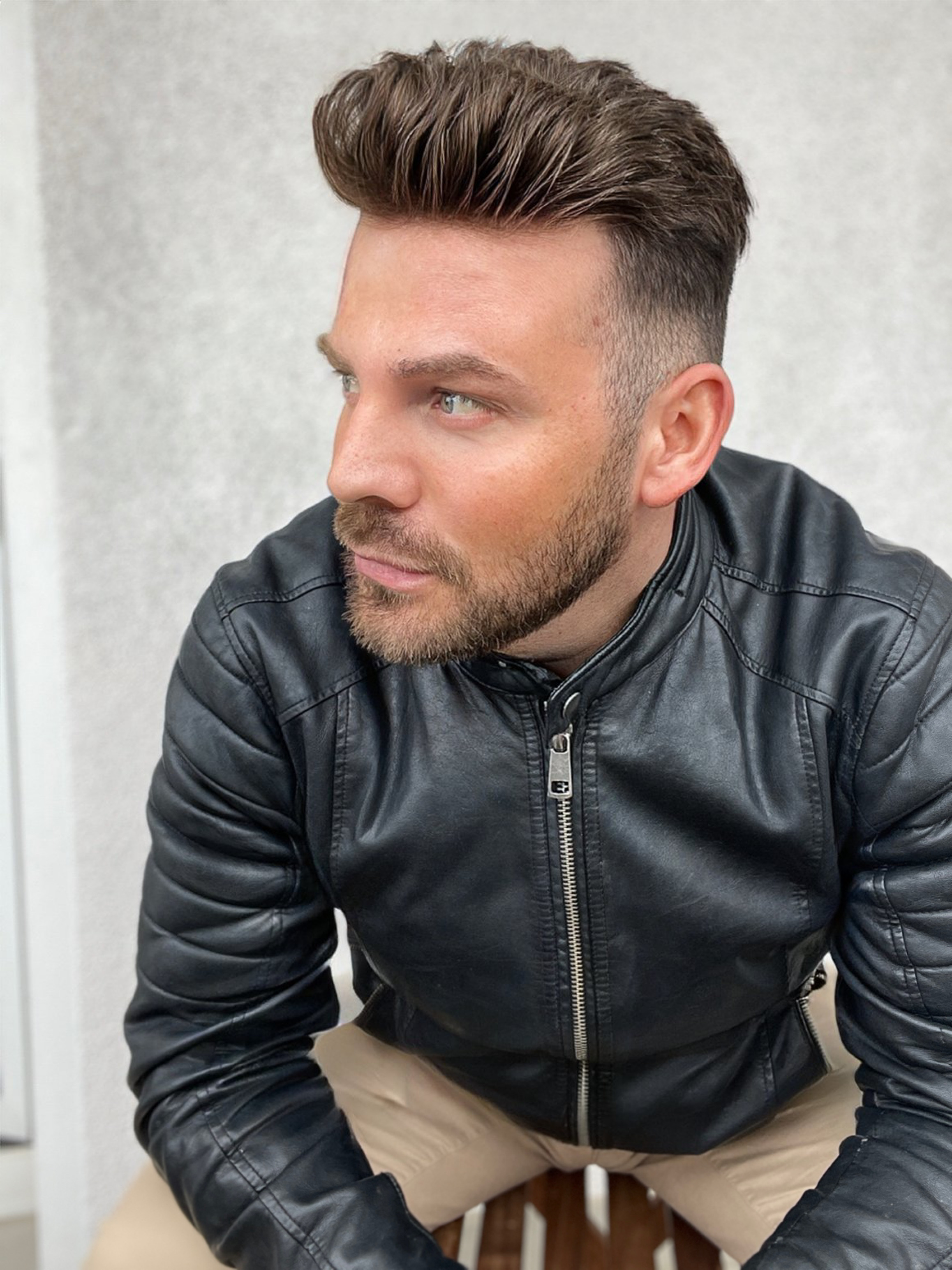 Thin Skin Hair System Types
1.Ultra-Thin Skin Hair System__ the base is made of 0.03mm poly skin material. But this base is not shiny. Therefore, this is the best fit to mimic a person's scalp and skin color. 
2.Super Thin Skin Hair System__ This skin hair system is super thin and has a 0.06mm thick base thickness. It's less lightly thick than an ultra-thin skin system. However, it comes in a 10" standard base size, and the main focus while constructing a super-thin skin system is only on realism and cocomfort.
3.Transparent Thin Skin Hair System__ This is made with 0.06 to 0.08mm poly base material and the thickest material present in our stock toupee. This super dense and high-quality material comes 5-6 inches long with slight natural waves of 30 mm wig sizes.
4.Skin Gauze Hair System__ this hair system has thin skin that has been reinforced with gauze. Gauze is used to provide strength, making it highly durable. But this hair system is relatively thick compared to the other hair system. This comes with 0.08-0.1mm thickness, and there will be no extra lace at the front or on the perimeter. The gauze system is considered more natural and comfortable to wear than the PU coating hair system.
5.PU Coating Hair System__ In this system, the PU (polyurethane) Coating is on the edge of the base. The PU Coating system consists of multiple layers of lace or mono then and then attached to the edge of the base. Usually, the PU consists of ½ inches French lace at the front with hair attachment via the v-loop technique. This PU system has a 0.10mm thickness. Thay thickness makes them highly durable and breathable, and realistic at the same time. 
How Long Do the Skin Hair Systems Last?
The difféent types of thin skin hair pieces have different longevity or lifespan. Let's discuss each thin skin system. 
The first ultra-thin skin hair system is ultra-soft and lightweight with 0.03mm base materials.
That's why it takes 3-4 week use it. The next transparent skin hair system has 3to 6 months of longevity with 0.06mm base materials. And the third one is a super-thin hair system which comes with 0.06mm base thickness and has a lifespan of approx 2 to 3 months. 
The Fourth is the skin gauze hair system. This has 5-7 months of longevity because of its high 0.08to 0.10 thickness. The last one is the PU Coating hair system, which has a 0.10 base thickness and can easily go up Upto 8-12 months.
Can we use a tape application for thin skin hairpieces?
Actually, the thin skin hair system is made with ultra-soft and ultra-thin vase material, which is about 0.02-0.03mm thick. This is mostly invisible on the scalp, and tape application could not be used for thin skin systems. Most other hair systems used tape applications except for thin skin because it could easily tear the base fabric to make it ineffective.
Are thin skin men's hairpiece systems breathable?
Unfortunately not, it's not breathable like a skin hair system. But the other skin hair systems are breathable in hot and cold weather and feel the skin airy. A thin skin hair pieces system and hot temperature are not always put together. They can make your scalp feel itchy, warm, and sweaty.
Mistakes To Avoid Making a Skin Hair System Last Longer
●Avoid to used any chemical products like shampoo, and conditioner

●Don't apply too much shampoo 

●Always used paraben-free products

●Avoid hair blow drying

●Avoid ironing

●Do shampooing only once a week

●Using Isopropyl Spray with Carelessness
---
---
Writers Cooperation:
LaVividHair is seeking for blog contributors who know and love hair. If you know alternative hair or hair related accessories, if you have great understanding of hair trends and fashion, if you are expert in hair care, if you have any experience with salons or celebrities, if you would like to share your experience to help people just like you make the right choice, now contact us at support@lavividhair.com to be a blog contributor. Let's discuss the details then.