What Do You Think about Mens Hair Piece Before And After?
January 12, 2021
Blog
Views: 1625
Quite surprising to read personal stories of balding mens hairpieces before and after. Do you believe a person with a bald head is filled with lush hair suddenly? How is it possible? The magic is because of an excellent hair replacement system. A lot of balding customers have a sudden transformation in their appearance in some stages of their life. You would have seen the neighbor of your house who went bald has been changed like a youth person. Yes, thanks to the hair systems available in the store. Who knows, one day we will also become bald and can use these magic systems in our life. 
Mens hairpiece before and after
You cannot believe your eyes when you visualize the photos of bald men after wearing wigs or toupees. To the top, you might have had an imagination about the age of a bald person who is sitting beside you. He might be young at age but old at look due to baldness. If the same person is seen on some other day with a hairpiece on his head you would become mad. This is because his look would have changed completely and he might be looking like a hero. This is true when we analyze the differences in the appearance of the balding customers with the hairpiece.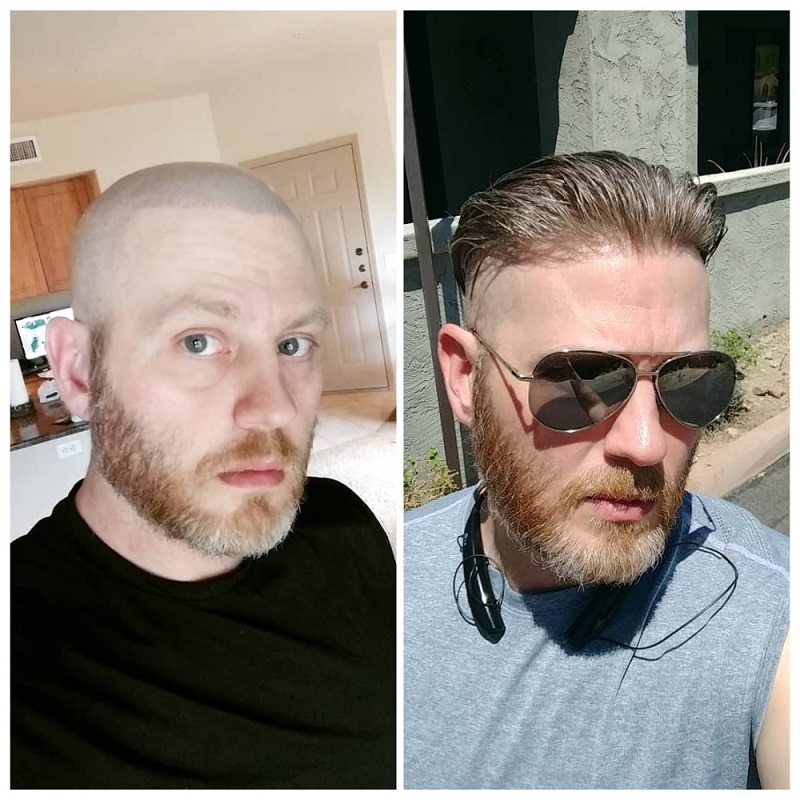 What are the hairpieces that change the look of a person?
We are speaking about the appearance of a balding man before and after wearing the hairpiece. Not only his look but also his self-confidence is also changed a lot. He gains so much energy and enthusiasm after the hair system is worn on his head. There are many types of hair caps available in the store for your requirement. Depending upon the type you can choose the favorite one that suits your lifestyle and image. 
The hair makes like monofilament, skin, skin, and lace types are widely available in the leading and reputable store in your city. Each type's feature and makeup suit different types of skin types of bald customers. Also, the types are suited to different types of races across the globe. If you want to have a great change by wearing mens hairpiece before and after then you should visit a store like lavivid hair. The change that you expect is fulfilled by the exclusive hair systems mentioned above. If you expect a dramatic change then you should check the features below 
· Your hair color and wigs hair strand should coincide with each other
· Check the density of the hair system so that it can match your original hair density. An inappropriate density does not give you success and it may collapse your image and look on the whole.
· The quality of the replacement systems or hair units has to be perfect and never compromise it for anything.
· The selected wigs or toupees have to match your skin tone without any gap. Your skin tone should be on the line and have to be paired with the units at the store. So, have prepared features for your better selection.
Last but not least factor is your age factor, which is an inevitable factor when you select the hairpieces. This is because an old man's hair differs from young and middle men's hair. The texture of the hair unit is also taken into consideration for your lively appearance after wearing. 
The above points are uncompromising and hence you have to get along with these features for your decent and professional look. Ask an expert about these points above and gain some insight before you finalize the hairpieces for your bald head.
Conclusion
When you visit the hair store in your location, there are videos and pictures about mens hairpieces before and after stages. You can have a deep look at these pictures for your future life. Reputable and genuine hair stores alone have authentic and real proof in the form of photos. So, visit a store like lavividhair for your bright future. You can wear the hair systems at the store and get checked with your final appearance so that you can avoid any future collapse. Compatibility in all forms is the main feature of bald customers after picking the wig or toupee.
---
---
Writers Cooperation:
LaVividHair is seeking for blog contributors who know and love hair. If you know alternative hair or hair related accessories, if you have great understanding of hair trends and fashion, if you are expert in hair care, if you have any experience with salons or celebrities, if you would like to share your experience to help people just like you make the right choice, now contact us at support@lavividhair.com to be a blog contributor. Let's discuss the details then.