What Is a Hair System for Woman?
July 05, 2022
LaVivid News
Views: 626
Women love their hair a lot, and they do everything possible to keep their hair healthy, thick, and long. However, sometimes luck is not on their side. Your hair can get damaged even by taking care of them and getting different treatments done. There are many reasons due to t which you start experiencing thinning of hair, dryness, and even bald patches. Age, stress, health condition, and many other factors are essential in maintaining proper hair health. 
Having bad hair, thin or immense falling of hair can damage your confidence. You might feel like you are not beautiful without your hair and stop interacting with people. But now you don't need to worry; even if you have bad hair conditions, you can also go out with your friends and always look good. This is because unique hair systems are being made for women nowadays. Here in this article, you will learn everything about hair systems and how you can get benefit from them. 
What is a Hair System? 
So, what is this hair system that everyone is raving about nowadays? Hair systems are non-surgical ways to get back the hair and look good all the time. These are an ideal solution for women to bring back the look of healthy hair and also gain their confidence back. 
These hair systems are custom-made and stocked according to the women's needs. If someone wants a small patch of hair, the manufacturers can make the perfect one by taking the correct size. Some women might wish to have proper wig-like systems so the manufacturers can tailor that. 
Another great thing about the hair systems is that you can get different styles, colors, and cuts. Hence, this is why hair systems are known to be the best and the most effective way to look beautiful all the time. 
Different Types of Hair Systems for Women: 
Following is the list of all the different hair systems commonly available in the market and even the purpose of the hair system. 
1.Lace Base Hair System: 
The lace base is the first and most commonly used hair system for women. One of the main reasons women love this type of system is because they look the most natural and realistic. This system is constructed from the base, which means it will last longer than the other hair systems. 
The lace base is also divided into two different types of hair systems. 
If you are looking for a front hair system, then the French lace hair system might be the best. It is also a very breathable and delicate hair system. Another benefit of this hair system is getting the most natural-looking hair on the French lace. 
Swiss lace is the perfect option for you if you are looking for an undetectable and natural base material for your hair system. It is very comfortable, soft, thin, and delicate. This means you can wear it without feeling hot or uncomfortable. But the slight drawback of this lace base is that it is not as durable as the other systems.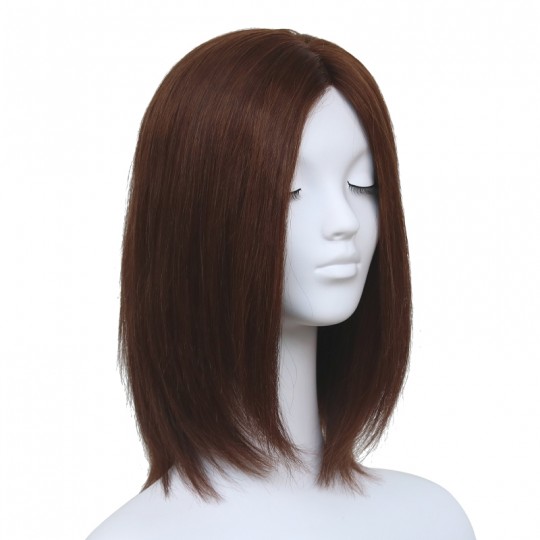 2.Skin Base Hair System: 
Another hair base system commonly used in the market is the Skin Base hair system. This is ideal for women who do not want to comprise the look of the hair system and want the most natural kind of system for their selves. The Skin Base hair systems are incredibly realistic and do not look like you are wearing something on your head. 
There are four different types of skin base hair systems that you can find. 
This type of skin base is about 0.44mm thick and lasts about 5 to 6 months. 
Another type of skin base that you will commonly see in the hair systems is the BIO skin. The thickness of the BIO skin hair system is about 0.8mm, and it will last for three months.
The most frequently used material for the skin base is Silicon. The manufacturing cost is low, and the lifespan is the most out of all the other materials. This base lasts about 8 to 12 months and has about 0.25mm of thickness. 
If you have something unnoticeable and natural-looking, then ultra-thin skin is the best option. It is around 0.3 mm, and its durability is for three months. 
3.Mono Base: 
Mono Base is another type of material used in the hair system and is famous for its durability. You will find four different kinds of monofilament hair systems when you will go to purchase them. 
German net is not the least common type of mono base that you will find. This is because it is very noticeable and does look natural at all. But it is very durable and comfortable to wear. 
The most prevalent mono base for the hair systems is the fine mono hair system. They look very natural, lightweight, and breathable. However, you might want to do a little bit of practice if you are a beginner at wearing hair systems. 
As the name suggests, this mono base is very delicate because of the super and fine holes. Because of the holes, this hair system is very comfortable and allows proper air ventilation. 
The final type of mono base you will find in the market is the fine welded mono base. This mono base is the most robust type and gives the most authentic look. 
Hence, these are all the different kinds of hair systems that you can find. All of them have the most natural effect. However, the durability and longevity of the hair system might vary according to the systems. 
Conclusion: 
Having a low-quality hair system might be very heartbreaking. It is tough to get your hair back to look as good as before. Thus, hair systems will assist you while working on your natural hair. You can conceal the problematic areas with the help of hair systems. Therefore, if you have any bald patches or thin hair, then the hair system might be the perfect solution for that. If you are trying to find good hair systems that are lightweight, comfortable, and also durable, then LaVivid Hair is the best place to visit. 
---
---
Writers Cooperation:
LaVividHair is seeking for blog contributors who know and love hair. If you know alternative hair or hair related accessories, if you have great understanding of hair trends and fashion, if you are expert in hair care, if you have any experience with salons or celebrities, if you would like to share your experience to help people just like you make the right choice, now contact us at support@lavividhair.com to be a blog contributor. Let's discuss the details then.