The Hairstyles You Can Do on Men Long Hair Piece
June 03, 2021
Blog
Views: 1921
The men long hair piece is not as common as the short hairpieces, but it is also popular and gives people suffering from baldness confidence back. In the article, we introduce several trendy long hairstyles that can be made on the long hair replacement systems to give you a reference when making new hairdos. 
The reasons for choosing a long hair unit
Long hair is one of the coolest hairstyles for men. Therefore, men's long hair replacement system has become more popular. Long hair is flexible to various hairdos, giving people a romantic and poetic sense. Many customers will not have a try on the long hair unit because they are afraid that it is too hot to wear the thick long wig. 
This is a misunderstanding. The same as other hair toupees for men, the men long hair piece can also be made with advanced techniques, leading to high breathability and a comfortable feeling. The thickness is also one of the advantages of such a product. It can make you look younger. 
Besides, having different long hairstyles can change your temperament. Having the hair untied and falling naturally on your shoulder, you can be attractive with a melancholy temperament. With a ponytail, you may look more elegant like an artist. This is the charm of long hairstyles. If you want to have a fresh appearance while troubled by hair loss, the long hair toupees can be a nice option. 
With an unusual hairstyle, you will be highlighted in the crowd. Here we introduce several stunning hairstyles suitable to be made on long hair systems. We believe one of them can be suitable for you. 
Men Bun
The man bun will never be a passing trend. This hairstyle is simple yet beautiful. You do not have to spend extra money to do it in a salon. You can make this hairdo yourself at home. You can make a high ponytail first and simply twist the rest hair around the center, then use clips or rubber bands to fix the bun.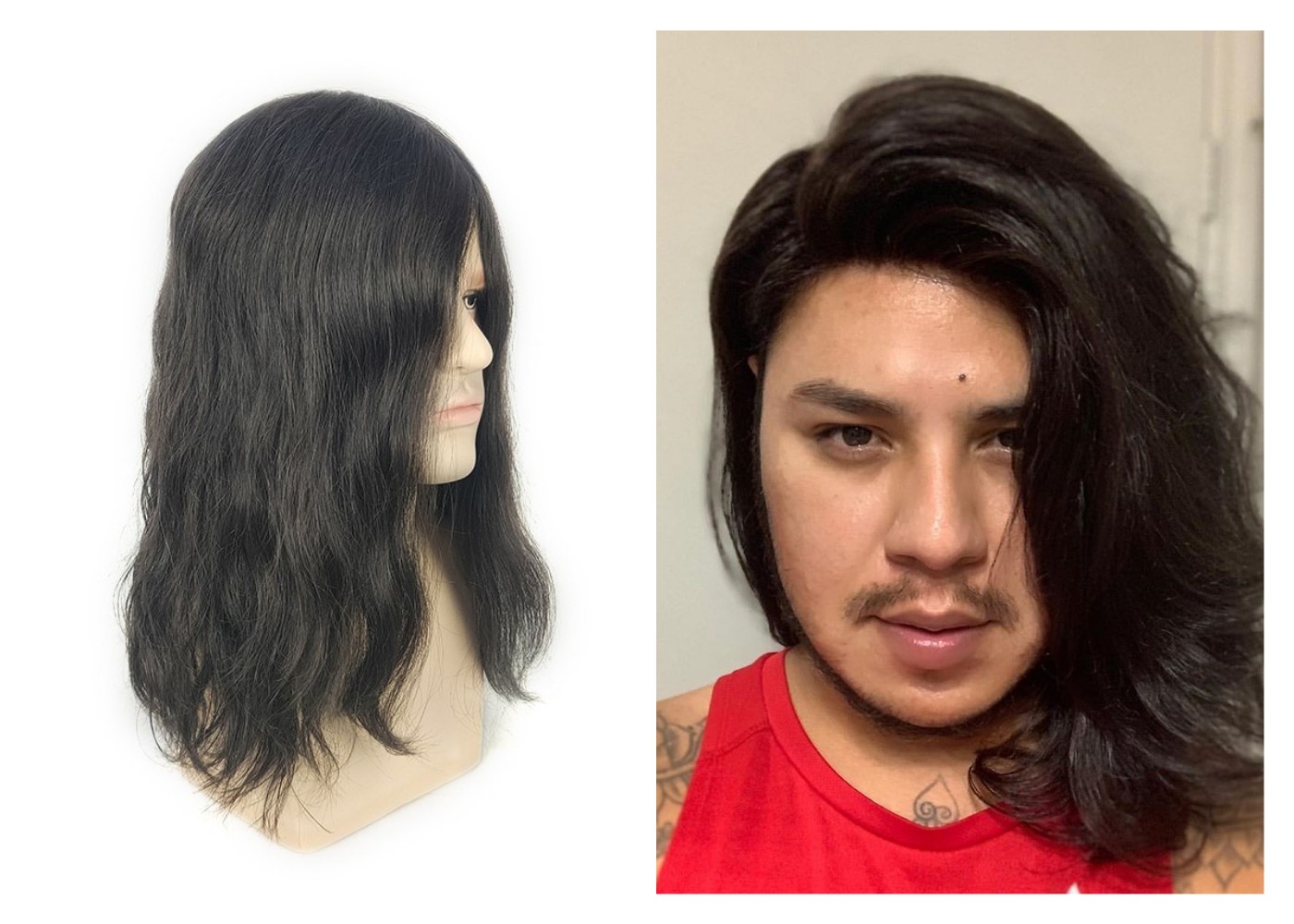 This easy-to-make hairdo can match many face shapes. It is perfect to wear a hairstyle when on a hot day or in exercise. It is sexy yet energetic. You can adjust the tightness of the hair bun according to different occasions. This hairstyle does less damage to your hair toupees than other styles. 
A tight bun gives you a professional look while a loose one makes you look make casual. Or you can leave some hair on the shoulder to create another different hairstyle that is also good-looking and simple. 
Long curly hair
The thick long hair unit is just right for doing such a hairstyle. The curly hairdo has a high demand for hair thickness. This style is chic and classic. However, it is also hard to maintain and do hair damage. So if you want to try this hairdo, you need to prepare some upmarket hair protection products. You also need to find a professional hairdresser to curl the hair for the style is not that easy to make. 
Shoulder length
As the name suggests, the hair length right touches your shoulder. Choosing this hairstyle, you do not need to spend much time on its styling. You can leave the hair to fall on your shoulder naturally. The medium length is easier to care for the longer length. You can curl or straighten the medium-length hair on the original hairpiece for men. 
Ponytail
This is one of the most classic and simple hairdos. Even you know little about hairstyling, you can do the hairstyle. The position of the ponytail, be it high or low can create different senses and give you different looks. The ponytail style can apply to different length hair and look professional even on formal occasions. 
The same as the men bun style, you can also tie the half part of the hair and leave the rest on your shoulder. This is a variation of ponytail style. With some hair on your shoulder, you can show the texture and length of the hair better. 
Summary
If you are looking for solutions for baldness and want to have a new appearance, the men long hair piece offers you the perfect option. Having pretty long hair, you can try various hairstyles.
---
---
Writers Cooperation:
LaVividHair is seeking for blog contributors who know and love hair. If you know alternative hair or hair related accessories, if you have great understanding of hair trends and fashion, if you are expert in hair care, if you have any experience with salons or celebrities, if you would like to share your experience to help people just like you make the right choice, now contact us at support@lavividhair.com to be a blog contributor. Let's discuss the details then.