How to Choose Real Wigs for Men?
August 30, 2021
Blog
Views: 1291
With the growing focus on beauty, wigs are becoming more common. Not only women but men are also opting for wigs. Wigs are not only related to women only. Men can wear them too. The best thing about men wearing a wig is that it is unrecognizable. No one will be able to tell whether the hair on your head is original or a wig. Real wigs for men are available in numerous online stores and shops. It is on you what type of wig do you want. In addition, you need to know what things to consider when getting real wigs for men.
If you are searching for a full wig or hairpiece, you will find natural-looking, high-quality real wigs for men.
REAL HAIR WIGS
Even though real wigs for men are expensive, people still choose them. Real wigs last longer than synthetic ones. However, it needs extra care. You cannot wash or wear it in the rain because it will be damaged. In addition, as you are wearing an original wig, you can style them like human hair. You can curl and straighten them. On the other hand, synthetic wigs get damaged by heat.
HOW TO BUY A WIG?
If you want to buy real wigs for men, consider the following points:
First of all, it is best if you buy a wig in person from the store. In such a case, you can explain your situation and demand to the seller.
In addition, you can also try the wig to know if it suits you or not.
Choosing a wig can be challenging, especially when you are buying for the first time. In this situation, you can try as many wigs as you like until you find the best one for you.
Try on the wig properly to determine whether it is the right size for you. Usually, people wear their wigs backward. In turn, this leads to the selection of the wrong wig, which will cause problems later.
Once you have bought a wig, make sure that it is comfortable. Do not leave your wigs unattended. Additionally, if you do not want to put off your wigs, you can wear them when going to bed too. 
WHAT TO CONSIDER?
Whenever you have multiple options of real wigs for men, the choice will be hard to make. Therefore, you must choose a wig with considerations:
Purpose
: 
It is vital to think about the wig's purpose before buying one. You can go once you have a reason to buy it. Nevertheless, use varies from person to person. Some may want it for fashion, a theatrical performance, or some to hide their baldness. What is your purpose for using a wig? Be clear before buying one.
Budget
:
Not everyone can afford a high-end wig. Before buying a wig, consider your budget. The price of human hair wigs is usually higher than that of synthetic ones, so know your budget. 
Wig maintenance:
All wigs need care, but some are more delicate than others. If you are capable of maintaining and caring for your wig, then you need one. In any case, if you are not capable of taking care of it, do not invest your money in it. 
Longevity:
The more you care about your wigs, the longer will last. Use the recommended products for wigs, such as brushes and combs, to maintain your wig.
Heat exposure
Synthetic wigs are sensitive to heat. They get easily damaged when exposed to heat. However, human hair wigs can bear more heat.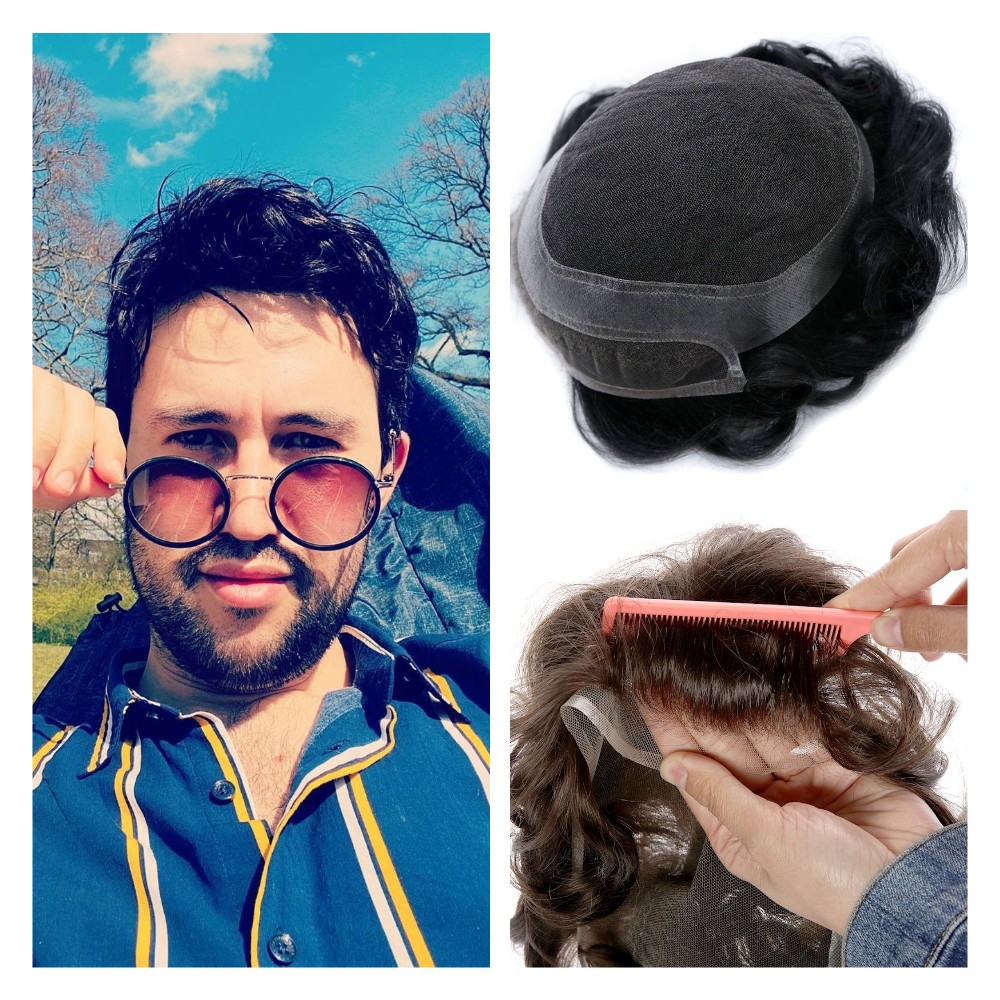 Base Materials
There are tons of the various choices available for base materials:
· 
Welded Lace
This is the most common long-lasting lace. The hairline remains intact. Partitioning is possible anywhere.
· 
Swiss Lace
 It is softer than the previous one. However, it is more fragile than welded lace. It functions the same as the welded lace and maintains the hairline.
· 
Single Monofilament
A monofilament lace imitates the look of hair growth from the scalp. Furthermore, it helps the wig look much more natural.
· 
Glass Silk
Glass silk has a soft base. It creates a realistic scalp color and effect.
· 
 Hand-Tied Stretch
For the dense look of hair, you should choose a hand-tied stretch base.
· 
Anti-Slip
As its name suggests, this base can prevent the cap from slipping. Besides, it is best for people suffering from baldness or alopecia.
Types of Wigs
Real wigs for men are of various types depending on their characteristics.
Ready-Made Wigs
Most commonly found wigs are ready-made wigs. You can get it from any local cosmetic store. It is not necessary to style them because they come already styled. However, they are sometimes synthetic wigs. Ready-made wigs are budget-friendly. These are best if you are looking for buying some at a low price. Price ranges from $20 to $400. Thus, you can choose according to your need.
Lace-Front Wigs
Human-hair lace front wigs generally feature human hair. A crown of hair is attached to the scalp unit. Partitioning it in two ways is your only option. Wigs with lace fronts are generally more expensive than wigs with ready-made hair. They can cost between $100 to $500.
Full-Lace Wigs
Full lace wigs have human hair. It has hair attached to the lace cap. In addition, the base of the wig is fully ventilated and allows you to part your hair in any direction. However, it is best for making ponytails. Other than a ponytail, there are unlimited styling options. You can install them by first braiding natural hair in cornrows with a bit of adhesive glue. After that, you can place the wig on your head. A full-lace wig can cost from $200 to $5,000, according to the quality.
CONCLUSION
Real wigs for men may be difficult to choose, but once you get one, you will be in the driver's seat. Synthetic wigs are not as durable as real ones. Additionally, they do not need too much care whereas, synthetic wigs need high maintenance. Be careful to make a wise decision so you will not regret it later.
---
---
Writers Cooperation:
LaVividHair is seeking for blog contributors who know and love hair. If you know alternative hair or hair related accessories, if you have great understanding of hair trends and fashion, if you are expert in hair care, if you have any experience with salons or celebrities, if you would like to share your experience to help people just like you make the right choice, now contact us at support@lavividhair.com to be a blog contributor. Let's discuss the details then.