Find Different Non Surgical Hair Replacement Options Here
July 08, 2021
Blog
Views: 1363
Assorted non surgical hair replacement options are offered to people who are upset about hair loss. But why should we choose this approach instead of the surgical one? Are there any other methods to treat hair fall? Each individual has different conditions. You may find some suggestions in the article to help you better regain hair. 
These days, not only the middle-aged population but young people have the problem of hair loss. A large amount of hair fall will influence one's appearance and confidence. Fortunately, there are many hair loss treatment options including surgical and non-surgical ones. It is suggested to take the non-surgical approach when it is possible. 
Surgical hair replacement vs non-surgical hair replacement
The surgery poses more risks and dangers. No one wants to take surgery unless they have to. No matter what kind of surgery, it is always related to risk regardless of how small the risk is. Then, what are the potential negative impact of taking a surgical hair replacement? 
The possible side effects include hiccups, cysts, and hair thinning. The major one is scarring considering knives are used on the head. Besides, many people may misunderstand that by taking the hair transplant surgery, they can immediately get their hair back. This is not the case. There are no instant effects. 
What is worse, you may see no effects at all due to individual body conditions. You may still lose your hair even if the surgery is successful. Furthermore, ongoing medical care is needed. You may spend more than you have thought on the surgery. Therefore, the surgical treatment of hair loss is not an ideal plan for everyone.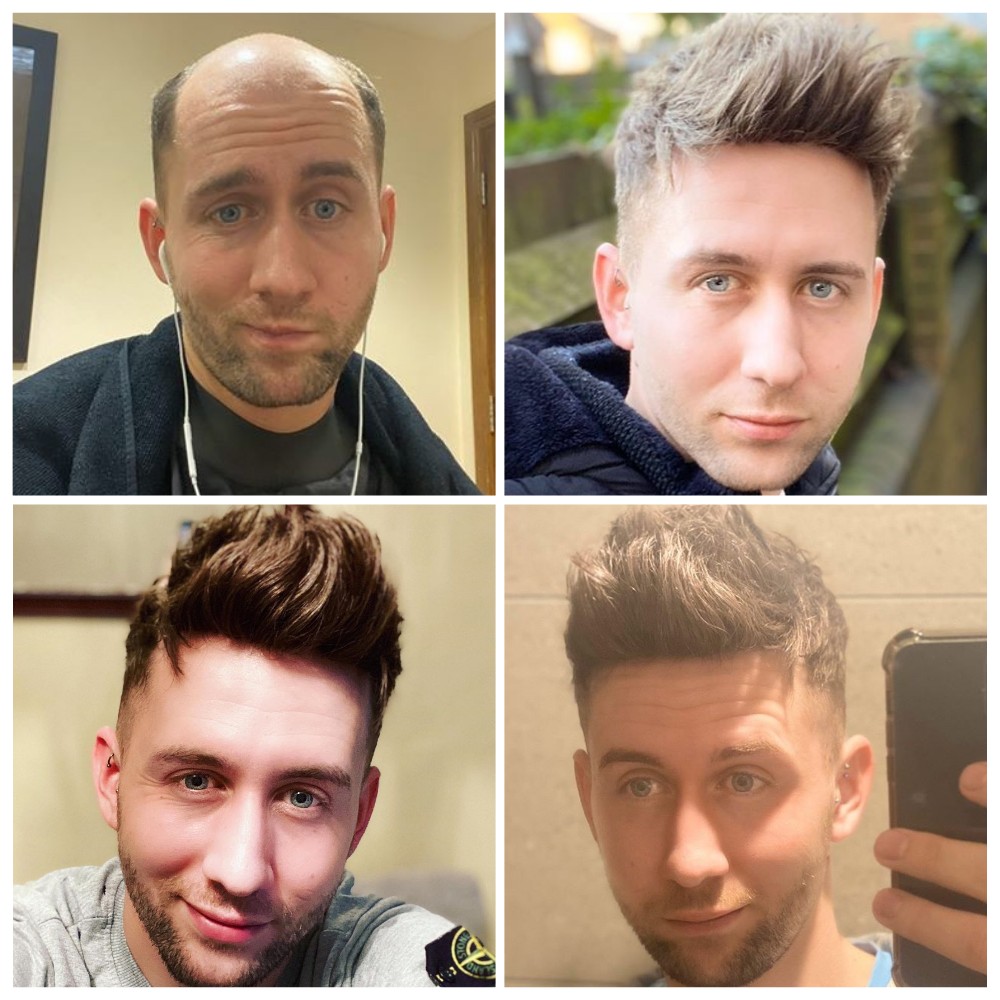 The non-surgical hair replacement treatment does not have these problems. It poses little danger, no harm to the human body. The usage of skin protection can protect your scalp when wearing a hair unit. More importantly, the immediate results can be seen. Once you are accustomed to wearing a hair toupee, you will feel no discomfort as if the hair system is your original hair. 
Non surgical hair restoration options
Apart from wearing hair systems, there are other useful methods for restoring hair. One of the most common ways is to eat a healthy and balanced diet. Certain elements in our body are essential to hair growth. Therefore, eating particular food containing rich nutrients like vitamin B does help in hair growth. Proper sunshine exposure can also help hair growth. 
Besides, regular massage of the scalp with healthy oils such as coconut oil can release stress conducive to the regrowth of hair. You can also use a comb to massage to ease the tension of the scalp. There are also particular devices designed to ease the scalp tension. Keeping a good mood is also important. The spiritual condition can affect physical health. 
It is suggested to try the method of eating a balanced diet and living a healthy lifestyle which is the safest and easiest approach. If you cannot avoid staying up late or eating fast food, you may try the medication method. All these methods need persistence. They cannot give you instant results. If you are eager to see the result, the non surgical hair replacement options are still the primary. 
Then, what sort of hair systems should I choose? There are many kinds of hair units satisfying the different demands of people. The basic four types are the lace, mono, poly, and silk base hair systems. You can always find a suitable one among these products. 
Here in our store, you can find many quality non-surgical hair replacement options that are of high quality at reasonable prices. You can see the differences between wearing a toupee before and after. We have a large stock and keep receiving new products. You can also customize a hair toupee that is 100% suitable for you. 
After having the hair back, you will feel more confident and happy. The thick and shiny hair is a pursuit of many people. By wearing a hair replacement, you can realize the goal with ease. 
Overview
We have compared the surgical and non-surgical hair replacement methods and introduced several hair restoration options. No matter what sort of method you adopt to solve the problem of baldness, living a healthy life is still important.
---
---
Writers Cooperation:
LaVividHair is seeking for blog contributors who know and love hair. If you know alternative hair or hair related accessories, if you have great understanding of hair trends and fashion, if you are expert in hair care, if you have any experience with salons or celebrities, if you would like to share your experience to help people just like you make the right choice, now contact us at support@lavividhair.com to be a blog contributor. Let's discuss the details then.