How to Make Your Hair Toupee Last Longer?
July 06, 2021
Blog
Views: 1308
Each hair toupee we get for ourselves and use is one-of-a-kind, and thus its longevity is determined by three primary factors: the type of material utilized, the quality of the hair used, and maintenance of that hairpiece. Therefore, in this blog, we'll explore all of the factors that would go into making a hair toupee system durable and last longer for the user. We'll also give you some pointers on how to make your hair toupee system last longer.
What material is used as Toupee's Base?
Every hair toupee's durability and endurance vary greatly from one type to another. The base element used to craft a hairpiece toupee will significantly affect the Hair replacement system's total lifetime. Each base material is used for a different reason and has varying endurance levels and hence will last for different lengths of time.
We always keep it very clear in Infront of our customers that the more natural any hair system appears, the shorter its longevity will be, but the more lasting a hair toupee is, the less realistic it would seem.
It's crucial to warn your clientele that if they want a very natural-looking frontal hairline, their hair system's overall longevity and durability may be affected.
The four primary classifications of base elements used on men's toupees are as shown below:
· Swiss Lace Toupee, also called Thin Skin Hair Systems, usually lasts 4–6 weeks.
· French Lace Hair Systems these systems usually last 4–6 months
· Combination hair systems which combine mono and poly skin these typically last 6–9 months.
· Hair Systems with Polybase these typically last 9–12 months.
Please keep in mind that the lifespans indicated above are mere approximations.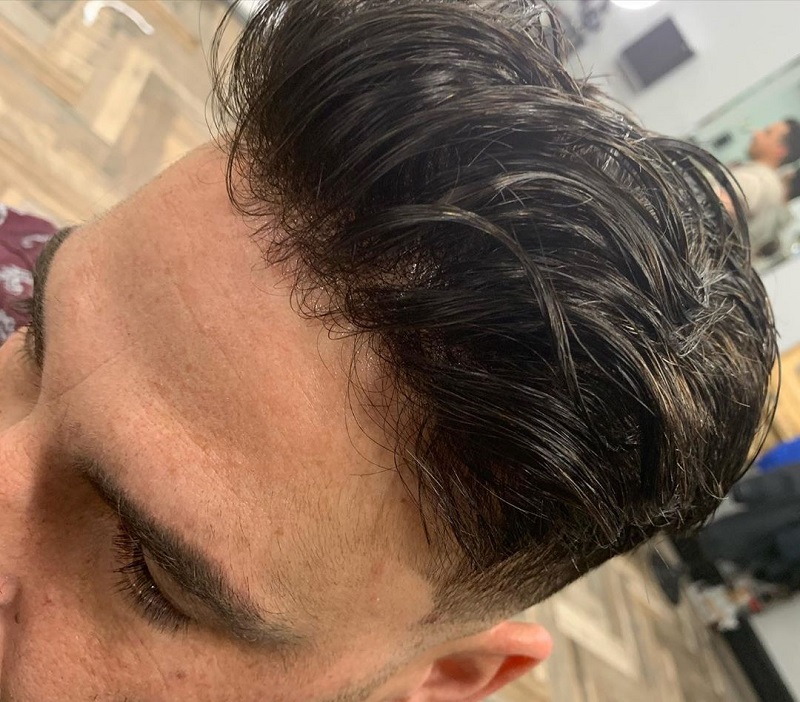 Hair Quality of the Toupee
The quality of the hair utilized on the toupee of the end-user will also affect the hair system's overall lifespan.
Many of the men's wigs or toupees we offer to you are made from gently processed, high-quality human hair like Remy Hair. Every one of the cuticles on Remy hair toupees or systems flows in the same direction, eliminating friction and enhancing the toupee's overall longevity and beauty. Both our men's toupees and men's hair systems feature Remy's hair.
The longest-lasting toupee extensions would be those created with Remy hair or 100 percent real human hair. Hair systems with heavily processed or substandard hair, on the other hand, have a substantially shorter life expectancy.
Human hair toupee wigs are also incredibly versatile and attractive, and they come in a wide range of textures, densities, and colors.
The hair color of the toupee hairpiece has an effect on how long it will last. Dark skin tones and sleeker styles necessitate less treatments, but lighter hair colors and curly hair need far more. The extent of processing that the hair toupee system has experienced will affect its lifespan; however, any toupee hairpiece's lifespan can be considerably prolonged with good care.
It's worth noting that synthetic toupees would last anywhere from four to six months if worn every day. In the meanwhile, Synthetic Hairpieces are more likely to break and not last you that long due to more artificial hair quality and more prone to breakage due to tangles.
Maintaining your Hair Systems
Consumers must learn how to care for their nonsurgical hair replacement systems. In most situations, they think it does not go beyond merely installing and removing them, but that is not the case. Therefore, the users must know how to wash and detangle their hair systems correctly.
The first thing to do is to keep your toupee tangle-free. It's simple to keep your toupee free of knots and tangles. This also makes the toupee last longer by making it look healthier, more delicate, and more authentic. We also recommend that you use a leave-in conditioning treatment on a regular basis. This will protect the hair systems from looking worn out and lifeless.
Whether you have a hair system or toupee with lace as a base or as a front, you should be using a knot sealant on it on a regular basis. This will keep the delicate knots in position and healthy for a longer period of time.
Whether you've been looking for a complete wig, an exquisite toupee, or a hairpiece, Lavavid Hair has a large selection of natural-looking, high-quality toupees for men. Check out our Men's Toupee's Catalog to find the best fit for yourself. You can find everything you are looking for as a solution to your hair loss problem at our place. We're also delighted to provide you with a personalized, tailored consultation. Please get in touch if you'd like to try on or understand about the men's toupees; we, with the help of our hair professionals and knowledgeable staff, are happy to assist.
---
---
Writers Cooperation:
LaVividHair is seeking for blog contributors who know and love hair. If you know alternative hair or hair related accessories, if you have great understanding of hair trends and fashion, if you are expert in hair care, if you have any experience with salons or celebrities, if you would like to share your experience to help people just like you make the right choice, now contact us at support@lavividhair.com to be a blog contributor. Let's discuss the details then.