How Do You Think about Lace Toupee for Men Grey?
April 25, 2021
Blog
Views: 1783
"Lace toupee for men grey" is searched as a keyword by many stylish men online per the research recently. This result showed that more and more men and women hold positive feedback regarding grey hair than before. Grey hair is no longer stands for old, boring, or out of fashion. It is on-trend all over the world for many hairstyles, no matter for short-crop, bob cut, or brush-up. 
Hair color trend: Grey hair is in
If you have a strong sense of fashion, you may already bump into some stylish guy or girl on the street wearing colorful haircuts. Green, pink, dark blue, or even the regular color purple are seen as smoking hot among young peers. More unique colors on trend nowadays, among which, grey hair is taking off in fashion circles. It's no surprise! Many models or even people around you are clamoring to dye their hair silver and gunmetal grey. 
Fashion is not just for women, but also for men. People who have their hair dyed want to leave their personality on people. Men are taking action with grey or salt-and-pepper hair to seem more pro or just want to looks charming. Yes, you heard it right! But dying hair is not good for scalp and hair health if you do it often. This is why you need the help of the toupee.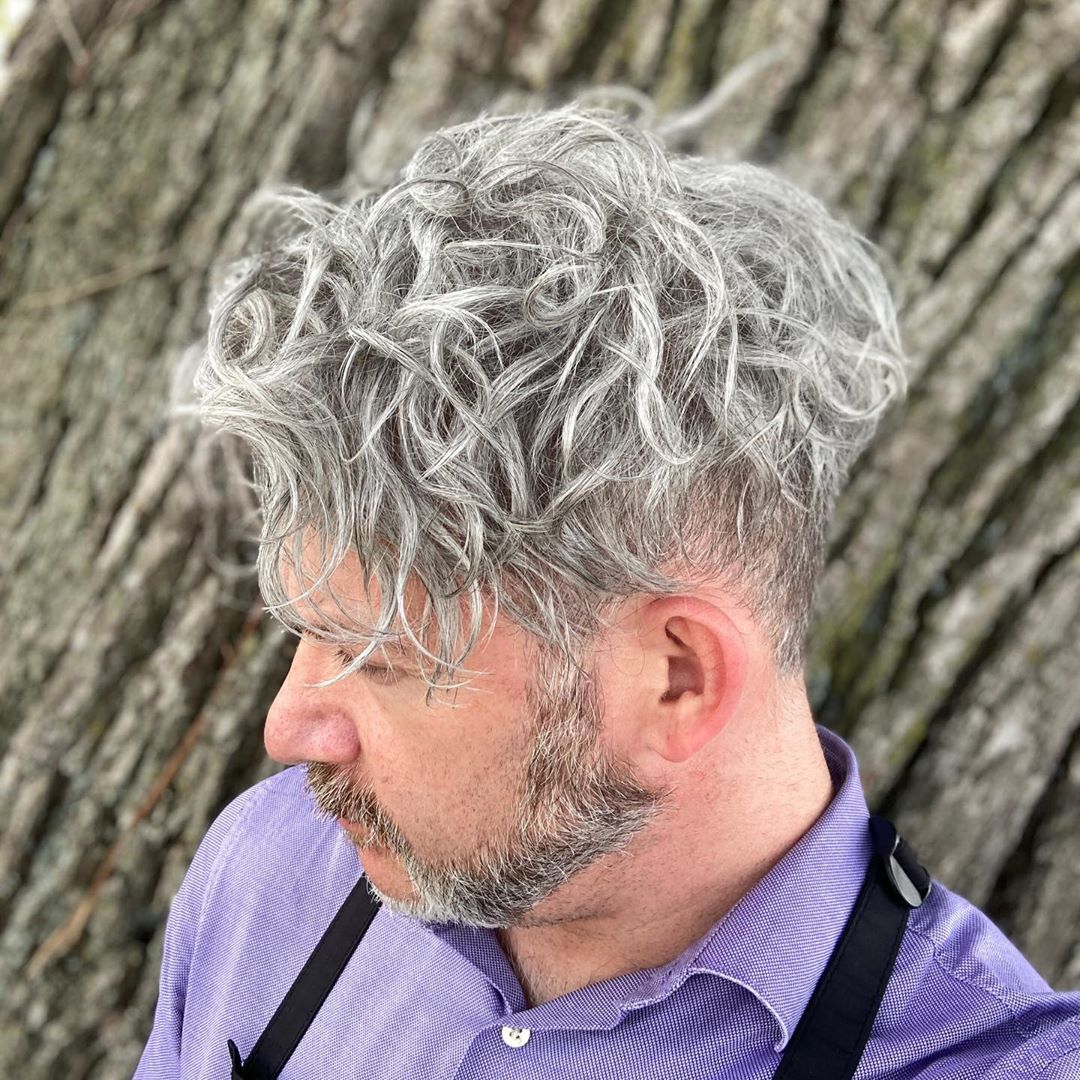 Grey lace toupee for men is easy to style
No matter it is natural or dyed, grey hair exudes sophistication, elegance, professionalism, and even wisdom. There are so many good ways to style grey hair no matter for men or women. Grey hair is one of the most striking hair colors for people, and there's a lot you can do with it.
Frequent dye hair is harmful to one's health. If you do not want to hurt your scalp or hair as you will have to dye your hair color light before you dye it grey, toupee is the best option. Because grey hair is lighter and more vibrant than other hair colors, it tends to pop out a little more as well. So when you're choosing a hairstyle, you want to choose one that allows the grey to pop. This is how you gonna kill it with your looks. 
Some men will think it is hard to set hair even though it is easy. Some men do not have time to set their hair but do want to look fabulous in a quick way. That's why, as we mentioned above, a grey lace toupee for men can help you save a lot of energy or time. In today's toupee industry, you can find any colors, any types, and any haircuts that fit you well. You can take it with you anywhere. Just put it on then done! A piece of cake! 
Search keywords" Lace toupee for men grey" to find out more
Lace toupee is one of the most comfortable wearing wigs among all kinds of toupees. As its base is made of lace completely, it provides breathable performance, natural-looking to wearers. If you wear it, you don't need to worry about feeling uncomfortable, hot, or itching. That's why many men will choose lace toupee as their first option, even for new wearers. You will have your moments as it looks so natural. 
Just like we said, if you want to discover what is hit and want to find the information of lace toupee or other kinds of toupees, you can always search keywords online to know more details. Google "lace toupee for men grey" you will find there's a lot to read, many other wearers' articles about grey hair and toupee's wearing. Among all, you can see the good or bad reviews regarding the toupee you like then you can decide what to buy. 
Instead of figuring it out in front of a screen, you are also welcomed to try toupees in shops or even place an order online to see how it feels. For someone who does not have time or enjoys online shopping more, they can simply click https://www.lavividhair.com/blog for a well spend! We had thousands of hairstyles that suit you within your budget, and you will fall in love with our men's grey lace toupee for sure! 
---
---
Writers Cooperation:
LaVividHair is seeking for blog contributors who know and love hair. If you know alternative hair or hair related accessories, if you have great understanding of hair trends and fashion, if you are expert in hair care, if you have any experience with salons or celebrities, if you would like to share your experience to help people just like you make the right choice, now contact us at support@lavividhair.com to be a blog contributor. Let's discuss the details then.