Is Ghost Bond Safe To Use On Humans?
January 04, 2022
Hair System Adhesives
Views: 1734
Feel confident about how you look no matter what time of the day it is! Ghost Bond has now become the trend all around the globe, and that too for the right reasons. It is an adhesive that can successfully withstand any high temperatures and be waterproof, therefore providing you with an experience unlike any other. 
In light of the above, the natural question that does arise is whether it contains any dangers when it comes into contact with the human skin?
In this article, we'll be enlightening you with everything there is regarding the Ghost Bond and the items Lavivid has in store for you to ensure that you get the best of everything! After all, taking care of your scalp is our priority!
What is the Ghost Bond?
It is a strong adhesive that is able to absorb not only light but also avoid reflection to give you a great hold unlike anything else. You need less of the product if you have any Lavivid's items on your shelves, and therefore simultaneously more satisfaction. 
What are a few benefits that the Ghost Bond has to offer?
The ability to withstand high temperatures.
Being waterproof. 
Able to remain tough against even the most horrendous weather conditions.
Fights oily scalps and heavy perspiration. 
All of the advantages above ultimately pave the pathway for the question that:
Is the item safe to use on the human skin?
All the items under Lavivid are safe to use. They are not tested on animals and undergo rigorous checks for quality assurance before being dispatched to our customers. This means that you are in no way at risk of exposure to any harsh solvents or irritants. No latex, preservatives, or additives have been employed during the formation of any of our Ghost Bond items. 
Additionally, we also understand that other companies in the market want to engage in producing Ghost Bonds. Still, as a brand, we speak solely for ourselves. We guarantee our consumers the best products there are on the market, as we value their safety above everything else.
Some Ghost Bond glues which you can consider are:
1)Ghost Bond Glue | 1.3oz Waterproof Ghost Bond XL: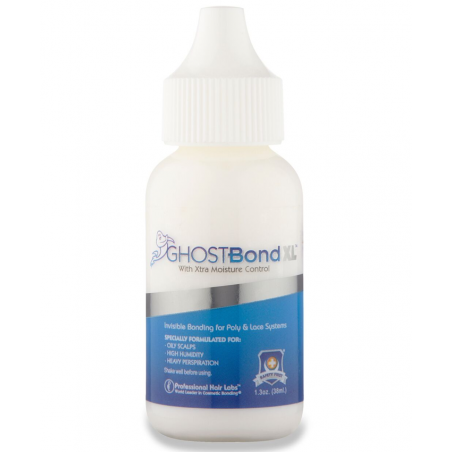 This solution is useful for an entire head application and has been redeveloped just for you to provide results unlike anything seen before. The item at hand makes you look good despite high humidity levels, which will boost your confidence to a whole new level. 
Albeit we pride ourselves in our quality assurance testing, and advice we do give to our customers is to always conduct a patch test. Once you have done the above, you will have to apply a thin coating to the hair system, the head, and then another coating once more. Keep that pressed in for 7 minutes, and VOILA! You will get a luscious and lustrous mane that will have you head over heels!
Note: Please do not apply this adhesive directly to the lace. It is intended for scalp application only. 
2)Ghost Bond Supreme Glue | No Shine Creating Undetectable Hairline: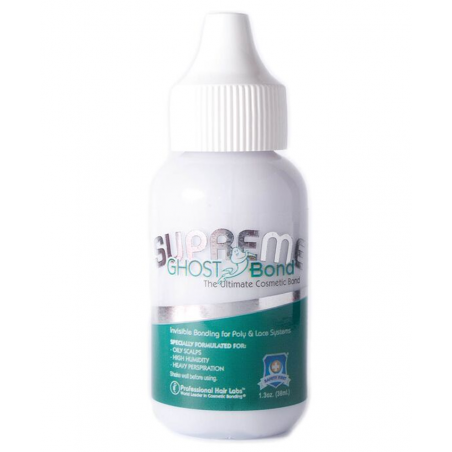 This is a product that takes everything to the next level. It tackles heavy perspiration, oil, and humidity. The major benefit of this is that while this glue does the job of holding things tight, you also get an entirely undetectable front hairline. Combine this with a great load of skin-friendly ingredients, and you get an all-natural adhesive remover. 
However, we still recommend that you do a patch test before applying it to the scalp.
Note: To remove the Ghost Bond Supreme, you will need to use the Ghost Buster.
Now that we have looked into the Ghost Bond line we are selling, let us intrigue you with a few other items. These will undoubtedly come in handy alongside this purchase of yours. 
3)Ghost Buster Adhesive Remover: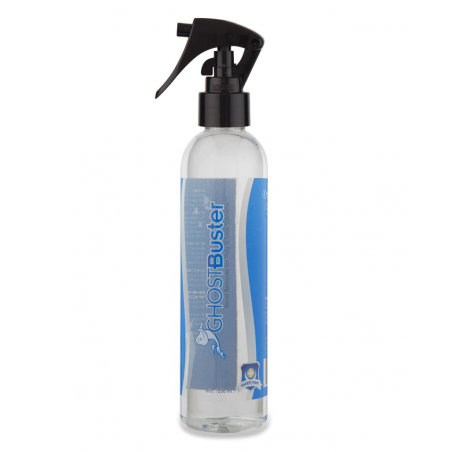 If you buy the Ghost Bond Supreme Glue, you will certainly need this Ghost Buster adhesive. It will prove to be your best friend in eliminating grease and any oil residue while keeping the hair system away from damage. 
The ideal way to use this is by keeping your hair system in this solution for 10 minutes for 2 days straight in a row. Once this is out of the way, use the lace-cleaning gun to proceed with hair cleaning. This entire process will have to be undergone at least 2 more times for optimal cleanliness. 
Note: The way to use this is by keeping it at room temperature as it makes sure that the efficacy of this item is not hindered in any way. 
Before you apply the adhesive onto your scalp directly, we recommend that you give this fantastic product a try. It forms a barrier between your scalp and the glue, therefore combatting irritation and improving the time needed for bonding. 
Using it is very simple. All you have to do is clean the scalp and dab some liquid on it. Once it absorbs properly, you will proceed to apply the glue. 
Note: This acts as a form of protection and not an alternative for the adhesive you are currently using. 
The Bottom Line: Presenting An Advanced, Latex-Free Version For Your Scalp!
At Lavivid, what takes precedence is ensuring that the confidence of our customers is always high no matter how taxing the day might seem. Our items are resilient to external weather conditions and are meant to make you feel comfortable in your own skin.
Your scalp is sensitive, so you have to make sure that whatever products you expose it to are safe for usage. Otherwise, you may risk causing damage such as inflammation or irritation. For this, the items above do a commendable job, and we look forward to hearing what all of you have to say regarding it. 
Tell us what Ghost Bond item from our line has been your favorite and why. We'd love to hear all about it!
---
---
Writers Cooperation:
LaVividHair is seeking for blog contributors who know and love hair. If you know alternative hair or hair related accessories, if you have great understanding of hair trends and fashion, if you are expert in hair care, if you have any experience with salons or celebrities, if you would like to share your experience to help people just like you make the right choice, now contact us at support@lavividhair.com to be a blog contributor. Let's discuss the details then.