How to Choose Hair Systems for African American Men
March 09, 2021
Blog
Views: 1598
Your hairstyle can make or break you. How you style, your hair says a lot about your lifestyle and personality. Unfortunately, as people age, they start suffering from hair loss conditions, in turn giving you an unhealthy and aged look. African Americans have a rich tradition when it comes to hairstyles. Their dense and tightly wound hair and how they style it is somewhat of a cultural staple. 
Hair wigs for men are at an all-time high in the fashion industry. Wearing a hairpiece to cover up hair loss or just to try, and new hairstyle isn't considered tacky anymore. As more and more people invest in hair replacement systems, companies are expanding their collections in textures and types of hairpieces. 
Types of Kinky Hair Systems
There are a lot of different hairstyles that come specifically from black culture. Most men are interested in wearing toupees that are close to their natural hair texture, even if they are interested in different textures.
There is many different men's wave toupee available in our store depending on styles, color as well as fibres. There are two types of hair fibres when in wave toupees. Both have their own benefits and limitations.
Natural Human Hair Toupee
Human hairpieces offer a natural outlook. They are easy to blend and don't need a lot of effort in appearing natural. They are, however, quite expensive and can be damaged easily. Their highlight is how natural they appear. They are also very easy to blend in and breathable.
Synthetic Hair Fibre Toupee
In complete contradiction to the natural hair wigs, these hair systems are synthesized in lab environments and are usually made out of polymer. These hairpieces fall on a less expensive scale and last you longer if treated properly. While synthetic hair looks natural and incredibly shiny and healthy, these cant be restyled. Synthetic men's wave toupee comes pre-styled.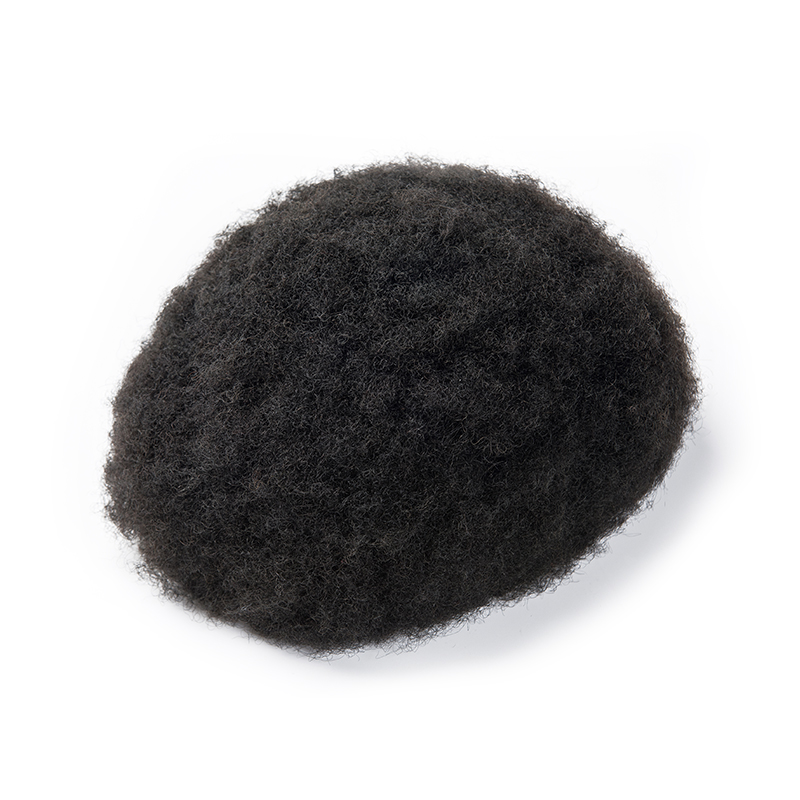 Why Are Wave Hairpieces the Best for Black Men
Black people don't only wear toupees to achieve new hairstyles or thicker hair but also to cover up any baldness. Our hair systems are designed to cover up any baldness and provide you with a flawless look of dark and beautifully textured hair. You can, of course, get it customized according to your likes, whether it is color, length, or attachment type. There are many reasons that will convince you to get a wave hairpiece to cover up any hair damage.
Wave hairpieces are safe.
Most men are reluctant to use toupees or wigs since they are known to cause damage. That is not the case but mere misinformation. Hair systems not only cause no damage but also protect your scalp and natural hair from any more damage from the styling products and sun. Hair systems are incredibly versatile when it comes to black hairstyles and also safe to wear. Most men who decide to wear a hair system have suffered from hair loss or some significant damage due to hair styling tools. Wearing a toupee also provides you with the luxury of letting your hair and scalp heal without any external treatment or further torment. 
Achieve Desired Hairstyles
Not everyone is lucky enough to have the perfect kinky hair or the expertise and patience it requires to achieve a beautiful wave. A well-known fact about black hair is that they are not so easy to style. Wearing a hair system meant specifically for black men won't only cover up any baldness but also help you achieve a dashing hairstyle without constant trips to the saloon or hours of hard work and patience. While the long-term wear methods, such as glue adhesives or double-sided adhesive strips, do require expertise and the second set of hands, they last for a long time. Once you've spent a couple of hours at the salon getting a hair system installed, that will last you almost up to 2 months if you treat them properly and with care. 
Reasonable Pricepoint
Hair systems, as compared to other hair loss solutions, are much more friendly to your bank account. Not only do they come with the luxury of saving time and effort but also at quite a reasonable cost. Men's wave toupee of the best quality will cost you less than any hair medication on a regular basis. Moreover, none of the medicine or organic remedies is long-term; they only work as long as you keep using them. This essentially means that medication is a constant investment as compare to hair systems. Once you've invested in one or two nice hair systems, they can last you a significant amount of time. If you continue to take proper care of your hair systems, you can increase their life span even more. 
Feasibility
Hairpieces for black men are insanely versatile. Ranging from the base materials to attachment methods and more, you can find a hundred different hairpieces with different aspects. You can experiment and get the perfect hairpiece that not only suits your style but is also comfortable to wear according to your preference. When looking for comfort, a lot of aspects come into play—the first one wearing time. The type of base material you want is partially dependent on how long you're planning to wear the toupee. The attachment method depends on your preference and what you're comfortable with. 
You can visit our online store on our website www.lavividhair.com. You will find a wide range of options for the perfect wave toupee that will be comfortable and make you look amazing. 
---
---
Writers Cooperation:
LaVividHair is seeking for blog contributors who know and love hair. If you know alternative hair or hair related accessories, if you have great understanding of hair trends and fashion, if you are expert in hair care, if you have any experience with salons or celebrities, if you would like to share your experience to help people just like you make the right choice, now contact us at support@lavividhair.com to be a blog contributor. Let's discuss the details then.