Elevate Your Style with Blue Highlights Hair System
April 26, 2023
LaVivid News
Views: 110
Are you sick of the same old hair color? Do you want to rev up the style and inject some energy into it? The blue highlights hair system can be exactly what you need in that case!
The Blue Highlights Hair System: What Is It?
A distinctive approach to give your hair blue highlights is with the Blue Highlights Hair System. The Blue Highlights Hair System, in contrast to conventional highlighting techniques, offers a unique method to color your hair without harming it. For individuals who want to play around with color without committing to a complete dye job, this approach is ideal.
The Blue Highlights Hair System's advantages
The fact that the Blue Highlights Hair System is gentle on your hair is one of its greatest advantages. The Blue Highlights Hair System is delicate and safe for your hair, unlike conventional hair dye, which may be harsh and harmful.
The system's adaptability is another advantage. You may decide where and how much blue you want to add to your hair. By doing this, you can design a look that is special and suited to your specific taste.
The Blue Highlights Hair System is also durable. The method used to apply the color ensures that it won't fade rapidly, and the color will stay brilliant for several weeks.
Care Instructions for Blue Highlights
It's critical to take proper care of your hair if you want to maintain the greatest appearance for your blue highlights. Here are some pointers to keep your color vibrant:
l Use shampoo and conditioner that are color-safe.
l A lot of heat styling should be avoided because it can make the color fade.
l Wear a cap or use a leave-in conditioner with SPF to shield your hair from the sun.
LaVivid Zayn Blue Highlighted Hair System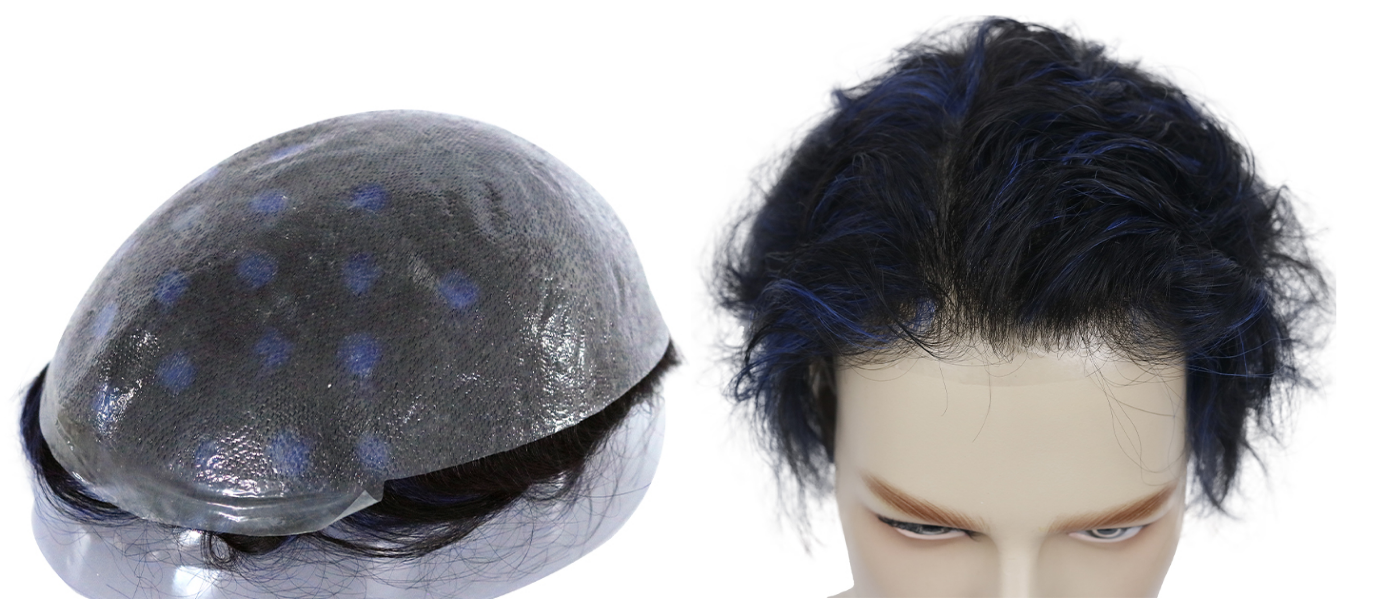 Blue highlighted hair systems are a fun and creative way for men to express their individuality and stand out from the crowd. With the right stylist and maintenance routine, this bold and unique hairstyle can be a great way to add some personality to any look.
Zayn Blue highlighted hair system incorporates bold chunks of ultramarine blue color into black hair to create a unique and eye-catching hairstyle that's sure to turn heads.
Zayn uses a full skin base which measures 0.06-0.08mm thick. Hairline uses v-looping technique to offer a natural looking hairline while using single-knot technique for the rest of the base to make the hair system more durable.
The Blue Highlights Hair System, in conclusion, is a fantastic method to spice up your hair without committing to a full dye treatment. This system is a fantastic option for anyone wishing to play around with color because it is secure, adaptable, and durable. Consider trying the Blue Highlights Hair System if you want to try something different!
---
---
Writers Cooperation:
LaVividHair is seeking for blog contributors who know and love hair. If you know alternative hair or hair related accessories, if you have great understanding of hair trends and fashion, if you are expert in hair care, if you have any experience with salons or celebrities, if you would like to share your experience to help people just like you make the right choice, now contact us at support@lavividhair.com to be a blog contributor. Let's discuss the details then.