Did Roy Orbison Wear a Toupee?
June 20, 2022
LaVivid News
Views: 5472
Nicknamed "The Caruso of Rock" and "The Big O" by the critics, Roy Orbison was a famous American singer and songwriter. His carefully crafted compositions of loneliness and heartbreak made him legendary.
For his outstanding contributions to the music industry, he was inducted into the Rock and Roll Hall of Fame in 1987. We bet that most of you have danced to Roy Orbison's legendary song "Oh, Pretty Woman.
According to Elvis Precisely, Roy Orbison had the "most exquisite voice. Elvis Presley referred to him as the "best vocalist in the world." We all agree with that, but did you know that he was also known for his jet-black hair, in addition to his songs? 
People often mistook his hair for a toupee for a long time since it was so sleek and black and perfectly placed. People used to think he wore a toupee. That's not correct. Roy Orbison, on the other hand, never wore a toupee.
Misconceptions about Roy Orbison Hair
Roy Orbison's natural hair color was platinum blond, which may come as a surprise to you. Yes, that is correct. His hair was virtually white and straw blond. On the other hand, he has always disliked his hair and began dying it black in his teens, mostly believing he started dying them at the age of 6 or 10. In his final year, he wore his hair in a ponytail.
Other misunderstandings about Roy Orbison included his being an albino and wearing his signature dark glasses because he was blind or nearly blind. He used to wear sunglasses even at concerts due to his poor vision. He was required to use thick corrective lenses. His jet black thick hair and sunglasses were a fashion statement in the 1960s. 
Roy Orbison famous Pompadour
What comes to mind when you hear the name Roy Orbison, aside from his well-known songs? We bet your answer would be his famous Pompadour. He is one of the few singers who could really carry off the Pompadour with style. 
His black attire, black glasses, and Pompadour gave him an appearance that would make girls of the time go gaga over him. His dark, mysterious persona worked nicely with his songs.
His famous pompadour style is still in fashion; you will find many videos and tutorials on how to get his signature hairstyle.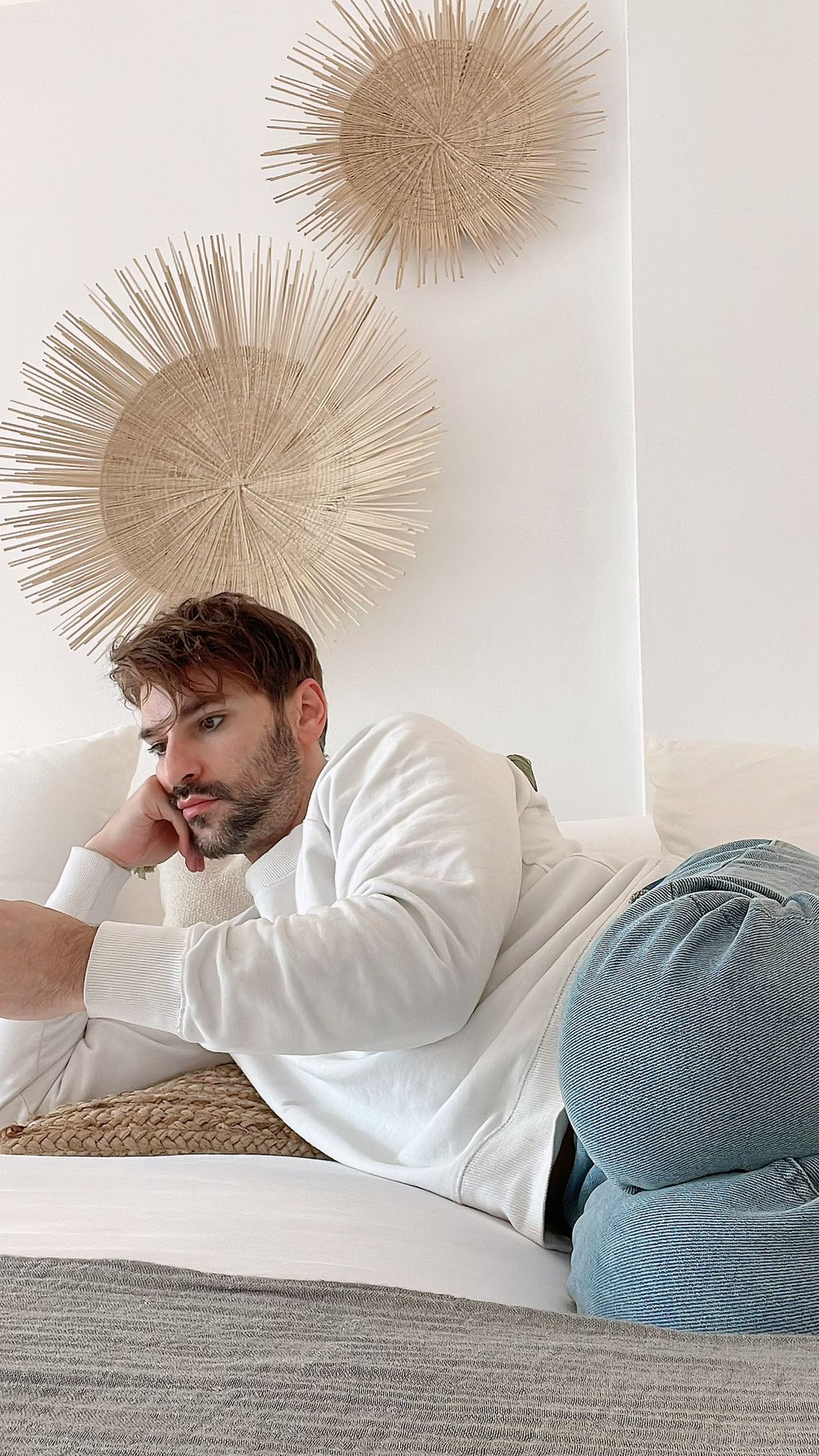 Why Roy Orbison Dyed His Hair Black 
Roy Orbison had been wearing thick corrective glasses since he was a child. According to his close acquaintances, he always felt self-conscious about his appearance.
He started dying his almost-white hair black when he was a kid. Many believed he started dying his hair at the age of 6 or 10. He is claimed to have dyed his hair black to enhance his enigmatic dark image.
Blonde hair would clash with his "dark persona. During his performances, he used to wear black to match his dyed black hair and dark sunglasses. 
His signature look of black spectacles paired with black suit and black hair became synonymous with the era. Men would go to salons to get Roy Orbison and Elvis Presley's hairstyles. His particular style, like his exceptional music, grew in popularity quickly.
Did Elvis Presley Dye His Hair Because of Roy Orbison?
Many Roy Orbison admirers believed that Elvis Presley colored his blonde hair because of Roy Orbison's inspiration. However, this was not the case. Elvis Presley was born with blue eyes and blonde hair. He dyed his hair black because he believed it enhanced his facial features on screen. He has always admired Roy Orbison; however, it is incorrect to state that he dyed his hair black in the likeness of Roy Orbison.
Orbison's signature Look
Roy Orbison had a thing for mystery, which was so evident in his appearance. He used to wear his dark black glasses with a pompadour hairstyle that many mistook for a hairpiece. He'd dress in a nearly all-black outfit, including black boots, black pants, a black belt, and a black jacket. It had to be all black. The shirt he used to wear would be either white or black.  He would try to create a persona of a man of mystery.
His hair was as dark as ebony, and his eyes veiled behind black-rimmed glasses and suited in black—an intriguing man with a perfect look.
Roy Orbison's Hair Stylist
How did Roy Orbison acquire that exquisite pompadour haircut with such thick black hair that many mistook for a toupee? That is impossible to achieve on your own, especially if you are a superstar. According to Orbison, the lack of a manager or stylist in his initial career was the cause of his on-stage not so appealing appearance. But his fans won't agree with this. He was always a man of style since his early career. 
Afterward, Larry Geller, a well-known hairstylist of the time, was behind Roy Orbison's famous hairdo. Larry Geller and Jay Sebring founded the first men's style salon in the United States. 
Frank Sinatra, Paul Newman, Elvis Presley, Peter Sellers, Sam Cook, Steve McQueen, Marlon Brando, and Roy Orbison were their clients. They collaborated with several of Hollywood's biggest names.
Roy Orbison's Pompadour Toupee 
Although not everyone can replicate Roy Orbison's style, as not everyone has thick hair. Pompadour toupees of his iconic hairstyles are still available today. A variety of salons and firms sell Pompadour hair wigs for guys in various styles. A pompadour wig may give you Roy Orbison's exact hairstyle.
Various salons still make Roy Orbison's trademark pompadour styles. Like his iconic songs, his classic hairstyle will never go out of popularity.
Conclusion 
Roy Orbison got a Grammy Lifetime Achievement Award and five other Grammy Awards. His songs are still on many people's lips. He was ranked number 37 on Rolling Stone's list of "Greatest Artists of All Time" and number 13 on their list of "100 Greatest Singers of All Time." Roy Orbison faced a series of personal catastrophes, and his career stalled, but he rose from the ashes like a phoenix and produced the legendary song "You Got It." and soon died after that. 
We are sure by now you have figured out that Roy Orbison didn't use a wig since he had thick hair that he could easily style in the Pompadour style.
---
---
Writers Cooperation:
LaVividHair is seeking for blog contributors who know and love hair. If you know alternative hair or hair related accessories, if you have great understanding of hair trends and fashion, if you are expert in hair care, if you have any experience with salons or celebrities, if you would like to share your experience to help people just like you make the right choice, now contact us at support@lavividhair.com to be a blog contributor. Let's discuss the details then.