Do You Believe the Photos of Wearing Non Surgical Hair Replacement Before and After?
July 19, 2021
Blog
Views: 1361
A person wearing non surgical hair replacement before and after looks very different. This is one of the advantages of hair toupees. It can bring your thick hair back. Today, I want to share with you my experience of wearing a hair unit. 
Many people do not believe in the magic of using non-surgical hair replacement. Before I tried on this product, I did not believe it, either. I thought it was the commercial strategy of sellers. However, when my hair loss problem got severe, I had to consider how to treat the baldness area on my head. After all, it looked not good. 
I had tried many methods to promote the regrowth of my hair. Unfortunately, I saw little progress and I was eager to see my thick hair back. Finally, suggested by my friend, I bought a thin skin hair unit from Lavivid. Wearing a non surgical hair replacement before and after are different. 
It looked just the same as my real hair. I looked five years younger than I was bald. That was a huge surprise for me. Therefore, I would like to share my experience with you to help you better decide whether you need this product, too. 
First, you may check whether your hair loss condition is the same as mine. Well, I am at my middle age, so it is natural for me to lose my hair. My follicles are not as strong as before, failing to support the growth of hair. I could take medicines to mitigate the situation but cannot cure it. If your hair loss symptoms can be treated by supplementing nutrients or living healthy, it is better to let the hair recover. 
If you are in the same situation as me. It is hard for us to get our hair back. Why not wear the hair unit, at least it can make you look better. As suggested by my friend, I bought the product. According to the product description, the poly base hair system I purchased was made of 100% human hair. Indeed, it touched soft and looked shiny.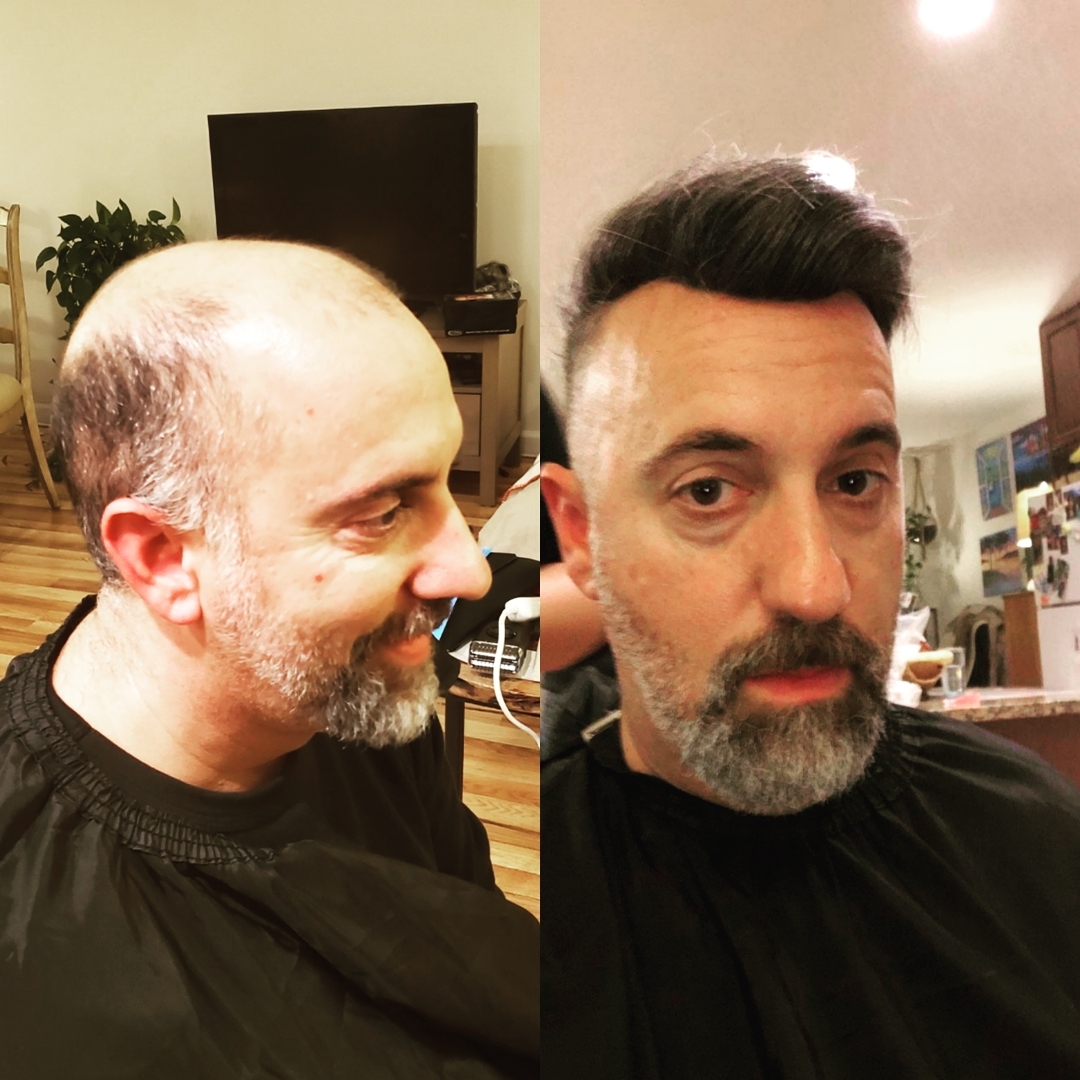 I tried to apply the hair replacement myself the first time but I messed up. If you are unfamiliar with the application, don't do the same thing as me. Turn to the professional hairstylist near you. My failure resulted from that I did not find the right position to place the hair toupee, leading to a hilarious result. 
Luckily, I did not use the liquid adhesive that has strong bonding effects. Otherwise, I had to pay great efforts to remove the system. I used the toupee tapes. I suggest you use tapes as well because they are easier to use compared to liquid adhesive. 
After learning how to apply the hair system correctly, I can handle the job by myself at home now. Several things you need to notice during the process of application: Avoid attaching the hair unit directly to your head. You can use a pencil to mark out the proper positions on your scalp. Attach the hair base to your head is the key step. You need to be slow and careful 
Prepare your head clean for the application. Shave the rest of the hair on the crown area and trim the side hair so that it can match well with the hairpiece. You can apply a layer of alcohol-based formula so that the tapes will not be adhered to your scalp immediately and spray the skin protection to keep your skin moisture. 
When all the preparations are done, you can attach tapes to the hair base. Peel the backing off and apply the system. Adjust the hair replacement and press it until it is glued to your scalp firmly. Then, you can do hairstyles as you want on the hairpiece. 
Sounds pretty nice, doesn't it? The whole process takes dozens of minutes. After a while, you can see a new self with thick and shiny hair. Comparing yourself wearing non surgical hair replacement before and after, you will see many differences. 
In final
Remember to clean the hair unit regularly. A toupee can in general last a few months. But only good maintenance can keep it in good shape and comfortable to wear. The next time you wear it, it can still work well.
---
---
Writers Cooperation:
LaVividHair is seeking for blog contributors who know and love hair. If you know alternative hair or hair related accessories, if you have great understanding of hair trends and fashion, if you are expert in hair care, if you have any experience with salons or celebrities, if you would like to share your experience to help people just like you make the right choice, now contact us at support@lavividhair.com to be a blog contributor. Let's discuss the details then.