6 Best Lace Wigs Glues for The Firm and Secure Hold
December 27, 2021
Hair System Adhesives
Views: 2116
Wigs are the best way to change your appearance in a short time without making any changes to your natural hair. For example, if you want to try out a bob cut or bangs hairstyle and are unsure how it will look on you, wigs are a safer option for you. 
If you have ever worn a lace wig, you must have known that the lace at the front needs to be attached down significantly closer to the hairline to remain secure at its place. For this purpose, glue is used. But it does not mean any glue can work the best to hold your wig. That's why to save you from disastrous and messy experiments; we have brought details about the most used and user-friendly and most suggested glues for you.
Next time you will not be afraid of wig slipping because of sweating or high wind blowing. Moreover, no one wants a wig to be snatched off either by a baby they are holding, stuck into another's bag's zipper, or get caught in things we walk by every day, like in the branches of a tree. The point is we don't want that a slight tug can take off our wig. So, let's start.
Why Do You Need to Use Glue at Lace Wigs?
Before we tell you about the best glues for lace wigs, hair systems, or toupee, there is an anticipated question to which everyone wants an answer. Why do people emphasize gluing down the wig or how important it is to use glue at lace wigs?
Here is the answer. Not only does a perfect glue prevent your wig from flying off with a gust of wind, with sweating, or with a bit of tugging, but gluing down the lace is the only thing that can make your wig natural and realistic because it will melt the lace into the skin and set a new hairline. 
Best Glue for Lace Wigs: 
1. Got2B Glued Blasting Freeze Spray 
Technically, Got2B Glued Blasting Freeze Spray is not a wig glue. But it is tested by many wig wearers and YouTubers, and they recommend it as an authentic product for solid hold for a short term. The thickness of the spray provides a secure and secure hold and without damaging your hairline. 
As this product is not a glue, so, if you secure the wig, hair system, or toupee and find that it's not in the perfect place you want, you can easily take it off without compromising the lace material. Therefore, we recommend it as a beginner-friendly and user-friendly product. 
Moreover, taking off the wig secured with Got2B Glued Blasting Freeze Spray is straightforward. Just spraying water where the lace is secured will dissolve the product, and there will be no damage to your skin or lace material. 
Hence, you can freely use Got2B Glued Blasting Freeze Spray for a secure, short-term solid hold when you are not swimming and are staying away from water. 
2. Bold Hold Extreme Cream Adhesive for Lace Wigs & Hair Pieces
If you want a perfect hold of your wig for a more extended period, then Bold Hold Extreme Cream Adhesive is for you. Furthermore, this product is odorless and leaves no white film on the head when it dries, and is an excellent glue for oily skin. 
We have seen people with oily skin fearing unexpected slighting off the wig become happy now; this glue is suitable for you.
This product is not only designed for oily skin people but also for those who are active and sweaty and want a robust application.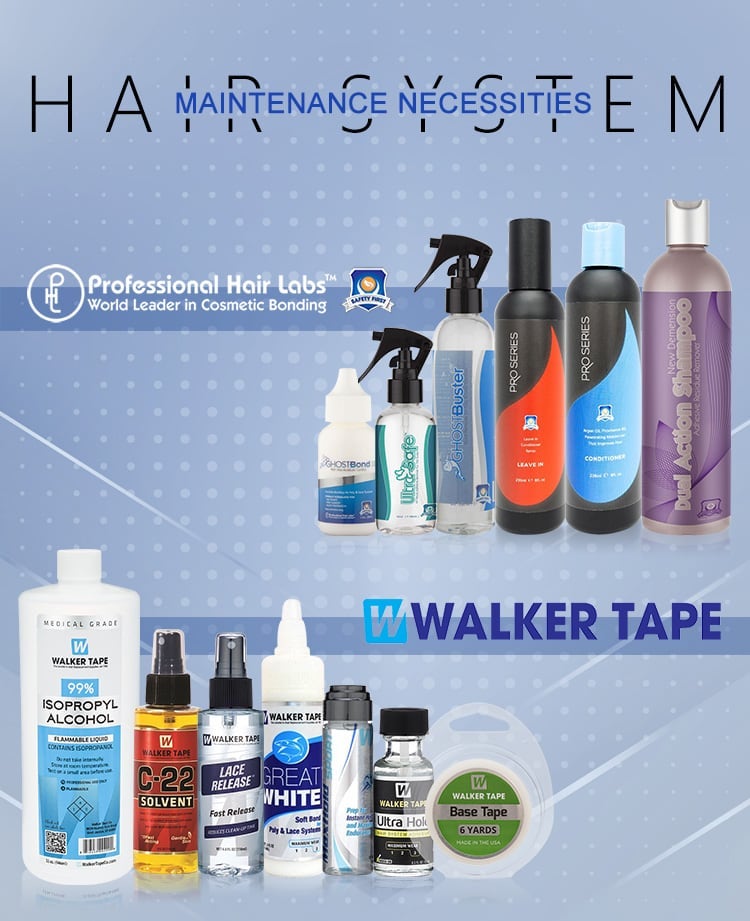 It is a lightweight and powerful glue for lace wigs and formulated at higher melting points. It means, if you live in a hot place or high humid area, that's why you sweat a lot and always doubt the wig and double-checks your wig every 2 seconds; this glue is for you. 
Ghost bond classic will keep your wig, hair system, or toupee locked in place whether you are full sweaty after a 5-mile run. 
4. Esha Absolute Lace Wig Adhesive
This glue is water-resistant to provide a firm hold. Whether you apply any glue to secure the lace, it's the trickiest part to determine when the glue is sufficiently dried to apply the lace. That determines how accurate and strong the hold will be.
For making your life easy, Esha glue has the feature of changing its color from green to blue and no color when it dries to give you a signal to apply the wig now. 
So, apply this glue whenever you want a firm hold and especially when you are going swimming. Moreover, the wig application using this glue lasts at least a week, and if you do extra care, it can last two weeks. 
5. ORS Olive Oil Fix-It Grip Gel Ultra Hold
This product claims to be hydrating and gel at the same time because it contains a blend of moisturizing ingredients. It's a non-glue option to secure your wig's lace at its place. In addition, it contains olive oil and castor oil. That's why it will not dry out your hair or damage your hairline. Instead, your hair will stay chilling underneath. 
It has no color, so it dries clear. However, you don't apply the wig right after applying the gel; wait for it to become tacky so that your wig stays all day. 
One more thing, if you want a more secure hold, apply accompanying hold spray. 
6. Davlyn Waterproof Adhesive
Davlyn Waterproof Adhesive is best if you want your wig, hair system, or toupee to stay glued for 1 to 2 weeks after one application. Application longevity depends on your body chemistry and activity level, etc. 
It comes in a half-ounce size bottle with a brush-on applicator that looks like a nail polish brush. Davlyn Waterproof Adhesive is best for lace base systems and oily skin. It is not harsh and is solvent-based, which means it looks clear and dries clear. 
After application, please wait for 3 to 5 minutes to let it become tacky. Otherwise, when shininess goes away, it is the best time to apply the lace wig. 
Above are some best and well-known glues for lace wigs in the market; we hope you have found it helpful knowing about them. Leave comments and tell your experience about trying any glue. We love hearing from you!
---
---
Writers Cooperation:
LaVividHair is seeking for blog contributors who know and love hair. If you know alternative hair or hair related accessories, if you have great understanding of hair trends and fashion, if you are expert in hair care, if you have any experience with salons or celebrities, if you would like to share your experience to help people just like you make the right choice, now contact us at support@lavividhair.com to be a blog contributor. Let's discuss the details then.