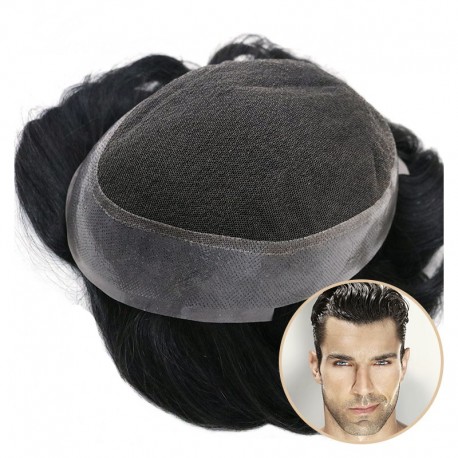 hair is good
I got it cut in two weeks ago, and was pleased with Lavivid! the hair quality is amazing.
My Fav Hair System
Actually this is my thrid Cruis hair system from Lavividhair. I really love this hybrid base construction, lace blended with pu material. It is easy to fit it in with glue or tape and also very breathable due to the lace material. The hair quality is supreme, silky and smooth !!! To be honest, the hair system really helps me restore my self-confidence. Thanks Lavivid !!!
Very Dense
First time wearing a hair piece. Definitely different. I chose this one due density. Good for front/side hairstyles. Combing back would show the lace front since it's thicker than normal ones. I'll be trying out the mirage one next.
nice service
This system is perfect for my needs! It's so easy to attach, feels like natural hair. I'm very satisfied with their service and will be ordering this system many more times in the future.

You deserve it!
 The weather here is hot and humid in Houston.And I so love the freedom of just working out and going through intense sweat drenched jogging and come home and just hit the shower and wash it all off. Because of my baldness I mostly wear a cap when going out until I knew the hair replacement. And I choose the Crius toupee from Lavivid. It is amazing, so breathable, and I feel comfortable, now I think I cannot live without it!
great!
 Looks amazingly great!The hairline looks so natural.
 Maybe it's just me thinking,So amazing how much younger the hair piece makes me look! I never even really thought about until I wear the hairpiece from Lavivid! How can anybody dislike this I'm 54 and lucky I've worn this hair system and I think this is a great thing.
A+++++
I must say this is hands down the best unit I had so far. Suits perfectly and looks natural.
good quality
I did a lot of search on the Internet and I think lavividhair is a company which I can trust, so I contacted their customer service and asked their suggestions, then made my first order from them. Their customer service is really professional. The wig came very quickly, hair quality is very good.
thanks
Many thanks for the very quick delivery of my order. It only took 3 days to arrive. Very happy with the product, very nice quality and hairline. I highly recommend you give lavivid a try!
I'm in love
So far I'm in love with the product. I think it's high quality. The polyurethane feels like it's going to have a lot of longevity. The lace felt great as far as I could tell. Everything about the system was up to standard and I had really no problem cutting the system down installing it.
worth buying
I really like this unit the hair is so soft and no tangles. I was a little hesitant because not a lot of reviews on this unit. I have to say I made right decision. It's not too thin or too thick just perfect. Overall, it is GREAT, definitely worth Buying and will be back for more!!
Feels great
I love this base because it is very easy to work with. The problem I had with my olds one is that they just worns out in a very short time. This lavivid hair piece is more expensive than my old ones but I decided to give it a try. I am glad I did. When I have this one on my hand, I just realize the olds ones I had might be just a copy version of this one. You can feel the good quality just touching it. I am very satisfied. A con would be the long waiting time. I waited more than 2 weeks for this. It is just so long
Best
I got to say out of all systems i been ordering of the internet fare and wide . No one has come close to the quality and beautiful work as Lavivid hair. Everyone has said it's the best system they have seen me wear to date.
great base construction
The pu around the base makes everything easier, application, removal and cleaning. I love using tapes on the pu and the front lace and this base works with tape really well. I might need to change the tape more often than when I use glue but glue just makes the cleaning process horrible.
Need a bigger size
I enjoyed the hair quality. The thin poly in front gives me realistic hairline and that's why I pick Crius for a undetectable hairline and comfort. Only thing is that the 6.3x9.4 size is off for me in the back. a 7x9 size will be just right.
Good service
It is not easy to find a salon to fit the hair system for me but I really wanted to try one. So I chose their pre-style service and it turned out to be really good. My own hair is really thin and the system blends with my own very well. Also the price is also really fair.
favorite
My favorite style ever. I use tapes in perimeter and very easy to clean. Not like glue. Every time I use glue, it is super nasty when I remove the unit. The hair is very easy to style too.
Fair price and high quality
I think their prices are very fair, and the quality is also very good, in my opinion. I definitely recommend this one to you guys if you've been wanting to try a system out, I say you know, go for it.