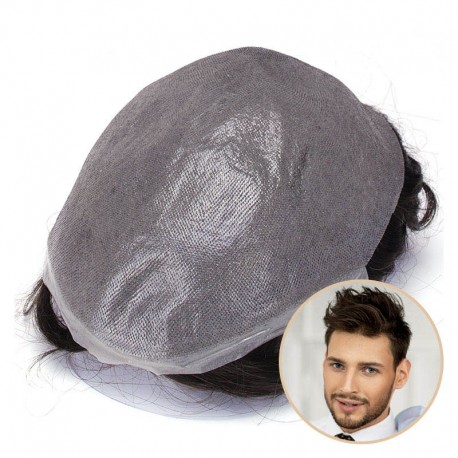 the best hair I have ever
 I have tried some different kinds of hair system and I want to tell that Mirage the hair is just hands down the best hair I have ever had on a pre made unit. The absolute best softest hair ever. And it's due to the fact that the hair still has the cuticle and and the hair is aligned. I like wearing hair styled forward so this hair system fits me well.
really amazing
 I've been wearing hair since I was 24 and I've worn many different types of hair system. Lavivid's wigs are really amazing and they have a lot of colors to suit my styling needs. Also they are natural and fit well with the skin, so you don't have to worry about falling off. I've bought it back several times.
its amazing
Ya its amazing. I have long hair and starting to get a receding hairline and this Lavivid toupee gives me hope. This system is still in super full hair and I've had it for 3 months. I love it and I like the kind of very the textured look and this works for me. Very nice hair and my stylist did a great job too.
The best
This one is my first lavivid hair system and I'm really soudisfat because the quality is amazing soft and looks very natural..service is good Also and very fast delivery I loved thankyou
Best Hair toupee ever
I bought this piece like a mont ago but I was waiting to do my first maintenance in order to provide a review. This piece is fantastic, the quality of the hair is extremely good. The skin is not that thin or thick, is just the right thickness and the front line looks very natural. It is very resistance, so no hair was lost during my first removal for maintenance. This is my third hair replacement, and my first one with lavivid and I finally found the right piece for me.
1st LaVivid Unit (1B;10% Gray)
This was my first ever hairpiece with LaVivid. Tina answered all my questions, and helped me choose the right unit. The unit arrived in a classic black box (very fancy). Tina also referred me to hairstylist who is based in LA who cut and styled my Hairsystem. I am one happy customer, that I ended up ordering 2 other units and a custom unit. Due to the pandemic, and shortage in my hair color, I tried buying from another company. Nothing compares to the the quality of LaVivid. You can easily tell the difference when you touch the hairpiece, after washing the hairpiece and even weeks of use. Lavivids Hairsystem is quality!
A+
With the mirage I was very satisfied. Of course some hair did fall out but its normal given it's now 4 month. But I had no base tears and almost no shedding. My previous systems from elsewhere lasted only 2 months in wearable condition so a big plus for that
perfect match
The match was perfect, and my guest said it was the most natural feeling base he has tried so far and the quality of the hair itself was uncanny.
Best piece ever
I am a 72 year old who has been wearing a piece for 5 years.
I received my new piece and brought it to my hairdresser today. It is by far the most realistic I have ever had. Just like your own hair. Perfect color and texture. Feels and looks like my own hair with a real scalp
I will be a returning customer. Thank you!
A+++
The Mirage super think skin hair system is a great unit , easy to wear and very natural looking, it is my first order with lavivid hair and will definitely order more. A+++
Perfect First Piece
This was the first hair system I wore from Lavivid and to sum it up, it's pretty much perfect. The hair is very soft and natural feeling and is easy to style, the density is perfect for someone in the 25-35 range, and the base is just the right thickness to be both easy to handle and undetectable at the hairline. I even wore it out and about on a hot summer day (bonded with got2b) and had no issues whatsoever with fairly heavy sweating.

Highly recommended!
Amazing Looks & Great Comfort
I live in a place that gets up to 110 degrees F in the summer, and even with this on, it feels the same as if I had nothing on at all. It is not scratchy or anything. After about 30 minutes, once it's on, you don't even notice it.

I would highly recommend this, as it lasts longer than the thinner system, and looks just as good (if not better, since it has a higher density of hair). I use a middle part for my hair style and so even with a part and an exposed hairline, it is invisible.

The ONLY thing you need to watch out for, is make sure you're gentle when brushing or cutting, as to not over stretch the skin. I would recommend getting it cut by Lavivid and not doing it yourself so you do not damage the skin by stretching it. Doing so can make the hair come out easier, and once the hair starts falling out a ton, the hairline becomes less realistic. Also make sure to condition the hair often. Remember, this is not real hair, it does not have your bodies natural oils to keep it healthy.

If you're careful and take care of your system, this hair will look 100% real without a doubt for at least 4 months (how long I've had mine). Passing 4 months, it depends on how you've been treating your hair if it will remain looking good or if you may need to start thinking about when to get your next system.
very good customer service
I'm a 52 year old professional and can say with all honesty that I've rarely ever received such good customer service. Love this hair, love the products and outstanding service.
thin and comfortable
I was a little surprised with the poly paper base, because the other system that I have, that's not from LaVivid, that has a poly perimeter, it's maybe it's just, like, a thicker kind, but it feels different than this one, and this one, I mean, it feels totally fine to me. It is very thin and comfortable. I don't even really notice that I have it on.
fantastic hair
I went to hair club for man and they wanted like 3,000 for that same thing you are showing us crazy I never went back. I have found my perfect hair here. Will definitely come back.
Super hot silver hair
Sometimes it's better to give in to the silver than fight it. Loving my new hair and 80/20 for 2020. My hairstylist did an amazing job as always.
perfect
I received my lavivid system today. Perfect timing; not only was it my birthday, but I had just taken my other hair off to clean, lol! I put the new one on today, and so far, so good! :)
Good
I love wearing this piece and have ordered this same style many times. I want to try other styles but I am not sure whether I can make it work so well like this one. It might look different or might need different bonding method, etc. I think I will stick with this style for a while.
Definitely the best
Ever since I found Lavivid, I have been ordering from them. They have the best quality hair systems with the best prices available. They are really helpful and the communications I had with them are always effective. Can't recommend them any more. Choose them and you won'd be disappointed.
Amazing product
I spent a lot of time thinking whether to try a hair system. I have to say once it was cut and put on it has been AMAZING. I'm one to be worried about my purchase but I'm glad I got this one. This thing has restored my confidence in myself.
Good product
So far the best I've had. The base is very thin but not too thin to break while cleaning. Hair density is just perfect! Not too thick not too thin. Front and side hairlines blend in just like its my natural hairline. The hair color matches my own hair very well. I am very happy with this purchase! The delivery is really fast too!