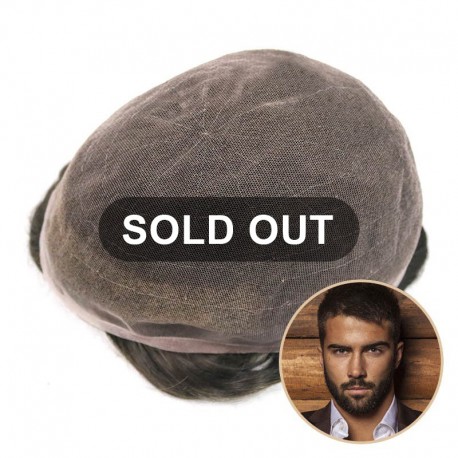 feel good again
 I have legit the worst hairline in the world i have a cowlick on the right corner of my hairline so midway through my hairline it literally goes up about half an inch and is thinning only in that area. I think it 's ugly so I decided to cut them and wear a hairpiece. I bought 6 color of the Hades hair system from Lavivid and it fits me well. What's more, it's very breathable and I feel comfortable even in a hot day:)
AAAAA
 I wear the Lavivid hair system bout 2 months or so..at the end of the day I always say I look far far better with than without but I get the reservations thing..biggest for me when I first had it was being seen with hair rather than the thinning look before...I just wanted people to say hey you look great with that..get a decent unit because the cheap n nasty ones look awful and people notice..it's about confidence and I have it now..
Gift to me
 I have to admit that Lavivid's hair system gives me a lot of security. When I put on the wig, I look so different and feel everyone's smiles around me become kind. And the hair system is so breathable that I can wear it whenever I'm showering or running. All in all, it seems like a gift to me and I'm so lucky to use this product.
undetectable
I've been looking around the net for some long hair systems but they're not really available for easy purchase, been growing my hair long for over a year but it's not much volume up top and getting worse so thinking about going the hair system route. I bought the Hades hair from Lavivid. It looks amazing really masks the front hairline and gives me a natural appearance. This just adds a little extra undetectableness to the hair system and I'm loving this hair.
love this hair
shipping was quick & delivery came within a decent amount of time .It came in a black box and been packaged very well. I honestly love this hair! It is very soft, almost no shedding, feels so natural. The most important is its color can match my own hair. I will continue buying from this store , I have no complaints about this hair.
Very quick service
This is a color number five with body wave because I actually have naturally quite curly hair. I ordered on the day after New Year and it arrived yesterday which is 7th, so really pleased with the time because it came so quickly.
Great
My 24 year old son shaved his head because he couldn't deal with the receding. I got this piece for him and it brings my happy son back. It's very hard for both men and women to suffer hair loss. Thank you for the great product.