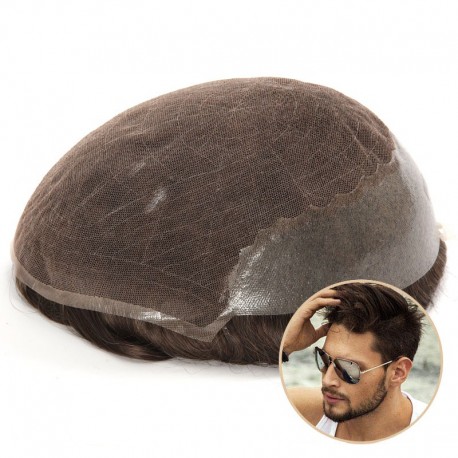 the hair is nice
The hair is nice, soft. The quality is always impressed. I used to order from other suppliers their quality is just variable you know. Always worry about the consistency.
Quality is phenomenal
They didn't have my color but they said they can make one for me. I waited totally 2 months for it, lol. You guys really need to speed up the process. Anyway, the hair is the best I've ever used. Quality is phenomenal! Color is also perfect. I will definitely order again, but please don't let me wait this long.
first time ordering
Hello Lavivid, I ordered a unit a month ago and i just started wearing it. It feels so good and it really looks amazing. I am beyond impressed
breathable
This is my Second unit from Lavivid lace is a very good way to go if you live in hot climates as it lets your scalp breathe
works great!
I bought it one month ago, and I have to say it perfectly match with my head. I also ordered their pre-cut service, they help me cut the hairline and the hairstyle. Their stylists are amazing, totally understand all my instructions. Good job Lavivid!
best one yet
Lace base is more breathable and natural than I imagine! And I need to say that Lavivid has amazing service. Good job Lavivid. I just can' wait to try my next one.
I am so happy with it
I got my order from you and am so happy with it. I always had a lace base and I never tried a skin base before. I had it put on today and am made up with it. When I got it was bit unsure about the hair being human hair but the salon I go reassured me. I was so happy with it as I have tried a lot of online companies saying that was human hair and in the colour I need. Most of them were synthetic which I did not want. so thanks very much and I will be ordering from you again.
it's wonderful
I just received the Ares system by FedEx and it looks just like I saw in the video it's wonderful I am crazy about it I never had a system like this before when you can in the future let me know as soon as you know they are sending more of the same system

incredible systtem
The hair system looks pretty incredible. Such a classic and natural look, love it!
Love it
I know the lavivid hair system from my friend, he is using their product and recommend them to me. I chose the $40 pre cut service, so can I wear it as soon as I receive it. Took almost one week to arrive my town, they cut the hair a little short for me, but it's OK. Love it.
Excellent buying experience
Love it! Excellent customer service, I really asked a lot of questions and they answered very patiently. The color they helped me pick turned out to be a perfect match. The hair unit took 4 days to arrive. Natural looking, easy to wearr, love it.
better for exercising
My first order with lavivid is their coeus unit. I have been loving it but I really wanted to order one which is better for exercise and sweating. So they recommended this Ares model. It truly is more breathable than coeus. I don't feel stuffy anymore during working out.
Stunning
I have to tell you- I am ecstatic about my hair piece. It is stunning and I have never felt more confident. I have shared my story with so many people. I look forward to trying other pieces in the future! I also have my stylist who is very interested in pursuing this further.
Nice
Being in hair restoration I consider myself an expert so I will try to be as open and only comment on the hair quality itself I have to be honest when I open the box I was pleasantly surprised the hair was soft , it was a " stock hair" had to be customized to my models head but all in all was a great hair. It blended his hair nicely
works very well
Density works just for my age. Totally breathable for the hot weather in Australia right now. Hair flows well in all directions. Love the hair very much. I use glue and the cleaning is a little messy.
Durable
It's been almost 4 months wearing this piece now and it still holds up very well. Very durable and the lace is still in great shape. No tweaked edges or anything. So far so good.
hair is soft
The hair is really soft. I really like the feel of it. I really like the wave. It has a little bit of a curl/wave to it. My natural hair is wavy/curly, so this is the way that I like to wear my systems, but, I mean, honestly, I'm really, super happy with this one, and I can definitely recommend it to you guys.
Perfect choice
My hairstylist assisted me in choosing this hair system. I wanted a thick hair look whilst at the same time a natural looking appearance. This one was picked because the lace in the front giving an unbelievable hairline and the poly rear giving the security and hold.
Wonderful customer service
Just started to wear hair systems and indeed had many questions. Lavivid customer service is really nice, patient and very helpful. At first, I use ghost bond but found it turn white when I sweat heavily. My work involves physical work, Sweating, and interacting with other people. The glue turning white was a huge problem for me. I changed it to a clear bond as their customer service suggests and it works really well. No turning white anymore. Thank you for the great service. Will definitely buy again.