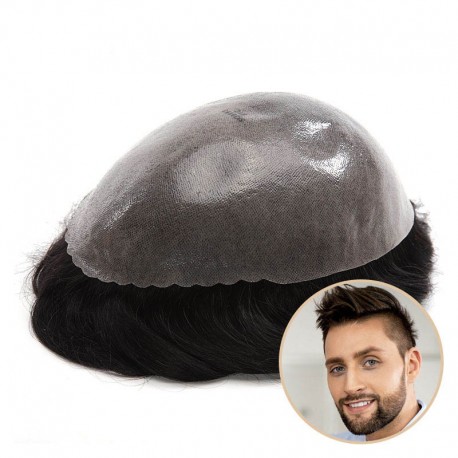 strong base and easy to work with
It has held out really well considering how much I switch up my hair and play around with it, especially in this heat we have been having!
I will order again
Honestly this system was really good quality and has definitely lasted.
It felt very smooth to touch, the hair was really a nice color, in fact was exactly what I wanted at the time :)..it's fun being able to change things up? The system was high density so no issues with coverage. All in all I couldn't recommend this system anymore, in the future I will likely order from them again.
great quality
I have been previously buying my hair pieces from local suppliers and salons. I was told not to buy them online as these are cheap and made of bad quality material. But I still tried my luck after seeing lots of positive reviews on your website. I was actually surprised to see after the installation and hair cut. I am Super happy and satisfied and planning to order another system in next couple of weeks time.
Thank u!
I've been bald for years and it costs my confidence. And I tried the hair system recommended by my friend. It's a poly hair replacement from Lavivid and I have installed it yesterday. I think that split moment will forever change my life, mind and outlook...when I see beautifui, thick hair on my scalp. Thank u!
There's nothing better than that
Balding at a young age is take away my confidence. Now I'm 53 and I find my confidence again. I choose the Achilles hair system from Lavivid and I'm lucky to install my first hair system last week. It's amazing and I feel comfortable. And its 220 color fits my own hair well. Love it!
definitely worth buying
 I lost my long hair after becoming sick and being in and out of hospital for many years and after radiation and stuff, I can't grow hair on top anymore. I accidentally learned about the hair system on the website and bought a toupee from LaVivid. When I first wore the hair system, I was completely shocked. Why didn't I find it sooner? A hair system is definitely worth buying.
impressive
I am 40 years old and started balding at 19. For 20 years now, I've hated taking pictures of myself.. I'm now ready to finally do something about it. I have bought Achilles Hairpiece from Lavivid and it gave me such a HUGE help. I wore yesterday and the hair is completely natural, totally undetectable!
best ever
I have to say this is the most durable and highest quality hair system I have used. Bought this back in April and I am here to buy a new one just found that they don't have my color in stock. So sad. Couldn't find this model elsewhere. Please get this one back!
hair quality is good
I was noted by their customer service that Achilles has high hair density, however, this is the only one that has my color. I had no choice but ordered it. Well, the hair density looks ok and I believe it will work pretty well. We will see. Hair feels very healthy though.
so far so good
My last hair system from lavivid hair was their eros and it didn't last for a long time, but I really liked it especially the hairline! but I'd rather like one that can last me at least 4 months. Their customer service recommend this style to me, it seems much stronger than my last one, so far everything is good, hope my new hair will be durable :)
amazing quality
That's been 4 months since I've used this system and still going strong in my test. Love the system and the hair. Amazing quality.
durable
This is the forth month I wear this unit and it still holds up very well. When I first received it, I didn't like it very much. The base was just too thick. However, I decided to keep it and see how it works. It is not so breathable but really durable. The hair quality is good and doesn't shed much. I am very satisfied that it is still in a good condition right now.
overall satisfied
The skin base seems to have a layer of conditioner or something on it and the tapes just do not stick on it. We washed the base several times and finally make it work. Other than that, I am overall happy with this piece.
5 stars
I have to say the hair quality is same with the high end hair salons who charge thousands. 5 stars to the hair quality and fast shipping. I highly recommend them.
very easy cleaning
I really like full poly, because, to me, it's much easier to clean than base, because with lace, the adhesive and the glue and stuff can, like, seep through and get into the hair, and it's just a real mess. cleaning lace is not fun for me. But, cleaning this was, like, no big deal at all. Cons would be it is not so breathable.
Nice
Talked to Tina before I place order and I have to say she is really nice and very helpful. She was very honest about their products and explained the pros and cons of each style I asked. This is really helpful. I highly recommend.
will buy again
Just got my hair system and it is fantastic. I was charged 1500 for my 1st hair piece in a nearby salon and then I pay 250 every month for their maintenance. This is just crazy. A friend recommended me lavivid and I cannot believe the price is so nice and so cheap! Will definitely buy again.
Natural looking
I always was looking for a style that looks natural and durable at the same time and after many experiments and this is the one. The hairline looks natural and I can wear my hair back with no problem. It also stays on my head quite firmly and I just need to re-bond it once a week. It is easy to live with.