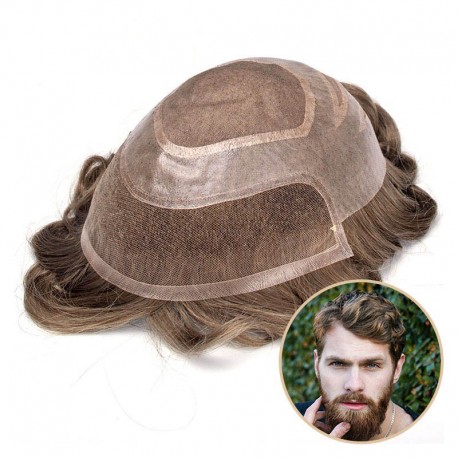 Best choice!
 I have installed this Lavivid hair system last week and I feel comfortable these days. And It's breathable and looks amazing. I LOVE this and anyone feeling insecure about hair loss should 100% do this if they want to. And I think even the way I talk afterwards is so much more confident lol. Best choice!
Tina - custom unit
Tina was immensely helpful, kind responsive and informative with all the questions and concerns I had. Some of the best customer service imaginable. I'm excited to get my custom unit soon.

Thank you so much, Tina.
nice hair
I'm only nineteen and my hair is thinning on top.I decided to try the hair system from Lavivid. I am absolutely speechless when I wear the hair system. I am really happy I feel so different and so much better than before. I think the color is awesome as well and it fits my own hair!Absolutely!

so real
My hair looks so amazing and definitely real after I wore. I bought the versalite hair system from Lavivid and it's soft and breathable so that I don't worry about running in hot weather anymore. I think others would never know in a million years it wasn't my natural hair. It is awesome for men to have a system such as this and I will continue to buy it!
Undetectable unit
I'm wearing the Lavivid hair system and I love it! Would never know that I am a balding man
Love
My order just arrived! I love this system! I can't wait to get it fitted!
Best quality and service
I actually ordered several custom orders for my client. I fitted 3 units last week and the bases were absolutely prefect and fit their difficult sized heads like a glove! One of them has been wearing systems for 15 years and she said it's the most comfortable one she's ever worn... so I'm really happy. Here might is not the right place to leave my review for custom orders but to show my appreciation to this company, I'd like to leave a review for them.
Love the thick hair
I love the thick hair compared to my previous ones. It is a little boofy but I know a few washes etc it will calm. Everyone has said it's the best system they have seen me wear to date.
great buying experience
They responds really promptly and effectively. 5 stars for the customer service. Love the hair quality too. Works really well for me.
Tape works better
It took three and a half hours this morning to fit it that was including taken off the old one, cleaning my scalp, fit and cutting this to size and fitting it. It did take a little while and they used tape this time just because the middle part is mono and I've been told you can't use glue on mono skin because it will go through it. Tapes are less itchy and more comfortable.
Best of both worlds
Started to lose my hair from 20 years old and have worn many hair systems from different companies. The hair quality does vary a lot among different companies, though the systems look similar. Recommended by a friend and I got this versalite style. The base of this one is actually really strong but the front lace also let you have a very natural front hairline at the same time. It is durable and natural. Will stick to this style for quite a while. lol
Great
Love the hair color, quality and the speed of service. Four days time and it arrives at your door. Great job.
As described
My order arrived right on time and it was well packaged. Amazing product, exactly as described, extremely fast delivery, 5 days to Canada. The customer service is really nice and responds very quickly. Totally recommend it!!!
The product is good
This hairpiece is simply amazing I was shocked at the quality it's beautiful !!! I love the base and the hair moves just like your own hair would. The hair look great on my head and is not noticeable. Very satisfied.