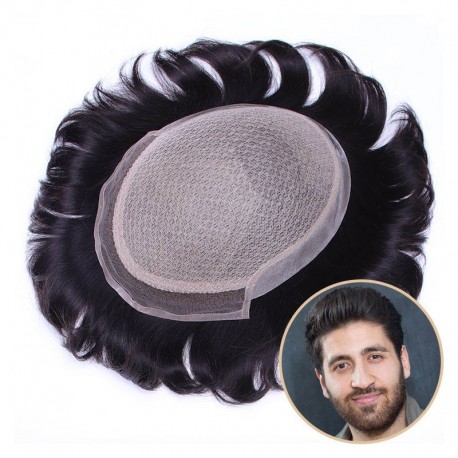 work for me
I have been bald since I was 28 years old and it bothers me for a long time until I wear wigs from Lavivid. I love this hair system with the kind of very the textured look and this works for me.So I want to say that people like me need to get their hair done.. It don't make a man less them l than a man for grooming and enhancing his looks.
Amazing Unit
This is my first silk base unit with LaViVid, and my 2nd Hairsystem. I ordered this pre-cut and arrived in 4 business days. The hairpiece is amazing. Very breathable, very realistic, and the hair is SOOOO SOFT!!! I can't stop touching my hair! I LOVE IT! LaViVivids line is top notch! Money well spent!
From their customer service to their products, everything is word-class.
I have a custom unit being made, and I can't wait for that to arrive.
best choice
This is my best choice. I want to wear something to cover my baldness at the children's wedding. I want to experience it for a few days before I make honest comments. It's almost a month. I love it as if I just got it. The speed of transportation is very fast. Its packing is really cute. Super soft hair. It's natural black, I dye it dark black. I haven't seen any shedding until now. If you're looking for beautiful hair at a reasonable price, there's nothing else except LaVivid Hair.
looks good
It came in a beautiful box. The hair system base feels it can last long. The hair feels very nice too. Everything is good for now. Will get it fitted soon. Can't wait.
The BEST
This is the BEST one I've EVER HAD!!! Thank you so much!!!
easy to maintain
I wear my hair back and this one has a undetectable hairline. With this one, I just need to use tape in the perimeter and I like using tapes and totally tired of cleaning glue. Cleaning work is minus and this one is very easy to maintain.
Happy with the results
I'm very happy with the results. the only thing with that which is no one's fault and it's not a negative
really is that it's kind of hard to style when it's so soft and silky but as time goes on and I wash it and blah blah blah it will be much easier to style but for now I absolutely love it just in time for me.
Amazing hairline
The hair is free style and very easy to be styled. The hairline is just amazing. Feels a little heavy at the beginning. Now I can barely feel it. lol
Hair is very nice
I really love this piece but the size is too big for me. I took it to my stylist and was told the base is too big but cannot be cut smaller. If cut to my size, there will be no enough room to apply the tapes. So select your size.
Will return to buy another
This piece has the best base construction ever. From the top, the hair looks just like it grows out from my scalp. So natural. It looks just like the skin! I am really impressed. Also, the front hairline is well bleached and very natural too. It fits my head perfectly. Will definitely buy another one soon.