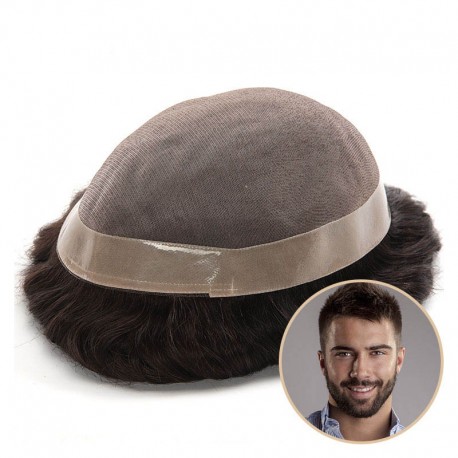 looks natural
This system is durable than any other brands'. I have been wearing this for 3 months, I have to say it still like a new one, as soon as you take good care of it. This is awesome, very economical, and looks natural.
Never regret
 I took the plunge about 4 months ago after decades of low self esteem because of my thinning hair and I started to buy hair system from Lavivid. I feel strange at first, but then the rush of confidence that follows is amazing. I'm 61 now and it's taken years off my looks and now I enjoy looking in mirror ! I would say to anyone considering it, go for it ,I personally think it's well worth it.
not bad
 I am 40 years old and started balding at 19. For 20 years now, I've hated taking pictures of myself...I'm now ready to finally do something about it. I bought hair system from Lavivid last week, it's so natural and soft and I am scheduled to go to the salon for a hairstyle.
nice hair unit
I'm 48 and bald and past the thinning stage a long time ago. Some people don't really understand how much our hair means to us. I agree, being bald or thinning can take away some of your manliness and lately my wife and I have been talking about transplants or hair systems. The hair system I feel is the better option for me. And I tried Lavivid hairpiece and it took ten years off my look immediately…I will continue to buy this:)
Pleased with it
For the way that I like to style it, and for the look I like to have, I'm very, very pleased with it.
Front hairline is thick
I have been wearing this piece for about 4 months and still in a very good condition. One drawback about this style is that the front hairline is a little thick but a fringe can perfectly cover it.
Awesome
This hair is awesome and I only need to replace it two times a year. The front hairline is a little thick but my fringe can perfectly cover that part. I don't need to take it off and re-fit it that often. It requires less maintenance work. Happy with it.