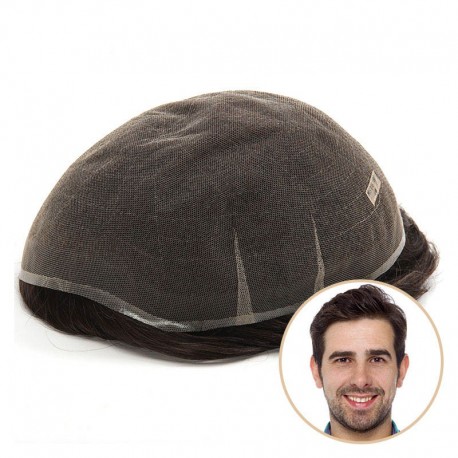 happy with it
This product really makes me a happy man. Ive suffered hairloss issue for a long time and this is my very first time trying a hair system. Guess what the result comes out great and i feel more confident right now.
I am happy with it so far
I have my helios fitted and I am very happy with it so far. quality looks good, color is great. Perfectly bleached knots in the front. If they can bleach the knots in the back too without weaken them too much, that would be perfect.
Hello Lavivid!
I had my System cut in today. This is the best system that I have ever purchased. That is the biggest complaint I can give your Company. My hairdresser said to tell you that you made an amazing hairpiece. I hope you kept the specifications for my system, because I want to order 2 as close to the specs as this one. I normally purchase 2 units per year. I am considering purchasing 4. Thank You Alice Townsend.
love it!
That hair system you sent me is the best quality, most realistic hair I've ever had, bar none. I've tried many different brands, Toplace, hair4all, a couple of others None of them were even close to the quality and realism that you sent me, and yours was even more competitively priced.
worthwhile
Just installed it myself a few hours ago, very impressed. The base material and hair feel great....the density is perfect for me, looks natural and feels good....

well worth it!
 I bought my own system last weekend from Lavivid. My partner helped me to put it on and then I took it upon myself to do the rest. Who knew this could be so much work. Whew!! Weee!! However, I'm glad I did it. I'm a former professional hairstylist so I was able to cut and style it like I wanted. It looks amazing and it's well worth it. I feel so much better, I love it!
Good!
 I really love surfing, es really my passion, but I started losing my hair when I'm 30...I was thinking on wearing a surf cap and maybe a swimming pool cap, but when I take it off, I'm sure I will get a look from other people around me. Last month, I bought Lavivid toupee and wore it. It's so durable and fits well whether I'm taking a bath or surfing.
Thank you!
For me...the thinning stage when I was young was the worst trying to hide it...once I tried Helios Hair System from Lavivid and I would be not constantly worried about my thinning stage and people noticing anymore. I think I look awesome with the system and the hair with my eyes is amazing. Thank you..
worth the wait
I waited more than 2 months for this hairpiece but it is totally worth it. The stitching is nicely performed and the knots are not so visible even in the back. Will buy again.
just perfect
This hairpiece is the best I have ever had. It is sooo good. The base is a perfect fit and very comfortable. The hair is lovely with no shedding.
happy with my purchase
I received my hair system today and I am really delighted, it fascinates me, it exceeds my expectations in every way, so very happy with my purchase.
Amazing and natural looking hair system.
5 star for the customer service
I contacted their customer service and they were so quick to respond and pleasant!! Hair is amazing i ordered the dark brown hair, cut it to my size and gave it a haircut Great texture and very workable!This might be the best quality product I've seen in this price range. Thank you so much +++
Good quality and durability
Hair is soft and flows well
The hair in the unit is very soft and it flows well in all different directions. My only con about this unit is the fact that the color that I chose is a little bit off in relation to the real color of my hair. I did notice that under direct sunlight the hair in this unit is a little bit more red toned than what I'm used to because my normal hair is actually a little bit grayish in tone or ashy in tone. Otherwise I love the unit I think it works well for me it's a very durable and the quality is good.
Delicate
The best and soft lace base I have been using. Super comfortable, light and undetectable. However, it is so delicate that I ripped it a little while removing it. Thankfully it is still wearable since you need to glue it anyway.