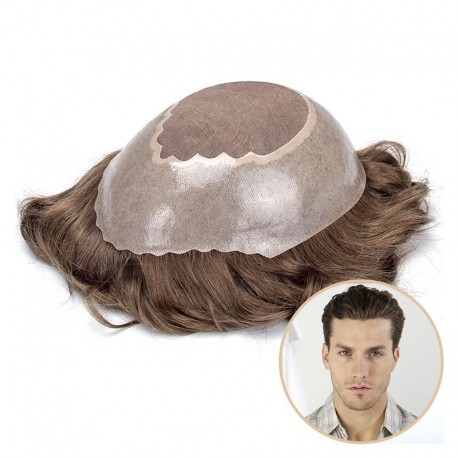 Attentive service
Received the styled hairpiece today Monday 10/8/21, good quality just as you stated. I am very pleased with the attention and promptness your staff gave to me, and the quality of your product.. You have gained a new and satisfied customer.
best quality
I'm waiting for Lavivid to send my third hair system...number 1 company ...number 1 quality...and can't wait to wear this new unit and show and tell...??
I like the hair
I have orded a hair system from LaVivid and it is a lace front and it is mono on top and poly around which is going to be cut to fit my patch. And this is a color number five. It's very soft, very curly and it matches my hair. It smells good, I think it's perfect and I can't wait to go to the salon and have it installed.
feel well
I started to get thin hair before I graduate university and I decided to try a toupee. After a period of browsing and observation, I choose the LaVivid Apollo Hair System. And it didn't let me down, as the product says, it fits skin well. I think this is definitely the play, way better than surgery!
A+++
I bought Lavivid's hair system last week and wore it yesterday. Amazing how it changes my face, without it I did look old, then with the system I had a youthful glow. Overall it look very good, but I think I need a professional hairdresser to make my hairline more thinner and look more believable.
natural hairline, very cool.
Wow this unit look ok on me, so natural, very cool. A little receding etc is a good thing if you ask me. Dont know if anyone agrees but i think that the 100% most important aspect of a hair system is the hairline. Im surprised to see some of the big producers still rattling out systems that have the most hideous and unnatural hairlines! Why doesn't all the R&D go into getting this right, every time? But LaVivid do very well.
Adorei as suas próteses
Adorei as suas próteses. Eu uso Faz uns 5 meses E estou amando usar Estou louco pra comprar suas
reliable
LaVivid is a reliable hair system distributor. They do a great job all the way from customer service at making sure that your emails are answered and your questions are answered to actually ordering and getting a high quality product. I am new to hair system and I really have a lot of questions, but they assisted me very patiently in the whole process. Thank you so much.
natural
It has very good quality, natural hair, abundant and with good finish, easy to style. I've been wearing this product for almost three months now with proper care and it looks like it will last a few months more. Great choice. I will certainly repeat. Special orders in the salon can be three or more times the cost.
Good durability
A lot of hair for me and we had to thin it out a bit. However, as this one sheds, the density actually works for me after a few months wearing. The base is quite strong and I love the durability factor.
Same good quality but much much cheaper
I got my first hair system from a salon and they use Hairskeen, which is a pretty well-known company in the hair system world. That one was much more expensive, and I'm still paying it off, actually. It's not practical for me to get one from there every time. This one I got from LaVivid is also really good quality and for much, much, much cheaper, and probably more affordable for just, like, the average person.
Amazing
It is held up amazingly. The quality is phenomenal. I get so many compliments on my hair.
Love it
Absolutely love it. The hair feels really great. Super fast shipping. 4 days time and it arrives at my door. Happy customer. lol
Great customer service
Customer service is very patient, nice and helpful. This is my first time to order a hair piece and I don't have a clue where to start. She explained to me and helped me pick the base, hair color and everything. Very nice.
Very Natural
The color is dark brown, almost black, but much more natural looking than stark black. The base is great too! The hair hangs just like you own hair would. Great product.
Will order again
The poly coating is a little thick for me at first. I gradually get used to it. Not sure whether it is the thick base, but this piece is really strong. No shedding after shower and I have worn it for a month and it still looks great and fresh. Will order again.
Minimum shedding
Beautiful piece. Definitely gives the real like look. I wear it everyday and looks so natural nobody could ever tell. It's over 4 months old and minimum shedding. Unbelievable since the others I purchased would typically last no longer than 2 months.